EAST RUTHERFORD - Like all NFL teams, the Giants have evaluated their needs and set out to improve their roster for the 2010 season. General manager Jerry Reese, the coaches and scouts are currently looking at hundreds of draft-eligible players at the annual scouting combine in Indianapolis. The free agency signing period begins next month.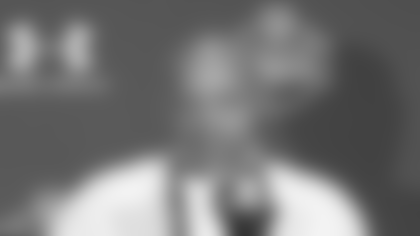 General manager Jerry Reese, the coaches and scouts are currently looking at hundreds of draft-eligible players at the annual scouting combine in Indianapolis. The free agency signing period begins next month.


At his annual combine news conference today, Reese said the Giants will pursue all avenues as they try to improve on their 8-8 record in 2009. At the same time, it's clear he expects to step forward with superior performances from players who were injured or inexperienced last season.
One that Reese was queried about several times is Chris Canty, the defensive linemen who was expected to be one of the Giants' significant free agent acquisitions last year. Canty missed almost all of training camp with a hamstring injury, seven games with a sore calf and the season finale with a knee injury he suffered in practice. He played in only eight games (four starts) and finished with 23 tackles and a half-sack.
But Reese thinks Canty can be a force as a starting defensive tackle this year.
"Obviously we expected more, but he was injured most of the season," Reese said. "We're hopeful he'll be healthy and come in and be a starter for us and contribute in a big way on our front. He's a big-bodied guy that can definitely play a three-technique in our defense," Reese said. "And he can swing and play some of the defensive end stuff. We like interchangeable guys on our front. We thought he could play several positions in our front. But primarily, we think he's going to be a three technique for us.
"He's been in almost every day. He's been working hard trying to get back. He's driven to come back and prove that we made the right decision with him. So we expect big things from him."
Canty's injury problems were unexpected, because he never missed a game in his four seasons with the Dallas Cowboys. Then when he seemed poised to end the season strong, he hurt his knee at the end of practice, forcing him to miss the finale at Minnesota.
"He was starting to get healthy a little bit," Reese said. "Then, unfortunately, the last game of the season in practice he got dinged again. It happens like that in the National Football League. When he played with the Cowboys, he never really got injured at all. He doesn't miss practice, he doesn't miss any games. He comes (here) and he can hardly get on the field for us. It happens sometimes like that. It was unfortunate. I hope that's over with and he'll come back and be a healthy, strong player for us."
Reese holds the same aspirations for another defensive tackle, Jay Alford, who tore the anterior cruciate ligament in his left knee in a preseason game in Chicago on Aug. 22 and missed the rest of the season. Alford has been working out for months and expects to be on the field for the team's spring drills.
"Jay is an inside pass rusher for us," Reese said. "He's one of those guys that can penetrate up front. He's on schedule to be back and we expect him to be a hundred percent going into training camp. It's unfortunate. He had a great summer last summer and we were expecting big things from him. And he had the injury. We expect him to come back. He's a hard worker and if anybody can come back from that kind of injury, it's him."
Reese could use that last sentence to describe Kenny Phillips, the safety who was on his way to a big season before it ended after just two games because of an arthritic condition in his knee. Phillips, the team's first-round draft choice in 2008, is confident he will be ready for training camp.
"Kenny is doing great," Reese said. "He's on schedule. There's no pain right now with his knee. He's got a great attitude about it. We expect him to come back and be one hundred percent. I don't think you can put all your eggs in Kenny's basket right now, because that's a tough injury he's coming back from. We'll try to be prepared if he doesn't come back a hundred percent."
Offensively, the Giants are convinced their outstanding young receivers will continue to grow. Pro Bowler Steve Smith, Mario Manningham and Hakeem Nicks combined to catch 211 passes for 2,832 yards and 18 touchdowns in 2009. To that mix, Reese hopes to add Ramses Barden, the third-round draft choice who played in only three games and caught one pass as a rookie.
Barden, who is 6-6, played well in practice and the Giants think he can be a productive sophomore this year.
"We like Ramses Barden," Reese said. "We think he's a talent and we expect to get him in there early this time. It's unfortunate he didn't get to play a lot. Guys came on. Steve Smith really came on. Mario Manningham came on. Hakeem Nicks came on. You only have so many spots you play out there, but we expect him to be in the mix and be a strong contributor for us. We like his skill set."
They also like that of tackle Will Beatty, the second-round selection who played in every game with four starts at right tackle. Reese indicated Beatty could challenge Pro Bowler David Diehl at left tackle.
"We think Beatty has a left tackle skill set," Reese said. "He played quite a bit for us and did a pretty good job in there for a young player. There will be some competition at that left tackle spot for us. We like competition. We always try to create competition on our roster, so that will be some competition for the left tackle spot. And David can play guard and he can play right tackle. He's an interchangeable guy and we like those kinds of guys."
Reese commented on several other subjects during his news conference:
*On free agency in the first uncapped year since 1993. Players need six years of service to be unrestricted free agents, as opposed to four under the salary cap.
"It's going to be interesting to see how people move with the restricted free agents," Reese said. "I really can't speak on that. It will be interesting to see in which direction people go. I'm sure there will be some activity, but it's hard to tell how people will maneuver their roster with the restricted free agents. I think we just have to let it unfold and see in which direction people are going to try to go."
*On whether he expects defensive end Osi Umenyiora to be in the "right frame of mind" when he arrives for training camp. Umenyiora has been campaigning to regain his starting job, which he lost in the final fives games of the season. Tom Coughlin has said everyone on the team must earn their way into the lineup.
"I expect all of our players to be back in the right frame of mind," Reese said. "In the offseason there's always a lot of chatter with players about different situations. But when we get to training camp I expect guys to be ready to go. I expect everybody to be in the right frame of mind so we can get back on schedule and try to field a good team and have a chance to challenge for a title.
"Every team, almost every season, there's a lot of chatter in the offseason. That's just what you get in the offseason. That doesn't bother me a bit."
*On free agents David Carr and Danny Clark:
"There has been some conversation with David Carr," Reese said. "There has not been a lot of conversation with Danny Clark as of right now. But with Carr, there has been some conversation. You're never confident. We'd like to have him back, for sure. But we have other options if he doesn't come back."