EAST RUTHERFORD, N.J. – No player takes pleasure in going up against guys with nicknames like Hynoceros or The Terminator. But that doesn't mean each NFL team wants one of its own.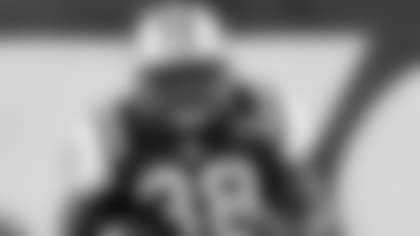 View updated Depth Chart](http://www.giants.com/team/depth-chart.html) Such is life for a fullback.
Meanwhile, John Conner, nicknamed after the blockbuster film franchise featuring Arnold Schwarzenegger, was making the rounds and waiting for an opportunity to arise. He was released by the Cincinnati Bengals following training camp this year after spending two full seasons with the New York Jets.
In need of help at the position, the Giants offered him a spot on the team, and he accepted.
"Just watching them on film and watching their games, I know they use the fullback," Conner said. "So it's a great fit for me… It is a rare thing. That's why it's hard for fullbacks to find jobs now because it's become a pass-happy league."
Hynoski's injury only exacerbated the Giants' inability to run the ball so far this season. They have just 133 yards combined through their first three games. That's just 44.3 yards per game, good for last in the NFL.
The Giants hope Conner's physicality will be a plus for the unit.
"That's the way I like to play the game," he said. "I don't play it any other way."
Conner, who joked that it seems like he "can't stay away" from New York after coming into the league with the Jets, will now play catch-up in the playbook as a midseason addition.
"This is my first day," said Conner, standing next to his suitcase at his locker. "Thinks are kind of cloggy right now, but I figure after a couple days I should be good just by studying and meeting with coaches afterwards."
In the meantime, he will help out on special teams until his number is called in the backfield.
"It's huge," Connor said of the opportunity. "That's my job – to come in and open up some holes and help this run game out."
EARLIER TODAYAuthor: Michael Eisen
The Giants today filled their need for a healthy fullback when they signed fourth-year pro John Conner. Their incumbent fullback, Henry Hynoski, suffered a fractured shoulder last Sunday at Carolina and was placed on injured reserve to make room for Conner. Hynoski will miss the remainder of the season.
Conner, 5-11 and 245 pounds, previously played for the Jets and the Cincinnati Bengals. He has played in 37 regular-season games with 10 starts and in two postseason games. His career totals include 21 rushing attempts for 88 yards and two touchdowns and four receptions for 18 yards.
The University of Kentucky product entered the NFL as a fifth-round draft choice (139th overall pick) of the Jets in 2010. Conner played in every game for the Jets in his first two seasons, starting eight games in 2011.
As a rookie, he rushed for 44 yards on eight carries, including a 16-yard touchdown, all in the regular-season finale vs. Buffalo on Jan. 2, 2011. Conner also caught two passes for nine yards and had eight special teams tackles. He played in the Jets' AFC Wild Card game vs. Indianapolis, but was inactive the following two weeks.
In 2011, Conner had a career-high 13 carries for 44 yards, including a one-yard touchdown run on Nov. 6 at Buffalo.
Last year, Conner played in three games with two starts for Jets before he was waived on Oct. 18. He was signed by the Bengals on Dec. 15 and played in the final two regular-season games and the AFC Wild Card Game at Houston, though he had no statistics.
The Bengals waived him on Aug. 31. Conner played in all four preseason games for Cincinnati and had one 13-yard reception.
At Kentucky, Conner played in 54 games with 26 starts. He had 53 rushing attempts for 245 yards (4.6-yard avg.) and four touchdowns, plus 25 receptions for 193 yards and four more scores.
Conner grew up in West Chester, Ohio, just north of Cincinnati. At Lakota West High School, he rushed for 1,000 yards and 14 touchdowns as a senior.
He earned a degree from Kentucky in kinesiology.