The Giants' linebacker corps took another hit Sunday when Ryan Connelly left the Washington game with a knee injury. Tests confirmed today that the promising rookie suffered a torn ACL, adding to an injury report that already included defensive co-captain Alec Ogletree and Tae Davis.
While the latter two have a chance to return this week in time for the Vikings game, Connelly will not make it back this season. The Giants today placed him on injured reserve and filled the opening on the roster by claiming defensive end Chris Peace off waivers from the Chargers.
"It's unfortunate, but he's got a real bright future and he'll come back from this," coach Pat Shurmur said Monday afternoon about Connelly. "He was doing a lot of really good things for us. He's a young player. Part of being a pro sometimes is coming back from injury. If he approaches this the way he has approached playing in the game, he'll be back to full strength here soon."
The knee injury will be a blip on the radar if that's the case.
Before the injury in Sunday's 24-3 victory over the Redskins, Connelly became the first Giants linebacker with an interception and sack in the same game since Kawika Mitchell in 2007. That made it two weeks in a row with an interception for Connelly, a fifth-round draft choice out of Wisconsin. In Week 3, Connelly assumed play-calling duties in the huddle for Ogletree, who injured his hamstring. He did so again Sunday when the veteran was ruled out before the game.
Connelly eventually overtook Davis in the starting lineup this season before a concussion forced Davis to miss Sunday's game. David Mayo, who joined the Giants on Sept. 2, made his first start of the season alongside Connelly vs. Washington. Mayo went on to lead the Giants with eight tackles and could start again this week. 
"Yeah, he'd have to," Shurmur said. "If you just do the math. He played quite a bit yesterday."
While the inside linebackers deal with their injuries, the Giants also have to keep an eye on edge rusher Lorenzo Carter. The second-year pro also left in the second half on Sunday with a neck issue.
"We're going to kind of count it as game soreness at this point," Shurmur said, "so we're hopeful he'll be back."
*Shurmur updated the progress of running back Saquon Barkley, who is out indefinitely with a high ankle sprain. Sunday was the first game the 2018 NFL Offensive Rookie of the Year has missed in his career.
"Yeah, I think he's out of the boot," Shurmur said. "When I see him moving around here…He's into his rehab. He's eager and chomping at the bit to get back. But obviously, that's what I would expect from any of our players. Try to get back as quickly as possible, and then we'll just make those decisions on a week-to-week basis whether he's ready to play or not."
*The Giants will look for their third win a row this Sunday when they host the 2-2 Minnesota Vikings, with whom Shurmur spent two seasons, the last 27 games as offensive coordinator. In 2017, he was named the NFL Assistant Coach of the Year by the Pro Football Writers Association. The quarterback of that Vikings team was Case Keenum, who started yesterday for the Redskins.
"Yeah, it was a very meaningful part of my career being there for two years," Shurmur said. "I am very fortunate to be a part of a 13-3 season. In fact, Case Keenum and I reminisced about that a little bit after the game. There are a lot of people there that I worked with intimately, a lot of people there that I care about, but after a few handshakes we get to the business of playing the game. I think they would probably answer the question the same way. We'll just see what happens."
After the Minnesota game, the Giants turn around to face the defending Super Bowl champion Patriots in a Thursday night game on the road.
"Well, I think we've had four tough games already," Shurmur said. "The next one is going to be really tough, certainly, against the Vikings. We'll keep a short horizon here and then we'll talk about the Patriots when it happens. But we've played against four really tough defenses already. The Cowboys were tough. We saw again what Buffalo did yesterday against New England, they've got a really outstanding defense. Tampa Bay was a tough defense, and then this front that we played against yesterday – that was a really physical group. We talked all week about (Redskins linebacker Ryan) Kerrigan and all that. That's what NFL football is all about, is playing against tough defenses. Certainly, when we play the Vikings this week, I know all too well what they can do to an offense."
*TJ Jones muffed his first two punts against the Redskins. The Giants then temporarily handed the duties off to safety Jabrill Peppers before returning to Jones in the second half.
"Just settled him down," Shurmur said. "We trust our players, so we just take them out, settle them down, and put them back in. That's what went into it."
*Peace was waived by the Chargers on Saturday. The undrafted rookie out of Virginia appeared in the Chargers' Week 1 victory over the Colts. Peace played four seasons (2015-18) at Virginia after redshirting in 2014, and appeared in 50 career games. He totaled 198 tackles (94 solo), 29.5 tackles for loss, 17 sacks, four forced fumbles, an interception and five passes defensed with the Cavaliers. As a senior in 2018, he earned third-team All-Atlantic Coast Conference honors by leading All ACC linebackers with 7.5 sacks.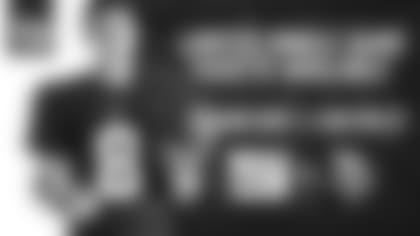 Limited tickets on sale for Giants vs. Vikings
See the Giants take on the Vikings on Sunday, October. 6 at 1:00 PM ET