Whatever the Giants are doing right now is working, and Golden Tate doesn't want to mess with it. He will add to it, though.
The NFL leader in yards after catch since 2010 returned Monday morning to the Quest Diagnostics Training Center. On Sunday, the Giants defeated the Washington Redskins, 24-3, for their second consecutive victory on the heels of a 0-2 start. Tate was forced to watch the first quarter of the season on TV while he served a four-game suspension for violating the league policy on performance-enhancing substances. That suspension has ended. He is on the exempt/commissioner permission list for up to a week until the Giants activate him. In the meantime, he can fully participate in all Giants activities.
"I just want to come in and be a spark, an addition to what we're doing, just help everybody around me get better and just be myself," Tate said. "There is no secret that in the slot I'm pretty dangerous once I get the ball in my hands. I feel like I'm pretty dangerous on third down. Hopefully, I am utilized that way. Whatever it takes to win. These four weeks have been very long for me. I have just been thinking about football, ready to get back out here and the time is now. We just want to get another win, go 1-0 this week and keep this thing rolling. As you can probably see in this locker room, the vibe is great. When you win, it's all great, so we'll see."
Tate spent the past month in San Diego, where he lives with his family, and he insisted it was no vacation.
"I have trainers, massage therapists, and rehab people there," Tate said. "I just went back home and worked my tail off, tried to stay ready and get better and hang with the family. I tried to keep myself busy just to take my mind off of it."
Sundays were the toughest. Already sour because he wasn't playing, Tate had to find the games on TV, which can be difficult if you live out of market and don't know where to look. For the past decade, he spent his Sundays racking up 611 catches for 7,214 yards and 38 touchdowns. He never needed a subscription.
"Because I'm on the west coast, they weren't showing the game," he said. "I had to find it somewhere streaming. It started off and then I'm just sitting, looking like, I should be out there. It was tough, but yesterday was kind of the first pleasant game for me. One, we won, and I knew as soon as the game was over I was pretty much allowed to be back. It was exciting."
Tate tweeted after the yesterday's divisional win that he's going to "see whoever's around at 12:01 AM TMRW!" His wife, however, wouldn't let him spend the night at the facility. He had to wait until 8 a.m. instead.
"Because she knew I would be spending eight or nine hours a day here," Tate said. "She said she wanted to enjoy the last night. It was a great vibe, we won last night, I went straight into the weight room, started saying hi to everybody, giving out hugs and it was great. I loved it."
One of the people he saw was Pat Shurmur.
"Well, I think it's going to be great he's back," the head coach said. "He should be fresh and ready to go. I have already spoken to him this morning. He's in the building, and he's looking forward to getting back at it."
Tate came back to a new quarterback running the show on offense, but Sunday won't be his first time playing with Daniel Jones. The rookie quarterback started the preseason finale in New England and so did Tate before he began his suspension. The veteran receiver, who signed with the Giants this offseason, isn't surprised by how well Jones is playing in his 2-0 start.
"I'm delighted," Tate said. "I'm liking what I'm seeing, for sure. He's been handling the moment very well and hopefully he continues to improve each day and each game."
Tate added: "He's slippery. He finds his way out of some sticky situations and makes plays. Obviously, he's helped us win. Watching from afar, his decision-making has been great, I think. I'm here to help him, helping his development, help make some plays and take some pressure off of him and just help us continue to win."
"I'm excited," Jones said after Sunday's win. "I'm excited to have Golden back. Looking forward to it, and looking forward to what we can do."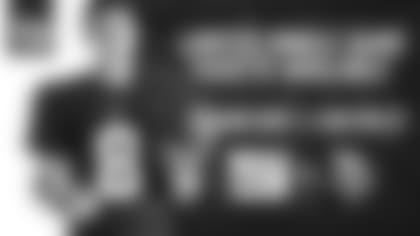 Limited tickets on sale for Giants vs. Vikings
See the Giants take on the Vikings on Sunday, October. 6 at 1:00 PM ET