EAST RUTHERFORD, N.J. –**
The Giants will attempt to win their second game in a row and take some momentum into their bye week when they face the Philadelphia Eagles Sunday at Lincoln Financial Field. A victory last Monday over Minnesota was the Giants' first of the season after six losses. The Eagles are 3-4, but earned all their victories on the road, including a 36-21 triumph in MetLife Stadium on Oct. 6. They have lost nine consecutive home games since defeating the Giants on Sept. 30, 2012. Something has to give, because the Giants have dropped eight in a row on the road. The Giants lead the regular-season series, 81-74-2.
---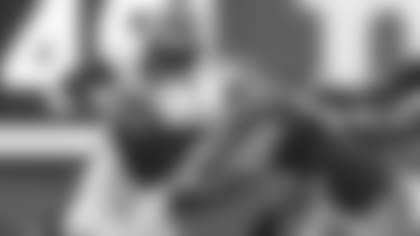 ---
PHILADELPHIA EAGLES OFFENSE
Chip Kelly's high-speed no-huddle attack is ranked third in the NFL with an average of 425.3 yards a game. Philadelphia continues to lead the league in both rushing yards per game (165.0) and per carry (5.2). The Eagles are 11th in the NFL with 260.3 passing yards a game and tied for 12th with 24.1 points per game.
The Eagles ran 75 plays in their loss last Sunday to Dallas. They lined up with three wide receivers on 66 of them. Nine of their 18 touchdown drives this season finished in four plays or less. Fourteen of the 18 took less than 2:20. But Philly's offense hasn't been quite as efficient as it was earlier in the season. The Eagles had an NFL-high 42 plays that covered 20 or more yards entering the Dallas game last week. But against the Cowboys, they had none. They did not cross into Dallas territory until two minutes remained in the first half and nine of their first 10 possessions ended with a punt. The Eagles lost, 17-3, the first time a Chip Kelly-coached team did not score a touchdown.
But Philadelphia is still dangerous, largely because they have so many talented skill players. The one who will likely handle the ball most often on Sunday is Michael Vick, who is expected to start at quarterback after missing the previous two games with an injured hamstring he suffered against the Giants. Nick Foles stepped in and was named NFC Offensive Player of the Week after throwing for three touchdowns and running for one at Tampa Bay. But he suffered a concussion last week, so Vick, who was inactive last week, is back. Rookie Matt Barkley, who threw three interceptions in his NFL debut against Dallas, should be the backup. The offense has a different look when it's led by Vick, who keeps his eyes down the field and has averaged 9.3 yards on his 33 rushing attempts.
LeSean McCoy was held to 46 rushing yards by the Giants, but he leads the NFL with 685 yards and he has an impressive 4.9-yard average. He has great run skills, vision and instincts and is explosive when he changes direction. Bryce Brown is a big, powerful back who has run for 99 yards on 35 carries. Chris Polk is a hard-nosed runner who was inactive last week with a shoulder injury. The Eagles do not have a fullback on their roster.
The Eagles have gotten a lot of production from their wide receivers despite the preseason loss of two who were expected to play big roles this season, Jeremy Maclin and Arrelious Benn. DeSean Jackson is a quick, explosive player who tracks deep passes well and leads Philly with 37 catches, 610 yards and five touchdowns. Jason Avant is a solid, steady slot receiver who works in the middle of the field and has 22 catches. Riley Cooper had 208 yards in the last two games. He is a big, strong receiver who runs well after catching the ball. Jeff Maehl played for Kelly at the University of Oregon and can fill in at all three receiver spots. Damaris Johnson gets a few snaps a game.
Brent Celek is a reliable receiving tight end who is a competitive blocker in the run game. His playing time has diminished slightly with the emergence of rookie Zach Ertz, who has a good receiving skill set. Nine of Ertz's 13 catches have gone for first downs. James Casey, a free agent acquisition from Houston, is a smart, versatile jack-of-all-trades who can line up at H-back, fullback or on the line. He is also the emergency quarterback.
Philadelphia starts three offensive linemen over 30 – left tackle Jason Peters, left guard Evan Mathis and right guard Todd Herremans – who are part of a rugged, talented group. Peters, the Eagles' best lineman, is a five-time Pro Bowler who missed the 2012 season with a ruptured right Achilles tendon. He is a big player who moves well in space. The right tackle is rookie Lane Johnson, the fourth overall selection in this year's draft. He is a competitive player who is improving every week. Mathis is steady and consistent and an exceptionally good run blocker. Herremans, the right tackle the previous two seasons, is a savvy and smart veteran who can overwhelm linebackers. Center Jason Kelce takes very good angles and is an outstanding open field blocker. Allen Barbre is the backup at every position but center.
---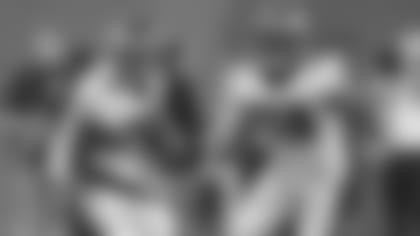 ---
PHILADELPHIA EAGLES DEFENSE
The Eagles' defense is ranked 32nd and last in the NFL, allowing an average of 412.7 yards a game. They are 12th against the run (101.1 yards per game) and 31st vs. the pass (311.6). Philadelphia has allowed 28 points a game, 26th in the league.
The coordinator of Philly's 3-4 defense is Bill Davis, who was the Giants' linebackers coach in 2004 and previously a coordinator in San Francisco and Arizona. Davis tries to confuse an offense with numerous looks and wear it down with numerous blitzes. Their best pass rushers are defensive end Fletcher Cox and linebacker Connor Barwin. The defense has 12 takeaways, one less than it had in the entire 2012 season. The Eagles gave up a season-low 17 points in their loss to Dallas last week.
The Eagles play six defensive linemen regularly. Cedric Thornton is a first-year starter at left defensive end. He has good initial quickness, uses his hands well and is disruptive against both the run and pass. Cox is playing better than any other Philadelphia lineman right now, in part because he's more comfortable on the right side. Nose tackle Isaac Sopoaga, the former San Francisco 49er, is a natural leverage player who consumes space and works to get to the ball in the run game. Clifton Geathers, a 6-7, 340-pounder, gives the defense a jolt when he enters the game. Vinny Curry and third round draft choice Bennie Logan are also in the rotation.
Two-time Pro Bowl linebacker DeMeco Ryans is the quarterback of the defense. An every-snap player, he leads the Eagles with 82 tackles (56 solo) and is a factor against both the run and pass. Mychal Kendricks has returned to the position he played at Cal – weak inside linebacker – and is an undersized but fast backer who has played every snap the last three weeks. He has lined up in the box more frequently, but makes plays all over the field. Barwin leads the Eagles with 4.5 sacks and is a relentless player on every snap. He is a powerful pass rusher who can collapse the pocket. The other outside linebacker is Trent Cole, who can overpower an offensive player or beat him with speed. Brandon Graham plays more than the other backup linebackers.
The Eagles this year rebuilt their secondary, where they have three new starters imported from other teams: left corner Bradley Fletcher (St. Louis), right corner Cary Williams (Baltimore) and free safety Patrick Chung (New England). Chung, however, was inactive vs. the Giants three weeks ago and reinjured his shoulder the following week at Tampa Bay and was inactive last week. His spot has been filled by rookie Earl Wolff, who is improving each week. Wolff has good speed and range and has been an effective blitzer. The secondary's holdover starter is Nate Allen, an aggressive downhill safety. Fletcher and Williams are long and physical corners who use their height to their advantage. The nickel back is Brandon Boykin, who plays over the slot receiver. He, along with Kendricks and Williams, intercepted passes against the Giants in Week 5. If the Eagles need another defensive back, it would be Kurt Coleman.
---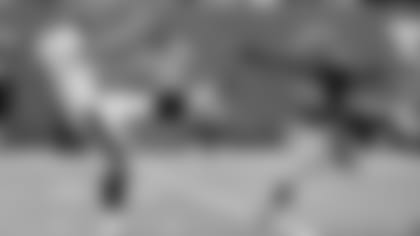 ---
PHILADELPHIA EAGLES SPECIAL TEAMS
Left-footed punter Donnie Jones was impressive while staying busy last week, when he had a 41.8-yard net average on nine punts against the Cowboys. Kicker Alex Henery has missed four field goal attempts, all from beyond 40 yards. Demaris Johnson, who is listed at 5-8, returns both punts (7.9-yard average) and kickoffs (25.7) for the Eagles.