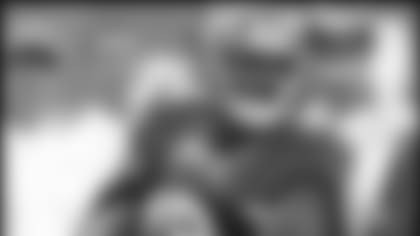 EAST RUTHERFORD, N.J. – The most challenging season of Hakeem Nicks' career ended last December without a reception in cameo appearances in the Giants' final two games, the first time as a pro he was held without a catch.
So Nicks was thrilled to return to a football field last week in North Carolina, where he broke a sweat, tested his knee and caught passes from Eli Manning. It was not, however, perfect.
"I had much rather it be at Carolina than Duke," Nicks said.
Spoken like a true Tarheel. But the workouts were held in Durham because David Cutcliffe, Manning's former coach at Ole Miss, now coaches the Blue Devils. So Manning brought along Nicks, Victor Cruz and new Giant Louis Murphy. Cutcliffe was also Peyton Manning's offensive coordinator at Tennessee. So the Denver Broncos' quarterback was there with Wes Welker, Eric Decker and Demaryius Thomas.
Eli Manning said he went to get in some throwing before today's opening of the team's offseason conditioning program at the Timex Performance Center.
"The offseason program starts later," Manning said after his initial workout. "We used to start in mid-March. It is pushed back a month. I usually start throwing April 1. So I have kind of kept that routine these last years, just throwing on my own. (Last week), we set up where we could get some of our own guys to do a little three-day workout and just concentrate on football and the field stuff. Once you get here there is lifting, there is running, there are meetings. There is a lot going on. Once you start throwing, guys are already tired. They have already run sprints that day. So I thought last week we could just come in and get a lot of on-field work; get my arm back in shape so when I come here I am kind of ready to stride forward."
Perhaps no one benefitted from the workouts more than Nicks, who hurt his knee in a Week 2 victory over Tampa Bay (when he caught 10 passes for 199 yards). He missed the next three games and wasn't 100 percent for the remainder of the season. When he failed to catch a pass in Baltimore on Dec. 23, it ended his streak with at least one reception in 53 consecutive games in which he played. He was on the field for only one play in the season-ending victory over Philadelphia.
Nicks finished with 53 receptions for 692 yards and three touchdowns, the latter two figures career lows.
"I don't even look at it now," he said of last year. "It is gone now, so it is what it is – it is in the past. It is something that I learned from. Every year in your career isn't going to be what you want it to be. So it is just about you adjust to it and make the best of it. But definitely I learned a lot from it. I feel like I grew."
Nicks has worked hard to rehabilitate the knee and to be the player who caught 155 passes for 2,244 yards and 18 touchdowns in 2010-11 (not including his 28 receptions and four scores in the playoffs). As unpleasant as it was for him to be at Duke, the workouts proved to him he's on the right track.
"We got some good work in," Nicks said. "It was good for me to just get my feet back up under me a little bit and it was my first time running routes with Eli. So it was good. I feel good; there weren't any setbacks."
Nicks, who said he has been running full-speed for "a couple of weeks," was careful not to overextend himself.
"I kept it simple because it was my first time running routes," Nicks said. "I wasn't about to go out there and – it's still early right now. So my biggest thing is that I want my presence to be felt there with Eli. Because it is something that I do week-to-week. We're on the same page."
Manning was happy to throw again to the receiver who has caught more of his passes (250 in the regular season) than any other player.
"It is always good to see him back healthy," Manning said. "He is still striving to get to 100 percent. Obviously, having a healthy Hakeem would definitely make our team much better."