Opening Statement: The injury report, I think it's pretty public. So, Saquon (Barkley) and (Alec Ogletree) Tree (didn't practice). We have a bunch of guys here that this time of year, it's just game soreness. I'm not really concerned about… I guess (Kevin) Zeitler's on here and Lorenzo Carter. Tae Davis is coming back. He had a good day today, considered a non-contact day in the (concussion protocol), obviously. Wayne Gallman, Nate (Solder). Just game soreness stuff. This time of year, it kind of creeps up. By the end of the week, most, if not all, of these guys will be ready to go. This is a tough team. I was telling our guys, having been up there for two years and coached with (Vikings Head Coach Mike Zimmer) Zim, I know their mindset. I know how they function. This is an old-school team. They have a progressive mindset, certainly, but they're old school. A lot of what they do there, we try to do here in terms of building our team. It's going to be quite a test for us. I'll take your questions.
Q: It's obviously a good sign to see Saquon back out there. Is that fair? Do you look at it the same way?
A: Yeah, he's progressing.
Q: Is that part of his regular timetable, or is he healing faster than you thought?
A: I don't know. Some people's doctors had him (out for) eight weeks. Not my doctors.
Q: What did your doctors say?
A: It doesn't matter. We'll just see. It's one of those things, we'll see how fast he comes back.
Q: Did you expect him to be running and cutting at this point?
A: I didn't know what to expect. Each guy comes back from injuries at a different rate. We'll just see. We'll just see where he's at.
Q: You could say that this week is too early for him to return?
Q: You won't rule him out for this week? You still think that's a possibility?
A: We're just going to see where he's at. He's out there moving around. I've seen him moving around. I guess this is the first opportunity for you guys to, so that's probably why it's a point of interest.
Q: How did he say he felt? Did you talk to him after practice today? How did he feel afterwards?
Q: You mentioned the familiarity with Zimmer. Obviously, he knows you, I would imagine, inside and out, and you know what he wants to do inside and out. I know you guys have had these storylines the last couple weeks of who's familiar with who. Is that the case with you and Zimmer's defense?
A: No. Listen, a lot is made of that. Unfortunately in this business, if you've been in this business a long time, you've worked at a lot of places with a lot of guys. It comes down to the players executing. We know how each guy sort of functions and how each guy thinks, but that doesn't mean we know how it's going to play out. I have great respect for his teams. Working there helped shape my mindset moving forward. I've been very fortunate to work for a lot of really good defensive coaches as an offensive guy, which kind of impressed upon me the importance of running the football, being able to play defense, protecting the passer and all of those things. Those are the things you learn. But there's always the gamesmanship that goes into it. I don't know what they call their plays on offense. We just need to attack what we see on defense and vice versa. There are more guys there that know more about what we do on offense, because there are some coaches there that were there (in 2017). You try to maybe say something that to them sounds like a pass and is a run, and vice versa. That's just the little gamesmanship you play. But for the most part, at least in my experience, in games where you say, 'Well, you know we know this crew…' That kind of stuff usually backfires on you. It's a new team playing against a new team, and it comes down to the players executing.
Q: What particular challenges does this Vikings defense pose for Daniel (Jones)?
A: They have outstanding players everywhere. When you start saying, 'Okay, well, this is their best player. No, this guy is their best player.' All of the guys up front… they have two edge rushers. They have interior guys that can get push. They have linebackers that are Pro Bowlers. They have corners and they have safeties that have all been to Pro Bowls. They're well-coordinated and they put pressure on the passer, and they do a good job of stopping the run. That's what you want from a defense.
Q: In the past, you've spoken about the team needing to learn how to win. With two wins in a row now, do you feel that they've finally grasped how to win and can build on it?
A: Well, in the last two weekends, we did. When you find a way to win games, and we did it two different ways. The first win, that was never in doubt, right? We found a way to win. We had to come back. Last week, I asked the fellas to start the game like they started the second half of the previous game. They did a good job, and we found a way to get a lead. That's a different way of winning. When the score is in your favor, you run the ball a little more than you might otherwise, you play defense like we did, try to eliminate the turnovers, which we didn't. Those types of things. There's learning that comes with winning. Typically, just like when you lose, you lose certain ways. When you win, you do the same thing.
Q: You've seen Kirk Cousins play, you know their receivers pretty well. Are you surprised they are 31*st in the league in passing?*
A: I don't look at those deals. I know this, when they get grooving running the ball, and I was with Dalvin Cook, an outstanding runner, and they've got a list of runners behind him that are very good. They've improved their offensive line. I knew (Kyle) Rudolph, Irv Smith, those guys— when they get going and then their play actions, their boots and their nakeds are all tied to that, they are very dynamic. I was with all of those receivers, mainly (Stefon) Diggs and (Adam) Thielen. Those guys can win one on one matchups when they are choosing to throw the ball. I don't know about all of that stat stuff, I just know that they are very dangerous.
Q: How similar do you view your offense now to what it was like when you were there with Case (Keenum) in Minnesota?
A: I don't know. I think we're learning. We try to attack the coverages that we see each way. I think we've developed more things that we can do than when I was there. We just have to make sure we get the plays called at the right time. I don't know how different offenses are. Everybody's got curl flat, and four verticals, lock them up, take shots. Everybody runs the ball to the right, to the left, inside, outside, everybody tosses the ball. I don't know, I guess I don't think too much about that.
Q: Is their ability to run the ball of a particular concern when they get it going, in light of the injuries that you've had on defense?
A: Absolutely. That's primary to playing this game. If a team can come out early in the game and establish running the football, then what happens is their passing game and their play action game is much more believable and they can stick with it longer. We've all seen where teams just start from the first snap on, just start dropping back and throwing. Pass rushers on every team are too good. So, that really is a good formula for everybody to play with. Run the ball, play action, boots, nakeds, move the launch point of the quarterback, deal with tricky little things that give you a quick completion. Then that gives the quarterback confidence, too. It's not unique to how I anticipate they are going to play against us, but it really is a way that if you're going to win a lot of games over a long period of time, it's kind of a good way to be.
Q: You guys gave up something like 90 points in the first 10 quarters of the season, and six (points) in the last six (quarters). Is there something you can point to, simplifying anything or something that makes it such a stark turnaround defensively?
A: No, I think as we get going, there are a lot of things running parallel, not just with our defense, with our team. We've got a lot of young players and they are doing things for the first time. There is a lot of learning that comes between the first and second time you play, then that third time, then the fourth time. Then there is the coordination of everybody together. As I'm on record saying, we did a few tweaks to help us in last week's game. Then you have to practice. I felt like last week, we practiced with a purpose, trying to improve on the things that we didn't do well. The biggest thing we did, we had 13 big plays against us in Tampa. It looks like they did the same thing moving forward last week. But we had 13 big plays (against us), and last week we cut it down to three. Whatever happened there, that's a good thing and it helped us win the game.
Q: You guys have said the practices have been more focused or have drawn more attention to detail. I don't know from the players side or the coaching side, but was there some change that was made in the last two weeks in the practice schedule or in the team?
A: No, I think that just runs parallel with winning a couple games. I feel like they've always practiced with a purpose. It's easier to talk about when you win a couple games. I do like our new schedule. I believe in it, and I wish I would've thought of this sooner. Like today, this is a Wednesday after a hard-fought game. They are sore, and they are out there, but they are in pads. They are practicing at a time of day when their energy level is the highest, so they have a better chance to push through it, which they did. I thought today was a really good practice, but early on it was a little haggard. As that day went on, they practiced better and better.
Q: Is there anything you want Daniel (Jones) to be on high-alert for this week going against a defense like this? For a rookie quarterback, do you say, 'look, this is going to be a little different than what you've faced so far'?
A: Well, I don't know how different it is. We all watched the games, we've played against some really good defenses so far. I don't want to minimize what we've played against, because Tampa has an outstanding front. They've got a guy who's knocking the league out in pass rushing. This team is going to be as good of a front as we're going to face, but we've already played against some good fronts. The important thing is to make good, quick decisions, (and) get the ball out of your hands. We've got to do what we can to help minimize the effect that (Everson) Griffen, (Danielle) Hunter and those guys have on the passer. (Stephen) Weatherly, they've got a lot of guys.
Q: Yesterday you let go of Bennie (Fowler) and TJ Jones. What made you let go of two receivers? Obviously, you had to make moves, but letting go of two guys at the same position after losing Russell Shepard last week?
A: Well, it's a full roster shaping. We had injuries at linebacker and we had Golden Tate coming back. I'm better at English than math, but you can only have 53 guys, so you've got to make some decisions. They are hard decisions because we cut some guys who are our kind of guys. Bennie and TJ are terrific people, great teammates, (and) outstanding players, but we had to make some decisions to put the roster together. I think that's what goes into it this time of year. Then you're always looking for guys who can help bolster a piece of your team, no pun intended. That's why (Chris) Peace is here (laughter).
QB Daniel Jones
Q: After two games, how do you feel about the progression of learning game day situations?
A: I think I have made some progress, I think just the experience of being out there is helpful, and certainly a lot of lessons through two games. I think I've made some progress, but I realize there is a lot to be done.
Q: When you look at that Vikings defense, what are you preparing for?
A: They are a good unit, a good team. We'll be prepared, I think when you look at them they are a strong front seven and they are good in the back end, too. I think we'll be ready, we got a good start to the week today, and have a good plan in place. I'm excited and I think we will be prepared.
Q: What is Golden Tate going to add to the offense?
A: Obviously, he's a guy that's played a long time, he's caught a lot of balls. He's a really good player, he gives us another weapon, another tool on offense. Excited to have him back out there for sure.
Q: How much did you get to work with him in the preseason?
A: I worked with him a little bit, the week of the Patriots game especially, I worked with him a little bit. We all worked with everyone throughout camp and throughout the preseason, I feel comfortable with him, I think he feels comfortable with me so I think we'll be on the same page.
Q: How much are your spirits lifted when you see Saquon out there running around, even though he may not be available for the game. It's certainly an optimistic perspective?
A: Yea, without a doubt. I think he is doing well and he's going to be patient and we are going to make sure he is feeling good when he comes back. To have him back out there, he is a captain, he is a leader on our team, so it's great to have him back out there.
Q: We were asking Coach Shurmur the particular challenges of this Vikings defense and he basically named every position. Is this the most complete defense you have faced in the NFL?
A: I think they are a very complete team. Compared to the teams we have played, they are definitely up there. Like coach said, they have a good front seven and they are really good in the back end, too. I think we'll be ready, I think we have a plan to attack, a plan to handle what they do well. Realize it's about what we do well, too. It's about playing to our strengths and we will have a plan to do that. We're confident and I'm looking forward to it.
Q: Is there anything you have noticed about the way they play in the back end? Historically, the Vikings have done a good job of harassing Giants quarterbacks?
A: I think they are physical, it's an experienced group back there, they have some guys that have played together for a long time. As far as giving you different looks, they are good at that. Like I said, like anything, we'll have a plan for it. It's about what we do, it's about playing to our strengths. I think we'll do that.
Q: When you go back and look at last week's game and you look at the interceptions, what did you see?
A: I think, like I said after the game, the first one was a poor decision on a guy I didn't see and he made a play on the ball. The second one was a poor throw, just a misthrow. Certainly, two mistakes you can't have. I'll learn from them.
Q: Coach talks about learning to win, how have you learned to win at this level?
A: I think it starts during the week with practices. Coach talks about it every day, focusing on
Wednesday when it's Wednesday and making sure we are having the best Wednesday we can have and do the same thing tomorrow, the next day and the day after. I think that's a big part of it, using the week to prepare and trusting that you are going to play the best when you are prepared the best. I think that's been big for us.
Q: Is it tough to keep your eyes down field when you have thrown a couple interceptions on passes further than 10 yards. What does it take to come right back out and try to make that play again?
A: I think if you are going to be a successful quarterback, you have to be willing to move on to the next play. I think if you are making decisions based on mistakes or last plays, you are going to get yourself into trouble. It's about making the read, it's about putting the ball where it's supposed to be, considering the coverage and the look. I don't think you can change that regardless of the result.
Q: Are you good at that? Sometimes quarterbacks sulk and they can't get a bad play out of their head?
A: I think so. It's not easy, but it's critical. I think I can do that.
Q: I don't know if their safeties try to mess with you in terms of trying to make you go one way or the other, did you notice that?
A: No, not any different than what we have seen on tape and what they have done to other people. I think when you get veteran safeties back there, they are going to do that. That's their job and that's part of disguising their looks a lot of times. I think it's just about preparing during the week and knowing what to expect during the game.
Q: I couldn't help but notice you were signing Jones jerseys and footballs. Has that changed in the last couple of weeks?
A: Yeah, maybe a little bit. I'm not sure that changes a whole lot besides those 30 seconds you spend doing that coming in from practice. It's not a big change in my routine or my day.
Q: Are you getting noticed more when you walk down the street?
A: Maybe a little bit. That's part of the job, a little bit, but it's all good.
Q: In Tampa, you took a pretty good shot from Carl Nassib when you were moving around, but then still next game you were able to avoid pressure and avoid that hit while making a play with your legs. I'm curious, when you study that, how do you process it and still avoid those hits?
A: I think that's tough to change what you are doing. A lot of that is just a feel of the pressure and feel who's coming and finding the quickest way to escape. When you are in those situations, it's hard to know where everyone is, but it's more of a feel for the space and a feel for where the pressure is coming from.
Q: When you were in high school, you took a shot from Vikings center Garrett Bradbury, who was a defensive end at the time. Do you remember that play and was that an eye opener?
A: At that point, I grew up playing football, you realize pretty early you get whacked pretty good. He hit me pretty well that time and since, me and Garrett have become good friends, he's an awesome guy. That's part of the game. I think you realize that as soon as you start playing.
Q: He got the better of you or you got the better of him on that?
A: I think on that hit he probably got the better of me.
TE Evan Engram
Q: Was it a surprise to see 26 (Saquon Barkley) out there at practice today, looking the way he did?
A: Honestly, that's a pretty interesting story. I don't know how—that's just crazy. I think his body is just made in a lab, I don't know. I'm happy, though, it was good to see. I'm glad everything is coming along recovery-wise, and now it's just being smart with it and not trying to rush anything.
Q: How difficult is it for Daniel Jones these next couple games--short turn around, playing two nasty defenses?
A: We've just got to play as a team. I think that's kind of his mindset, to find ways to get better and find ways to try to get as close to perfect as possible. That's kind of the mindset I've picked up from him, he wants to be perfect. That's just kind of his work ethic and his standard. So I think we've just got to play together as a team, and I'm not looking at anybody's individual performance. I know my teammates, including him, are going to show up ready to compete and play football.
Q: Is this the best defense you think you've seen so far, front to back?
A: Dallas is an elite defense, and these guys are pretty good, too. They're kind of different, so it's not that easy to compare, but they are a good defense. They have talent on all three levels, and we're going to have to be on our game.
Q: In terms of Daniel, how much more equipped do you think he is to face this defense than he would have been if this was his first time out, now that he has a couple games under his belt?
A: Like I said, he's just trying to find ways to get better. I think this is just another opportunity for him to come out and give it everything he's got for his team. I don't think he's looking at Minnesota as something different, he's trying to go out there and be the best that he can be for the team so we can get a win.
S Antoine Bethea
Q: What have you noticed about the defense progressing each week and getting better?
A: I think just the attention to detail. We're just getting better. Focused on the things that we didn't do so well the first two weeks, had a good week during practice, good practice week, and then it transferred over on Sunday.
Q: It's a unique, tough offense that you'll have to face—what do you think are the biggest challenges against the Vikings?
A: Stop the run. They've got a good run game, one of the best in the league. Then after that, we've got to negate the deep throws, don't let the ball go over our head, and try to carry over from last week—create turnovers, tackle well, and get the offense the ball back.
Q: Coach Shurmur talked a lot about how when he was with the Vikings, he was with all those receivers—how much has he passed along to the defense, any of his scouting from his past knowledge?
A: Not much. Defense, we're going to watch film, we're going to study receivers—we know the receivers, they have some good receivers, playmakers capable of doing good things, so on the defensive side we've just got to do our thing.
Q: How are Adam Thielen and Stefon Diggs different from each other, the challenges that they pose?
A: They actually have a lot of similarities. They both can go deep, good route runners, strong hands, good after the catch, so I think having them on the opposite side of each other gives Kirk Cousins some good weapons.
Q: It looks like Kyle Rudolph doesn't have as many numbers as he usually has—are they using him more as a blocker these days?
A: That's what it seems like. But like you said, Kyle Rudolph, he has a great history, so you can't sleep on him. You've definitely got to keep your eyes on him.
Q: Is it hard to believe that team with those receivers and that quarterback is 31*st* in the league in passing?
A: It's not hard, it's the league. They're 31st for a reason--obviously, they try to focus on the run game. Obviously, they've expressed some concerns about that, so we definitely can be ready for them to throw the ball a little more, but I think we'll be up for the challenge.
Q: Do you think they will throw the ball more? Because coming off a game where they only scored six points, everyone is talking about how their passing game is not as good.
A: I think they will. For sure.
Q: Is that good? Is that something that you welcome as a competitor?
A: Of course. As a competitor, as a DB, we do. They're still going to try to run the ball, but they're definitely going to try to take their shots.
Q: How fine of a line is that for a defensive back where you're looking into the backfield to see if they're running, and then you've got to get back?
A: It's all about reading keys. We talk about it—playing disciplined, having good eyes. As DBs, we've got to focus on our keys. We've got to let the front seven do what they do, identify the keys that take us to the run, and we'll get to the run.
Vikings Head Coach Mike Zimmer (Conference Call)
Q: What do you remember about Pat Shurmur when he was on your staff, and how has he grown?
A: Pat was, number one, he's a great person, heck of a football coach. He was always trying to be innovative and find a way to obviously help the quarterback and try to move the football. But I think the biggest thing with Pat, especially the last year he was with me, was it was important for him to figure out how to help the team win, and I think he always had that in his mind when we talked about what we had to do as a team and how we had to approach games and things like that. He did a great job for us here and we miss him.
Q: What makes Shurmur a successful play caller on offense?
A: I think the biggest thing is he really likes to fit the scheme to the players and what they can do the best. He has his system, but he changes up a lot of the different things to help each individual player. I think he understands the weaknesses of his players as well and tries to help them so that isn't as big of an issue.
Q: How different is it preparing for Daniel Jones rather than Eli Manning?
A: In some aspects, it's completely different. He moves a lot more, he scrambles, we saw him scramble for the touchdown against Tampa Bay, he can get outside the pocket quite a bit more. It looks like—Eli was a great player, so I'm not trying to bash him whatsoever—but Jones just seems like he's playing very free, he just sees it and lets it loose, and he's not worried about any ramifications, he's just going out and playing the game, it looks like to me.
Q: The Giants have a really young defense. What do you see from that defense in terms of improvement from week to week and whether or not it's beginning to come together a little bit?
A: I know they've got some injuries at linebacker, but they are an athletic group. They've made some turnovers, these defensive linemen they've got are good players, I think (Markus) Golden is a good player at linebacker. The young secondary has got their eyes on the ball quite a bit, and so they're able to create some turnovers. So I think it all starts with that—being in the right place, very aggressive defensively, they're a high-pressure team, so it all starts with that part of it. Then, as you continue to go forward, the young guys continue to understand the scheme better and better.
Q: Are you surprised that your passing game has struggled so far? How much of that is on Kirk Cousins?
A: Yeah, I'm surprised a little bit, I guess. But two of the games, we were up 21-0 and 28-0, and so we really didn't try to make much of an effort to try and throw the football. I think that last week, obviously, it was an issue. We really didn't do a very good job in any area offensively, so I wouldn't put all that on Kirk. Like I told the team, there was enough blame to go around, whether it was protection or backs missing a protection or somebody dropping a ball or fumbling a ball or missing a throw. So, there was a lot to go around there.
Q: You had a player (WR Adam Thielen) publicly call out your quarterback after Sunday, does that bother you a little bit?
A: Quite honestly, that was headlines. I watched the interview and that was not what happened whatsoever, so I would stay away from reading the headlines on that. Adam Thielen is a terrific team player. If you watched the interview, he'll tell you that he's going to be the first one into work tomorrow and he's got to do better and work harder. It was nothing like what the headlines said.
Q: What have you seen from Mike Remmers this year compared to when he was playing in Minnesota?
A: Very similar. Mike is a very crafty veteran, he changes up sets, he's athletic--I've been really impressed with him. Mike was a great teammate here, a really good player for us. He got hurt a little bit, but I really like Mike. I'm glad to see he's doing well.
Q: When you look at the Giants' offense now, do you see similarities with the way Daniel Jones is working with their offense compared to the way Pat Shurmur used Case Keenum when he was with you in that final year?
A: There's some similarities, yeah. They're two different style quarterbacks, but there are some similarities in some of the plays, with some of the things he ran when he was here. But honestly, they're two different quarterbacks for the most part. Daniel, I think the guy is going to be really, really good, honestly. I think he's good now, but I think he's going to be really, really good. He looks like a big time NFL quarterback that can move in the pocket, can make all the throws, looks like he makes quick decisions, moves under duress, so I think there's a lot of good things that are going on with him.
Q: Linval Joseph was a good player for the Giants, and he seems to have gotten even better over time with you guys. Can you just talk about how he's grown and how important he is to your team?
A: Yeah, Linval is a terrific teammate, he's one of our captains, he works his rear end off every single day, he's tough, strong—I think Andre Patterson has done a great job in teaching him what we're trying to get done and the way we're trying to play. I know he's been to a couple of Pro Bowls, but he does a lot of dirty work that a lot of people don't see, and he makes things a lot easier for our linebackers in a lot of different ways. He's an unbelievable person, couldn't ask for a better guy, and so we're just fortunate that we have him.
Q: When you talk about going up in those two games and running the football a lot, is that where you'd like to hang your hat with this offense? I know everyone likes to be balanced, but you've got a chance to be a really good running team—is that where you'd like to see it kind of start at least?
A: Well, I want to do whatever we have to do to win, I don't really care. But I do think that we're a better football team when we run and play-action pass, and I don't want to run the ball 35 times and throw it 10, and I would like to be more balanced, but each game dictates kind of what we do and how we do it, and I think each week is going to be different. But we do have an emphasis on wanting to run the football, and then work everything off of that.
Giants vs. Vikings Broadcast Info: TV channel, Radio Station and Live Stream.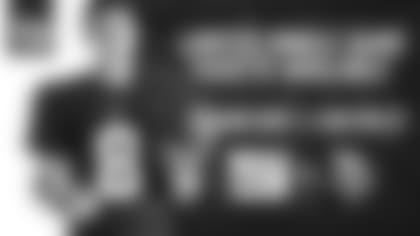 Limited tickets on sale for Giants vs. Vikings
See the Giants take on the Vikings on Sunday, October. 6 at 1:00 PM ET