With the calendar flipping to October, we are a quarter of the way through the NFL season.
After losing the first two games of the season, the Giants sit at 2-2 with two consecutive wins and are just one game behind the Dallas Cowboys for first place in the NFC East. A big reason for the recent success has been the strong play of the team's rookies.
Several members of the 2019 draft class have stepped into big roles. The following is a breakdown of how each Giants draft pick has fared thus far:
QB Daniel Jones: 1st round (6th overall)
49-for-71 (69.0 completion percentage) for 578 yards, 3 touchdowns, 2 interceptions, 95.9 Passer Rating. 10 rush attempts for 66 yards (6.6-yard avg.) and 2 touchdowns.
Aside from a handful of snaps at the end of Week One, all of Jones' playing time has come over the last two weeks. The 22-year-old made his first regular season start in Week Three and put together a memorable performance. Jones threw for 336 yards and two touchdowns and ran for an additional two touchdowns, helping the Giants overcome a 28-10 halftime deficit to defeat the Tampa Bay Buccaneers. Jones became the first Giants quarterback to rush for two touchdowns in a game since Jeff Hostetler in 1991, and his outing earned him NFC Offensive Player of the Week honors.
Jones completed 74.2% of his passes for 225 yards in Week Four, tossing one touchdown and two interceptions. He added five rushes for 33 yards (6.6-yard avg.) while leading the Giants to their second consecutive victory. Jones' 69.0 completion percentage on the year ranks second among rookie quarterbacks, trailing only Jacksonville's Gardner Minshew (69.4).
"I can't speak for you guys, I'll speak for me. He's way smarter than me," coach Pat Shurmur said about Jones after last week's win. "Not only is he a quick learner, but he's a fast thinker and that goes into the decision-making piece."
DT Dexter Lawrence: 1st round (17th overall)
8 total tackles, 1.0 sack, 1 tackle for loss, 2 QB hits, 48.5% defensive snap count, 34.3% special teams snap count.
It hasn't taken long for the young defensive tackle to leave his mark. Lawrence's strongest performance came against the Buccaneers in Week 3 when the 21-year-old picked up his first career sack along with one tackle for loss and two QB hits. Lawrence's presence was felt on special teams that day as he blocked a Matt Guy extra point attempt, a huge play in the team's one-point victory.
Lawrence has already proven to be a difference maker on defense and special teams.
CB DeAndre Baker: 1st round (30th overall)
14 total tackles, 84.6% defensive snap count.
Baker sprained his knee in the middle of August, causing him to lose valuable game reps during the preseason. After starting slow, Baker has come into his own over the last two games. He allowed only one completion for 11 yards in Week Four and helped the defense hold Washington to 121 passing yards. The 22-year-old has played on 84.6% of the defensive snaps this season and has started each of the last three games.
"He's a young player," Shurmur said on Monday. "When he played against the Cowboys, that was the first time he had done it on the NFL level. The next week against Buffalo was the second time, and now he did it yesterday for the fourth time. I think he's getting to be more and more comfortable…He's like any young player. He's getting better with each outing."
OLB Oshane Ximines: 3d round (95th overall)
10 total tackles, 2.0 sacks, 2 tackles for loss, 3 QB hits, 42.6% defensive snap count, 19.3% special teams snap count.
Through the first four games of his career, Ximines has been everything the Giants were hoping for when they spent a third-round pick on the edge rusher out of Old Dominion. X-Man has recorded 10 total tackles on the year and has registered at least 0.5 sacks in each of the last three games. Overall, Ximines has collected two sacks thus far, which has him tied for third among all rookies. That is an impressive mark for a young player who has played only 42.6% of the team's defensive snaps.
Ximines has seen his playing time increase as of late, no surprise as the rookie is proving to be a big factor in the team's pass rush.
CB Julian Love: 4th round (108th overall)
28.4% special teams snap count.
Love has yet to appear on defense this season. However, the rookie defensive back has played on 28.4% of the team's special teams snaps. Through the first quarter of the season, Love has not registered a tackle.
LB Ryan Connelly: 5th round (143rd overall)
20 total tackles, 1.0 sack, 2 interceptions, 2 tackles for loss, 2 passes defensed, 1 QB hit, 48.8% defensive snap count, 27.8% special teams snap count.
Connelly suffered a torn ACL against the Redskins in Week Four, cutting his rookie year short. Prior to the injury, the fifth-round pick put together an outstanding first season in the NFL. Connelly took over for the injured Alec Ogletree in Week Three and registered the defense's first turnover of the season when he intercepted a Jameis Winston pass. He followed that by picking off Case Keenum in the first quarter last week for the unit's second turnover of 2019. Connelly also picked up a sack against Washington, making him the first Giants linebacker with an interception and sack in the same game since 2007.
"It's unfortunate, but he's got a real bright future and he'll come back from this," Shurmur said. "He was doing a lot of really good things for us. He's a young player. Part of being a pro sometimes is coming back from injury. If he approaches this the way he has approached playing in the game, he'll be back to full strength here soon."
WR Darius Slayton: 5th round (171st overall)
5 receptions for 94 yards, 44.1% offensive snap count.
Slayton made his NFL debut in Week Three and immediately had an impact. He caught three passes for 82 yards against the Buccaneers, including a 46-yarder from Daniel Jones that led to a Giants touchdown a few plays later. Slayton also threw a crucial block on Evan Engram's 75-yard touchdown catch-and-run. Four of Slayton's five receptions have been for first downs and the fifth-round pick has given the Giants a downfield threat.
"He hasn't played very much, but from what we've seen, he's shown a lot of poise," offensive coordinator Mike Shula said last week. "He does a nice job with his routes, he's a really good route runner. I hate to say this like this but for a young guy, he's a really good route runner."
CB Corey Ballentine: 6th round (180th overall)
3.3% defensive snap count, 74.1% special teams snap count.
Ballentine has yet to do much on defense, having played on only nine snaps. However, he has served as the team's primary kick returner this season. Through five games, Ballentine has returned five kickoffs for 108 yards, averaging 21.6 yards per return.
OT George Asafo-Adjei: 7th round (232nd overall)
Asafo-Adjei suffered a concussion at the start of training camp and was placed on season-ending injured reserve at the beginning of September.
DT Chris Slayton: 7th round (245th overall)
Slayton was waived by the Giants at the end of the preseason before being signed to the team's practice squad prior to Week One.
Giants vs. Vikings Broadcast Info: TV channel, Radio Station and Live Stream.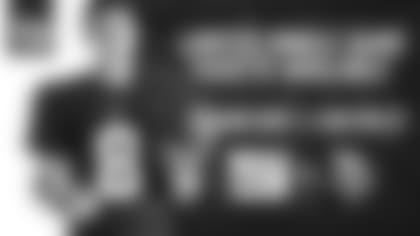 Limited tickets on sale for Giants vs. Vikings
See the Giants take on the Vikings on Sunday, October. 6 at 1:00 PM ET