EAST RUTHERFORD, N.J. – Saquon Barkley proved today he can be as elusive speaking to the media as he is running with a football.
The Giants' Pro Bowl running back suffered a high ankle sprained 11 days ago at Tampa Bay. He missed last week's victory against Washington, and this week has been rehabbing on the side of the practice field. Coach Pat Shurmur today again declined to rule Barkley out of Sunday's home game against the Minnesota Vikings.
Barkley was asked how he is feeling, considering reporters saw him "running, cutting, jumping" during the part of practice they are permitted to watch.
"It just feels good to be out there with my teammates," Barkley said. "I think we've been having a great week of practice, we just have to continue to get better. We've got one more day to attack it on the field to prepare ourselves the best for the Vikings."
Asked how close he thinks he is, Barkley responded with a verbal stiff-arm.
"Like I said, I'm just happy to be back out there with my teammates," he said. "Go out there and just go get back on the field. Like I said, one more day, Friday, to get on the field to get ready for the Vikings."
Does he think he needs to participate in that practice to play on Sunday?
"I feel like I need to do whatever helps the team win," Barkley said. "Whatever they would like me to do. Like I said, I know how I personally feel. I love having the team mindset that I have on the field, but it's not just on the field football, it's off the field too. Like I keep saying, we have a great team, and a great staff, and I'm going to continue to trust them and I know they are going to put me in the right position."
The same question was posed to Shurmur.
"We'll have to see," he said. "I think there are certain things we need to see a player do before we deem him ready to play. Deciding whether a player is out or not, those are Friday things. Today is Thursday."
Shurmur was asked if he considers Barkley's participation on Sunday "possibly realistic."
"Yeah, I would," Shurmur said. "I think we check constantly with our doctors, and we make sure that he's on the right track to come back. So, we'll just see. Really, if you think about this globally, people outside the building put time frames on things. Within the building, we know that all people are different and that's why you hear us say, typically, day to day, or week to week. I think that's where we're at with all the injuries because as different as people are, they respond differently to injuries. Sometimes the injuries are more or less severe but still get categorized as this. That's where I think we have to be careful when people are trying to predict when a player comes back."
If it's a question of returning to the field as quickly as possible to help his team or taking some extra time to let the injury feel heal, Barkley has strong feelings either way.
"I'm a competitor and definitely want to be out there for my team," he said. "But when you say team, it's not just only in this building or on the football field. I have to trust my team in there, I think we have some of the best, if not the best, training staff starting with (Senior Vice President of Medical Services) Ronnie Barnes all of the way down. I'll just continue to listen to them, have faith in them, and continue to do what I can to help my team win games whenever I'm able to come back.
"My mindset is not going to change. From the day I got hurt, I wasn't going to allow myself to take a negative approach to it. I'm a big believer with healing, a lot of it is mental, also. (I'm) just trusting the trainers, and I think they've been doing a great job. Not only my trainers here, but my physical therapist, outside of football, is doing a great job with me, too. I'm just trying to do whatever I can to help my team win games. Just trying to get as ready as I can."
Barkley said he "got to do a little bit more" in his rehab today, as Shurmur had said he would. "It felt good," Barkley said. "I got to open up and run full speed and cut a little bit more. Like I said, just focused on the Vikings and focusing on tomorrow and attacking tomorrow. It's the last day on the field we technically have to prepare for a very great team and try to find a way to get three in a row. We have a good thing going and we have to continue to keep it going."
If Barkley is inactive for the Vikings game, his next opportunity to play will come very rapidly; the Giants play next Thursday night at New England. Would he resist if the team's medical staff said that latter game is the one he should focus on?
"I wouldn't say I'm going to fight it," he said. "I keep saying, we have a great team on the field and great coaches on the field, and we have a great team off the field. I trust their decision. They've been doing a great job for me with rehab, just being honest and just being open with me. Whatever they would like me to do, I'm willing to do. I'm always a competitor and I'm always going to do whatever it takes to help my team win. If they feel like that's not this Sunday, then it's not this Sunday."
*If Barkley doesn't play, Wayne Gallman will again start, backed up by rookie Jon Hilliman, who rushed for 33 yards in his NFL debut. But each back lost a fumble.
"They both competed well and they both contributed in a positive way to win," Shurmur said. "I think we had 37 rushing attempts, they handled the bulk of them until the end there when we threw (Eli) Penny in there for a couple. I thought (Hilliman) handled the game very well. The one thing when you watch a new player and they're playing is to see if it's too big for them. He displayed, at least in my opinion, that it wasn't. He competed well and did a good job."
*Linebacker Alec Ogletree (hamstring) was the only player other than Barkley who did not practice. Running back Wayne Gallman (neck) and linebackers Lorenzo Carter (neck) and Tae Davis (concussion) were limited. Tackle Nate Solder (neck) and guard Kevin Zeitler (shoulder) practiced fully. Yesterday, Solder was limited and Zeitler did not practice.
Giants vs. Vikings Broadcast Info: TV channel, Radio Station and Live Stream.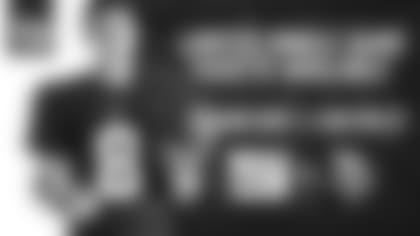 Limited tickets on sale for Giants vs. Vikings
See the Giants take on the Vikings on Sunday, October. 6 at 1:00 PM ET