EAST RUTHERFORD, N.J. – Tyrod Taylor first called the play in the huddle for the entire offense and then finished with a message for Darius Slayton.
"I said, 'Hey, you have the route that's going into the end zone right here,'" Taylor said. "'I'm going to give you a chance. You beat your guy, I'm going to give you a chance.'"
When Slayton crossed the goal line, cornerback Khalil Dorsey was standing directly in front of him. That didn't dissuade Taylor, who threw the ball to the left side of the end zone. Slayton made the most of the opportunity, leaping high to catch the ball right above Dorsey's helmet.
"Ty hinted he was going to give me a chance on that play," Slayton said. "Anytime a quarterback kind of hints they're going to give you a chance, you want to come through for them. Wherever it was, I was going to try to go get it. And I was able to go get it on that play."
The completion was one of several big plays turned in by Giants wide receivers in today's practice. Coach Brian Daboll said the emphasis in the workout was third down and 10-plus yards, which made it a heavy passing day. And the wideouts, with help from the quarterbacks' pinpoint passing, had a notable outing.
In addition to Slayton, Kadarius Toney, C.J. Board, David Sills, Richie James and rookie Wan'Dale Robinson all made outstanding receptions.
"Definitely I had a good day today," Slayton said. "Made some plays. Able to be good on my assignments. So, I would say I had a good day today."
"I think I had a good day," Board said. "I can always improve, though. You always think you had a good day, and you watch the film, and you see some things that you could've done better. That's kind of the approach you try to take every day – to build brick by brick and take each day as it is. Go into the day trying to do the best for that day and see what happens. That's what I try to do every day."
The above list does not include Kenny Golladay, arguably the team's premier wideout who has made his share of camp catches, and Sterling Shepard, the eighth-leading receiver in franchise history with 349 catches, who is on the reserve/physically unable to perform list as he continues to rehab the Achilles tendon he tore last Dec. 19.
"This is the most talented group we've had since I've been here for sure, top to bottom," said Slayton a fourth-year pro. "It raises the sense of urgency for everybody in the room, because you know that we're all capable of making special things happen. So, every day you got to go out there and put your best foot forward."
The wideouts are a talented, spirited, close-knit group. Taylor, a 12-year veteran who is playing for his sixth team, was enthusiastic in his praise of the receivers.
"By far it's the most competitive bunch that I've been with and probably collectively the most talented group I've been with – from the top of the receiver room to the bottom," he said. "All those guys do something special in their own way. They bring it to practice each and every day, and I think ultimately our offense drives through those guys."
"This is one of the more special groups since I've been here, for sure," said Shepard, a seven-year veteran who is the longest-tenured Giants player. "We've got guys that can make some plays, especially after the catch. Wan'Dale, K.T., everybody's seen what they can do after they – well I guess not Wan'Dale yet, but you can see he's a twitchy guy. We can line up everybody everywhere. That makes it hard on the defense."
That, of course, is exactly what Daboll is striving to achieve. The players who throw and catch the ball say his offensive scheme is very receiver friendly.
"The coaches do a great job of being creative," Taylor said. "Getting guys, allowing them to be the best version of themselves. And that's putting guys in different situations, so they can make different plays. Moving them across the field at all different positions. And allowing guys to do what ultimately got them to this point, and they've done a great job of stepping up and making plays."
"I think there's a lot of freedom as well as movement with people," Slayton said. "Sometimes in certain systems you kind of get caught running the same things all the time. But I can honestly say you're going to run a whole variety of stuff, which keeps it fun and fresh for us."
Slayton's impressive catch in the end zone was certainly fun for everyone involved. Though Taylor and Slayton are in their first camp as teammates, they had a previous connection. That bond was evident on the field today.
"I've known Darius for a while," Taylor said. "It's my first chance to get to compete with him. We trained in the offseason for a number of years. So, just confidence in him. Obviously, I trust all those guys in the wide receiver room. And we give them a chance one-on-one versus the DB, and I'm throwing it up because I think he has a good chance of coming down with it."
"You can't have enough of them," Slayton said of his eye-opening catch. "With such a competitive room, there's a lot of talent in our room. I think everybody's trying to be on their best. And I welcome the best out of all of us."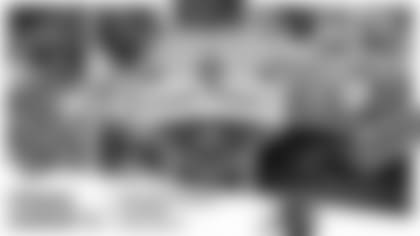 Giants Fan Fest returns to Metlife Stadium
Free and open to the public, the Giants Fan Fest will feature a Blue & White intrasquad scrimmage, autographs by Giants Legends, and a fireworks show.