EAST RUTHERFORD, N.J. – Since Saquon Barkley's record-breaking rookie season, his health, production and supporting cast have all changed dramatically.
His core values have not. As he prepares for his fifth season in a Giants uniform, his objectives are the same as they were when he arrived as the second overall selection in the 2018 NFL Draft.
"I just want to be a versatile player and do whatever I can to help the team win," Barkley said after the team's second training camp practice. "Whatever coach asks me to do, I'm going to go out there and try my best at it. Whatever I need to work on, continue to work on, and just evolve my game. That's something I want to do, become an overall better player, and I think this offense is giving me the opportunity to do that, so I'm thankful and blessed to have that. So, for me, I've just got to take advantage of it by getting in the facility taking extra meeting time and learning the playbook."
They seem like such modest goals for someone who has accomplished so much.
Few players have begun a career with the extraordinary flair and production Barkley demonstrated in his rookie season. He rushed for 1,307 yards and caught 91 passes, both Giants rookie records (the latter tied with Odell Beckham, Jr.). The 91 catches were an NFL record for a rookie running back. Barkley led the NFL with a Giants rookie-record 2,028 yards from scrimmage. He was the NFL Offensive Rookie of the Year and a Pro Bowler.
Not coincidentally, he played in all 16 games and participated in 83% of the team's offensive snaps.
Barkley has since missed 21 games, including 14 after tearing his ACL in 2020 and four last year, when he suffered his second sprained ankle. From 2019-21, he was on the field for 68.3, 6.6 and 46.6 of the Giants' offensive plays and has totaled 1,630 rushing yards and 99 receptions.
"The last two years not going how I wanted, I kind of have been reflecting on that," Barkley said. "Everything happens for a reason. So, the adversity, the injuries that were put in my way these last two years, God has a bigger plan and it's all going to work out. So, coming up on this year, year five, for me I just want to, as I said in my first interview when I talked to you guys this year, I just want to show the Giants that the guy that they drafted is still here. I can still go out there and make the plays and help my team be successful. That's the only thing I am focused on. Take care of myself, take care of my body, take care of my mental, and try to be the best teammate I can be."
But can he ever again be the same back who took the NFL by storm four years ago?
"I can't focus on that," Barkley said. "I know what I am capable of doing and I know the talent that I have. The way I kind of think of it is the same mindset I had when I first came into the league, when everyone asked me what my expectations are, and this and that. The way I look at life is if I take care of the little things and take it day by day the rest will take care of itself and control what I can control. In the last couple of years, a lot of things have been out of my control, specifically injuries, just some freak accidents.
"But I know the work that I put in and how hard I train. How I challenge my body and challenge my mind, so I know what I'm capable of doing. For me, I can't look too far into the future, I can't get caught up in, 'Oh, when I get back this is what I am going to do, or this is what I am going to do.' I can't focus on that. I have to focus on getting back in there, getting my acupuncture done, getting to my meetings, watching film, going home and getting some good sleep and letting my body recover, and then worrying about the next day. If I can have that mindset and take care of that, the rest will take care of itself."
New coach Brian Daboll and offensive coordinator Mike Kafka are examining all potential avenues when it comes to increasing Barkley's production.
"You see him running around here; he's a pretty skilled player," Daboll said. "Our job is to figure out ways to use him, whether he did it last year or the year before, two years, in college. When you're developing in a system, you kind of figure out what these guys do best, and you challenge them to do more. And if it doesn't look great, then you see if you want to keep pursuing it. And if you want to keep pursuing it, then you've got to get them better. And if not, then you just throw it away and do something else."
"(Daboll and Kafka) are very creative," Barkley said. "All the offensive coaches are very creative. We've got a lot of weapons and talented guys on both sides of the ball. We've just got to keep coming in, keep learning, and keep getting better every single day."
Though he has played only 44 games, Barkley is the longest-tenured player currently eligible to practice. Wide receiver Sterling Shepard is entering his seventh season and offensive lineman Nick Gates arrived with Barkley in 2018 (when he spent the season on injured reserve). But both are on the reserve/physically unable to perform list, which makes Barkley uniquely experienced among the players who were on the field today.
"I'm 25 now, in year five and one of the older guys in the building," he said. "I've been through a lot of ups and downs, but I got to use that to my advantage. I can use that to lead. Especially with some of the adversity that I've had to deal with in the last couple of years. I think that it's not only helped me as an athlete but just as a person, as a man, as a brother, and as a teammate. Just trying to be there and lead the best I can through the stuff I've learned through the previous four years and the stuff I will continue to learn."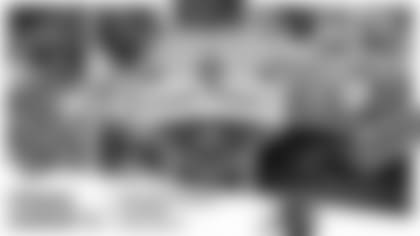 Giants Fan Fest returns to Metlife Stadium
Free and open to the public, the Giants Fan Fest will feature a Blue & White intrasquad scrimmage, autographs by Giants Legends, and a fireworks show.