Senior Bowl Week kicks off in Mobile, Alabama
For one week every year, the center of the football world is 150 miles from the closest NFL stadium.
Welcome to Mobile, Alabama, home of the Senior Bowl.
The 71st edition of the college showcase game will be played Saturday, Jan. 25, but the real work gets done during the week of practices, where NFL coaches, general managers and scouts gather to watch the top outgoing players in college football. In keeping with tradition, NFL staffs will coach the North and South squads. This year, the Bengals and Lions, own the Nos. 1 and 3 picks respectively, will coach the squads.
Last year, the Reese's Senior Bowl produced 93 total draft picks, including 40 in the first three rounds and 10 first-round selections. That roster included rookie standouts QB Daniel Jones (Giants), QB Drew Lock (Broncos), QB Gardner Minshew (Jaguars), WR Terry McLaurin (Redskins), WR Deebo Samuel (49ers), OL Elgton Jenkins (Packers), OL Erik McCoy (Saints), DL Montez Sweat (Redskins), DB Darnell Savage (Packers).
Tuesday's schedule (All times Eastern):
9:00 a.m. - 9:45 a.m. National Football Scouting Weigh-In
11:45 a.m. - 2:15 p.m. Media Day
2:00 p.m. - 3:30 p.m. South Team Practice
4:00 p.m. - 5:30 p.m. North Team Practice
9:30 p.m. – Midnight Formal NFL Club Interviews (GROUP 2 - TE, WR, DL), NFL Psychological Testing (GROUP 3 - LB/DB), Informal NFL Club Interviews (GROUP 1 - QB, RB, OL, SPECIALISTS)
QB Jalen Hurts to wear split Oklahoma-Alabama helmet
Hurts, who transferred to Oklahoma in 2019 from Alabama, will wear a specially-designed helmet representing both schools this week in Mobile. It was unveiled during Monday's introductory press conference with executive director Jim Nagy. Hurts led the Sooners to a Big 12 title and a spot in the College Football Playoff. That was after he played three seasons at Alabama and helped Crimson Tide to 41-3 record (26-2 mark as a starter in 2016 and '17). He played in six College Football Playoff games (four starts) and helped Alabama to the 2017 national title. He owns the school quarterback career record with 23 rushing touchdowns and ranks second in school history among QBs with 1,976 career rushing yards and 71 touchdowns responsible for.
DL Dalvin Tomlinson nominated for "Anything But Ordinary" award
Tomlinson, who has started every game for the Giants since they drafted him in 2017, is the Giants' nominee for the inaugural Anything But Ordinary Player of the Year Award. Dalvin is the ultimate renaissance man. His experience in just about everything is anything but ordinary. Academically, he graduated high school with a 4.4 GPA. Athletically, he's a professional football player who has also excelled in track, soccer, and wrestling. He's a musician and an artist, mastering the instruments of the piano, trumpet, and pencil. Watch NFL Honors on FOX February 1st at 8 PM ET to find out who will receive the first-ever Anything But Ordinary Player of the Year Award.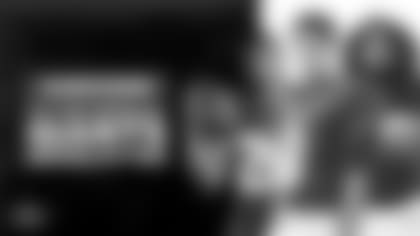 Sign up for the Giants Newsletter
Breaking news and exclusive content direct to your inbox