FOCUS ON THE TASK AT HAND
There is no way around it – the Giants got beat soundly on Sunday. Brian Daboll's team suffered their most lopsided loss of the season against the Eagles as they surrendered a season-high 48 points. The most points they allowed prior to Week 14 was 31 to the Lions in Week 11. The Giants have gone four games without a win as they've seen their record drop from 7-2 to 7-5-1.
But Daboll is not allowing his team to sit around and wallow in self-pity. Despite the recent rough patch, the Giants still find themselves firmly in the Wild Card race. The Commanders and Giants currently own the sixth and seventh seeds in the NFC as Big Blue is eyeing its first trip to the postseason since 2016. Regardless of the circumstances surrounding the game, Daboll is reiterating the same message to his team as he has all season long – stay consistent in everything you do.
"You're upset; you're not happy that you lost. But you have to get ready to play another game and quickly," the head coach told the media Monday. "Make the corrections that you need to make, whether that be coaching staff with the players. It's a long season; there's quite a bit of adversity throughout it. Maybe for some teams, it's in the beginning. For some teams, it's in the middle, and other teams, it's at the end. We're going through a little bit of it right now, and I think it's important to stay consistent, do the things that you need to do to try to win games with your preparation and practice. You explain that to your players, which I think they all understand. Again, whether it's the coaching staff or the players, they've tried to remain as consistent as you can be. And that takes some mental toughness throughout the year."
"I don't think we're going to have any issue getting amped up or getting excited for this game," Daniel Jones added. "I think everyone realizes the opportunity and how big of a game this is, Sunday Night Football. Nobody is going to have an issue getting amped up for it. You can't skip any steps this week. It's one day at a time in the preparation and making sure we're where we need to be by Sunday night."
ALL-TIME SERIES
Sunday's game is the 182nd all-time meeting between the New York Giants and Washington Commanders, with the Giants holding a 105-71-5 lead in the series. In the first meeting between the teams just two weeks ago, the Giants and Commanders finished in a 20-20 tie. It was the franchise's first tie since 1997, when they also tied Washington in a Week 13 matchup.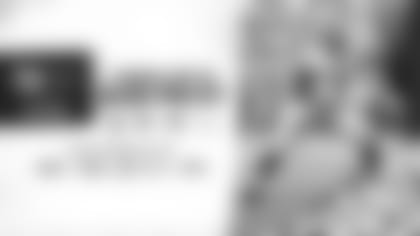 INJURY REPORT
Out: OL Josh Ezeudu (neck), CB Adoree' Jackson (knee), OL Shane Lemieux (toe), OLB Elerson Smith (achilles - placed on IR)
Questionable: TE Daniel Bellinger (rib), CB Nick McCloud (illness), DL Leonard Williams (neck)
(Note: WR Richie James and OLB Jihad Ward were cleared from the concussion protocol Friday evening and are no longer listed as questionable)
Out: OL Saahdiq Charles (concussion)
Questionable: DE Chase Young (knee), CB Benjamin St-Juste (ankle), WR Cam Sims (back)
(Note: DL Efe Obada (finger) was cleared and is no longer listed as questionable)
DJ'S SUCCESS AT FEDEXFIELD
Daniel Jones has put up solid numbers despite the team's recent rough stretch. The fourth-year quarterback is averaging 234.5 passing yards per game with four touchdowns and two interceptions over the last four games, in addition to 161 yards and two scores on the ground. He has also completed just over 66 percent of his passes during that span.
Jones had perhaps his most efficient outing of the season against the Commanders in Week 13. The 25-year-old completed 80.7 percent of his passes (25 for 31) for 200 yards and a touchdown and added a season-high 12 rush attempts for 71 yards (5.9 avg.). In three career games at FedExField, Jones has completed 67.6 percent of his passes for 813 yards, seven touchdowns and zero interceptions. He has also carried the ball 18 times for 111 yards (6.2 avg.) and an additional touchdown.
"I think he's done a really good job for us," Daboll said Wednesday. "I've enjoyed working with him. I think he's really been on top of all the things we've asked him to do. He's taking care of the ball. He's made good decisions. He's been enjoyable to work with."
The Commanders rank eighth in the league in passing yards allowed at 200.1 per game. However, the 20 passing touchdowns they have given up are tied for the ninth-most in the league, while their seven interceptions are tied for the sixth-fewest.
"I think it's big for all of us," Jones told the media. "It's not about me, it's not about any one guy, it's about the team, it's about an opportunity we all have to play in the playoffs. The only way we're going to do that is taking care of business one week at a time. That's where we're focused, that's where I'm focused, and we're excited for the opportunity."
GET SAQUON GOING AGAIN
The Giants were able to jump out to a 6-1 start this season thanks in part to a stellar performance in the run game led by Saquon Barkley. But things haven't quite been the same since the team traveled across the country to take on the Seahawks in Week 8. Since that outing, Barkley has topped 63 yards on the ground only once, which came in the Week 10 win over the Texans (35 rushes for 152 yards and a TD). In the other five games, which resulted in four losses and a tie, Barkley has averaged 41.0 rushing yards per game and an average of 2.8 yards per carry.
"I think some of the things earlier in the year, too, is we had some good numbers but some of those were from big runs, too," Daboll said earlier in the week about the team's struggles in the run game. "So, you look at the type of game you're playing in, whether you're behind, whether you're getting as many touches as you want to get. You look at the play design; you look at all 11 on the same page. I think it's probably a variety of things.
"Certainly missing a few big plays out there is one of them and just being on the same page and making sure we get a hat for a hat, getting downhill and making some positive yards. I'd say some of the games we didn't run it probably as much as we would've run it based on where we were at. So, all that being said, we're just not doing a good enough job. All those other things to me, I'm giving you some examples, but we're really not making any excuses – just got to do a better job."
Barkley still ranks fourth in the NFL with 1,083 rushing yards while adding 42 receptions for 261. Although the Commanders held him to 63 yards on 18 carries (3.5 avg.) two weeks ago, Barkley has enjoyed success against the division rival throughout his career. The fifth-year running back is averaging 91.2 yards per game and 6.0 yards per carry in six games against Washington, along with 4.5 receptions and 39.8 rec yards. The Commanders come into this game with the league's No. 9 run defense, giving up 110.4 yards per game, but their 4.4 yards per carry allowed ranks in the middle of the pack.
"I understand the magnitude of the game and understand that it's a big game," Barkley said Thursday. "It's a divisional opponent, a primetime game. I do understand that. But for me, I guess I kind of just go back to my Penn State days. Something that (Penn State Head) Coach (James) Franklin kind of taught us when I was 18 years old is that 'It's the biggest game because it's the next game – next opportunity.' So, I kind of just take that with me, no matter what. If we're playing in December and playing 7-5-1 versus 7-5-1, or if we're both 3-12. It's still an opportunity. It's another chance you get to play the game you love, so that's why it's a big game."
AZEEZ'S BOOST TO THE PASS RUSH
The Giants' pass rush has undoubtedly received a jolt of energy with the return of Azeez Ojulari. The second-year outside linebacker missed around two months due to a calf injury, but was able to return to the field for the first matchup against the Commanders. In the two games since, the Giants have racked up a total of nine sacks from seven different players, with the unit generating consistent pressure in the face of both Taylor Heinicke and Jalen Hurts.
Ojulari picked up a sack, two quarterback hits and a forced fumble against the Commanders and followed with two sacks against the Eagles last weekend. He has registered four sacks on the season, despite playing in less than four full games. Over the past two games, Ojulari has also picked up 10 total pressures, according to Pro Football Focus.
"I'd definitely say being back on the field together with Azeez has been big," said Kayvon Thibodeaux. "He's a great ball player and just being able to put those things together has been everything. Now going into this next game, being able to really sharpen our tools and go make plays."
Speaking of Thibodeaux, the Giants selected him with the fifth overall pick in this year's draft to pair him alongside Ojulari in hopes of creating a fearsome pass rushing duo. Injuries kept the pair from taking the field together for most of the season. But over the last two weeks, we have finally gotten to see what the defense can look like with the two talented edge rushers healthy.
Since Ojulari returned, the two young pass rushers have combined for four sacks, six quarterback hits, a forced fumble, a fumble recovery and 18 pressures. Thibodeaux has 17 pressures over the last three weeks, which has brought his season total up to 36 in 11 games. He ranks third among rookies, behind only Detroit's Aidan Hutchinson (39) and Kansas City's George Karlaftis (37), who have each played 13 games.
The Commanders come into Sunday Night Football having allowed 37 sacks, which is tied with the Arizona Cardinals for 25th in the NFL. Heinicke has been sacked at least three times in three of Washington's past five games.
HODGINS TAKING ADVANTAGE OF OPPORTUNITY
Isaiah Hodgins may not have started the season with the team, but the second-year wide receiver has made a large impact on the offense, especially in recent weeks. The 24-year-old was waived by the Buffalo Bills on November 1 and claimed by the Giants the following day. He made his Giants debut in Week 11 with two receptions for 41 yards against the Texans and hasn't looked back.
Hodgins has really stepped up over the last two weeks. In the last game against Washington, the young receiver brought in five passes for 44 yards and a touchdown. He followed that performance up last week with four receptions for 38 yards and another score. The touchdowns were the first two of his NFL career, as he has seen his role grow due to other injuries at the wide receiver position.
"Isaiah has done a really nice job, not only in the red zone but being a factor on third down, first, second down," said offensive coordinator Mike Kafka. "He's a really good blocker, he's a tough kid. He's done a great job, he's done everything we've asked of him."
DEXTER'S BREAKOUT
A lot has been said this season about Dexter Lawrence's breakout campaign. With four games still on the schedule, Lawrence has already set new career-highs in numerous statistics, including sacks (six), total tackles (55), and quarterback hits (21). Following the Week 5 win over the Packers in London, Aaron Rodgers referred to him as "one of the top guys in the league."
Defensive coordinator Wink Martindale has received some recognition for helping Lawrence take the next step in his development this season. But according to Martindale, all of the praise should go to the young lineman himself.
"it's all credit to Dex," the defensive coordinator said about the lineman's dominant season. "He had a really good offseason, he was here all during the installs, he's smart, I think he enjoys playing in this defense and I said it when I took the job here that he should be a Pro Bowler. You could just see it in the kid himself. Then after I got to know him, I could've guaranteed you he's going to be that type of player because of how much he loves football, how much he loves his teammates, he's selfless and he's very accountable to everybody in the room."
Back in Week 13, Lawrence recorded a career-high nine tackles against the Commanders. He picked up two quarterback hits and a sack, one of five registered by the pass rush that day.
IMPROVING THE RUN DEFENSE
It's no secret that the Giants have struggled to slow down the run over the last month. Since holding the Texans to 101 yards on the ground in Week 10, each of their last four opponents have rushed for at least 160 yards, including a season-high 253 yards allowed last week to the Eagles. Due to these recent struggles, the Giants have dropped to 29th in run defense with an average of 149.7 rushing yards allowed per game. Meanwhile, opposing teams are averaging 5.4 yards per carry against the Giants, which ranks 31st.
"We're going to continue to work on it," Martindale said about the run defense. "We understood the process of building a roster of what we needed to do. It's been a struggle. We've played with more DBs than we ever have this year, just to change things up. So, I think that's part of it. I think teams are just running the ball more and we've played three really good mobile quarterbacks. What do they call them five-tool players in baseball? They're five-tool players as quarterbacks. I think that has a lot to do with it."
In the first meeting between the two teams, the Commanders gained 165 yards on 36 rush attempts, good for 4.6 yards per carry. Brian Robinson carried the ball 21 times for 96 yards, while Antonio Gibson added nine rushes for 39. Additionally, wide receiver Curtis Samuel handled three carries for 23 yards. While Washington comes in at seventh in rush attempts on the season, they haven't been very efficient with those carries as they rank 14th in yards and 27th in both touchdowns and yards per carry.
FACING COMMANDERS D-LINE
The Commanders enter this week's matchup tied for the 10th in the NFL with 34 sacks - and they've been without DE Chase Young all season, that sack total becomes even more admirable.
Following the torn ACL suffered in Week 10 of the 2021 season, Young appears in line to make his 2022 debut this weekend against the Giants. The No. 2 overall pick in the 2020 draft registered 7.5 sacks and four forced fumbles on his way to being named the Defensive Rookie of the Year. While it isn't guaranteed that Young, who is listed as questionable, suits up Sunday, Mike Kafka will have his entire unit prepared for the talented pass rusher to be out there.
"It's an opportunity for them to add a really good player to their defense," Kafka said about Young's potential return this weekend. "We'll have to prep for him and account for him in both the run and pass game. Really, even in situational positions – third down, red zone, short yardage. We have to make sure we take care of him and prep for the whole entire front as well."
Whether or not Young plays, the Commanders still have a star-studded defensive line, led by their two tackles. Daron Payne has registered 8.5 while Jonathan Allen is right behind him with 7.5. The two combined for three sacks in Week 13.
"They do a really nice job," Kafka said about Payne and Allen. "They're aggressive, they're violent, they get up field and they play almost every snap. They never come off the field. It's going to be a great challenge for us."