Just when you thought Eli Manning had been called every name in the book during his 15 seasons in New York, David Cutcliffe dropped a new one: Mother Goose.
The Duke head coach used the term to describe how his current pupil, Daniel Jones, follows his former student. Cutcliffe, who helped mentor Eli and Peyton Manning in college, appeared Tuesday on NFL Network at the Blue Devils' pro day. Jones headlined the afternoon as the fourth-ranked quarterback and No. 35 overall draft prospect this year, according to Daniel Jeremiah. Jones, like many of the top college quarterbacks, was a counselor at the Manning Passing Academy in Louisiana. He also saw Eli when the two-time Super Bowl MVP would gather his Giants receivers for offseason workouts on the Duke campus.
Now Jones could be a possible successor to Manning. The Giants hold the sixth and 17th overall picks in the upcoming draft.
"We've laughed about it a little bit," Cutcliffe said of conversations with the Giants quarterback. "Eli obviously doesn't know what the Giants are going to do with their plans, but he loves Daniel. He's been here every year that Daniel's been here working out with his guys. Daniel follows him around like you would follow Mother Goose. He goes to the Manning Passing Academy every summer, so I think that would be a great fit. But what I think is unimportant at this point."
The thinking that matters is that of general manager Dave Gettleman and head coach/offensive play-caller Pat Shurmur. While they will avoid any temptation to reach for a quarterback, the Giants' top decision-makers want to find their next franchise quarterback sooner rather than later with the 38-year-old Manning embarking on his 16th season. And they don't get more fresh-faced than Jones.
"He's got this youthful look, and I think some people probably misread that as to being a guy that's not a fierce competitor and not tough," Cutcliffe said. "Don't challenge him. He is physically and mentally tough. I'm excited to see where he lands, and then I'm even more excited to see what happens as his career evolves."
Before taking over as head coach of the Blue Devils in 2008, Cutcliffe mentored the Manning brothers, two former SEC Players of the Year who went on to be drafted No. 1 overall in their respective classes. With Eli, he was the Ole Miss head coach. With Peyton, he was the assistant head coach and ran the offense at Tennessee. So it wasn't uncommon for Cutcliffe to pull up the brothers' tape and show it to Jones during his tenure at Duke, where he threw 52 touchdowns and ran for 17 more in 36 career games.
Jones capped his collegiate career with a record-setting bowl performance. He threw for 423 yards and five touchdowns, both Independence Bowl records. So was Duke's point total in a 56-27 victory over Temple. It was Cutliffe's first Independence Bowl victory since Eli led Ole Miss to a win over Nebraska as a junior in 2002.
"I got to interact with the Mannings] a little bit," Jones [said at the Senior Bowl, where he earned game MVP honors (the Giants drafted the previous two Senior Bowl MVPs in Davis Webb and Kyle Lauletta). "I got to sit in on one of Eli's meetings and kind of just talked to him walking through the building. Peyton was down there also this past year. … Being around those guys, watching Eli work out and lead those workouts and meetings and that type of thing is really cool also. So just those relationships and over the years being able to watch those guys is special."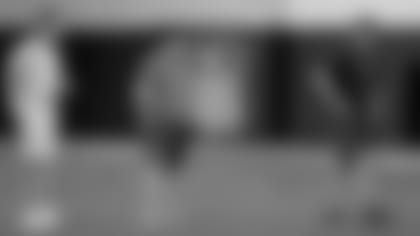 Having coached the best of the best at the quarterback position, Cutcliffe said the first thing he looks for is accuracy. Jones finished second on Duke's all-time charts in both completion percentage and average completions per game.
"You're going to train a quarterback from the neck up, and then the neck down," Cutcliffe said. "This part of it, this mechanical part of it, takes a lot of athleticism because you can't think. You just have to do. As I watched [Jones] as a redshirt freshman, he had the accuracy, and regardless of when he was going against our starting defense, his ability to manage his body, to think, to play, to adjust and stay accurate – that's what I've always looked for. Then obviously you're always looking for a great person, and he's that."
Jones, a three-year letterman at Charlotte (N.C.) Latin High School who helped his team to two state championship game appearances, originally committed to Princeton after his junior year. But high school coach Larry McNulty, who was also in attendance at Duke's pro day, called Cutcliffe and said he thinks Jones is being under-recruited. Part of the reason was people thinking he was more of a basketball player early in his high school career.
"I looked at him and I called Larry right back and I said, 'Do not call anyone else,'" Cutcliffe recalled. "He had gone from basketball player to football player. He did a lot of things naturally well, but I knew that he had a shot at being special and boy was I right."
Jones graduated from Duke in December with a degree in economics. After a long, storied run in the NFL for Jones, Cutcliffe envisions him wisely investing his playing money.
"He may be the Wolf of Wall Street," his college coach said. "Not act like that, though."