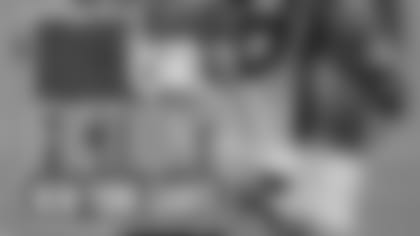 Louis Murphy will catch at least four touchdowns in 2013.*
MICHAEL EISEN: Fact -The speedy Murphy could become the deep threat in the Giants' offense and if he is, four touchdowns should be easily attainable with Eli Manning throwing him the ball.
JOHN SCHMEELK: Fiction -Assuming Hakeem Nicks, Victor Cruz and Rueben Randle are all healthy, Murphy will be at best the team's fourth wide receiver. If Jerrel Jernigan proves useful on special teams, he might drop to fifth. I can't predict that many touchdowns for a fourth or fifth receiver.
DAN SALOMONE: Fiction -Four would tie his career high, which he set as a rookie in 2009 with Oakland. Since then, he only has three in 41 games. I'm not saying it isn't possible, but this is one of those where you have to see it first.
Jerrel Jernigan will make a significant contribution to the Giants' return game this season.
MICHAEL EISEN: Fact -Just a hunch, but with David Wilson and Rueben Randle expected to assume larger roles on offense, Jernigan could return more punts and kickoffs.
JOHN SCHMEELK: Fiction -I think he has the ability but he has yet to show consistency needed in catching and holding onto the football. If he is a turnover risk, Tom Coughlin won't put him out there.
DAN SALOMONE: Fact -It seems like the staff is pushing him to seize the role – at least in punt return – in his third NFL season. Last week at the first OTA, Jernigan said his coaches have changed the way he catches the ball on returns, and he is buying into it. If he can show consistency there, he has the athleticism to be a factor.
At least two players on defense will make the Pro Bowl.
MICHAEL EISEN: Fiction -The defense will be much-improved, but it's not a star-driven unit. JPP could make it again, but no other obvious jump out – right now.
JOHN SCHMEELK: Fact -I'll go out on a limb and put both Jason Pierre Paul and Antrel Rolle in the Pro Bowl this year. I thing that Rolle especially is primed for a big season.
DAN SALOMONE: Fiction -A similar debate was brought up before last season, and I feel the same way as I did then. Regarding the Pro Bowl, it's Jason Pierre-Paul, and then a handful of borderline players that don't flash numbers to get the attention. And even when they do – like Stevie Brown last year – they don't receive the honor automatically for whatever reason.
David Wilson rushing for 1,000 yards is more likely than Rueben Randle having 700 receiving yards.
MICHAEL EISEN: Fact -Wilson is expected to be the No. 1 running back. Randle be the third wideout. Wilson should have more opportunities to get 1,000 than Randle will to get 700.
JOHN SCHMEELK: Fact -Only because David Wilson will likely be the team's top back, while Randle will be the third wide receiver. Wilson's big play ability should also help get him over 1000 yards. Don't forget Brandon Myers either, who might eat up some catches from Randle's total.
DAN SALOMONE: Fact -Not only is Wilson slotted to be the primary back, but he has the breakaway ability to pile up the yards. Randle will get to that level, but there are more proven players in his way at the position that will take away some of his opportunities.
Tell us your thoughts in the comment section below.