The most impressive position group at minicamp was the wide receivers.
JOHN SCHMEELK -Fiction: I guess this could be "fact", but I hesitate to imply that the cornerback group had a bad three days. The offense certainly had a dominant second day of minicamp, but a lot of production came from the tight end position (without Evan Engram). Otherwise, the defense gave as good as they got throughout minicamp. I don't think any one specific position group stood out to me. Pat Shurmur pointed out that he likes it when both sides of the ball make plays throughout a practice and, for the most part, that happened throughout minicamp.
DAN SALOMONE - Fiction: With no pads on, wide receivers should look good at this time of the year. Spring practices are largely about throwing and catching because of the non-contact rules. Led by Sterling Shepard and boosted by the likes of Darius Slayton, the group definitely looked good, but the tight ends really stood out to me. Before he missed a few days of minicamp with some soreness, Evan Engram looked like he picked up where he left off after coming on strong down the stretch last season. After him, Rhett Ellison made some big catches, as did Garrett Dickerson and C.J. Conrad, who are going to force some tough roster decisions if they keep racking up the receptions this summer. This is a strong group.
LANCE MEDOW - Fact: With no contact allowed during minicamp, it's hard to say any position group on defense stood out, so you can only go with an offensive group, and quarterback and wide receiver are really the only two legitimate choices. While you can make a case for the QB group, thanks to flashes by Daniel Jones and some solid work by Alex Tanney, I think the wide receivers were the most impressive. Every wideout made his presence felt. Golden Tate, Sterling Shepard, Cody Latimer, Corey Coleman, Bennie Fowler, Russell Shepard and Alonzo Russell all consistently made plays when their numbers were called and Pat Shurmur even mentioned when he spoke to the media Thursday that rookie Darius Slayton has made huge strides since some struggles during rookie minicamp. This is a deep position group that should provide for some great competition throughout training camp.
WR Darius Slayton gained the most at minicamp.
JOHN SCHMEELK -Fact: Slayton looks like he is starting to put things together. It is impossible to tell from watching practice how he is handling the classroom work and other mental parts of the position, but I haven't noticed any obvious blown assignments that have drawn the ire of wide receivers coach Tyke Tolbert. The drops from earlier in the offseason are disappearing and he is finishing plays. He certainly has the speed to separate and create space.
DAN SALOMONE -Fact: Late-round draft picks aren't necessarily guaranteed roster spots, so Slayton had to prove himself. If you've been following along, you knew he had a case of the yips in his first exposure at rookie minicamp. However, he quickly turned things around and has not looked back. With his sub-4.4 speed, everyone knew he could take the top off defenses, but what has been really encouraging is his route-running ability and hands (since that fateful first day of rookie minicamp).
LANCE MEDOW - Fact: As I noted above, if you ask Pat Shurmur, this would be an easy "fact". As camp wrapped up, Shurmur said: "The guy that's made huge improvements in my eyes has been Slayton, he's done a really good job. I think we were all here during rookie minicamp when he kind of had the yips, drops and what not. He's really smoothed it out and he's been making plays." No argument with the head coach.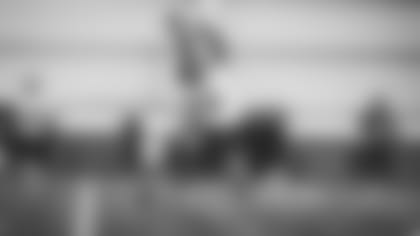 The most important competition remaining is at center.
JOHN SCHMEELK -Fact: I'm going "fact" because I would be very surprised if DeAndre Baker and Mike Remmers don't win their respective position battles. Baker was a first round pick for a reason and he has already received first team reps at cornerback. Remmers, meanwhile, is moving around well with the strength and conditioning staff on the side. His past play at right tackle leaves little doubt to me that he will be the best player there at the end of training camp. Therefore, center, slot corner, the second inside linebacker and the third receiver spot are the ones that are up for grabs. Since center is the only true full-time spot in that group, I think it is the most important. The competition between Spencer Pulley and Jon Halapio could go down to the final preseason game. I would rank slot cornerback next (Grant Haley and Julian Love), then the third wide receiver (Corey Coleman, Bennie Fowler III, Cody Latimer) and finally the second inside linebacker (B.J. Goodson and Tae Davis).
DAN SALOMONE -Fact: People have high expectations for the offensive line — I'm one of them — but there are still some things that need to be settled before Week 1. First, the return of tackles Nate Solder and Mike Remmers, both of whom have missed spring practices but are expected to make full recoveries in time for training camp. The more pressing issue is at center. Will it be Jon Halapio, who won the job last summer only to see his season end in Week 2 due to injury, or Spencer Pulley, who eventually took over the position and was a key part of the second-half surge? We won't have a better idea until the pads come on, but the sense I get is the Giants would feel comfortable with either option. Both have seen time with the first team this spring.
LANCE MEDOW - Fiction: Who are the other two starting corners opposite Janoris Jenkins? At this point, it's wide open. The Giants rotated personnel throughout minicamp, and I don't see that changing during training camp. This is a young position group but also a very important part of the defense and given James Bettcher will likely be relying on a handful of rookies, figuring out where they all fit into the system and getting a good feel for their strengths and weaknesses will be critical moving forward. I'm not overlooking the importance of the center position, but Spencer Pulley and Jon Halapio both have starting experience with the Giants, so it's not as if they would be throwing a brand new face into the mix with Eli Manning.
The offense was ahead of the defense at minicamp.
JOHN SCHMEELK -Fact: I thought the first practice of minicamp was won by the defense because of takeaways, but the offense made some big plays of its own. The second day was dominated by the offense and the third day was a split decision. The second day tilts the overall performance to the offense, which is ironic given neither Sterling Shepard nor Evan Engram was on the field that day. Eli Manning and Daniel Jones were sharp, Alex Tanney made a couple good throws, and Kyle Lauletta was able to do his first team work. If the offensive line protects consistently this year, the unit should be very productive.
DAN SALOMONE -Fiction: I don't think either side was ahead of the other. It wasn't just coach-speak when Pat Shurmur kept saying how competitive and spirited practices have been throughout OTAs and minicamp. It's the truth. One side wins one rep or even the entire day, and the other side storms back the next practice. I will say that the offense bested the D in the trash-talking department thanks to hype men like Saquon Barkley, Sterling Shepard and Russell Shepard.
LANCE MEDOW - Fact: How could this not be a fact? Pat Shurmur summed up minicamp perfectly: "This time of year, it's more about throwing and catching and less about blocking and tackling." Because there is no contact allowed during offseason practices, the offense has a significant advantage over the defense, and it showed over the three-day camp. That doesn't mean there's a huge disparity between the units, but there's an obvious reason why the offense makes more plays than the defense during this period of the offseason.