It's been 21 years since the New York Giants first partnered with My Sister's Place, a not-for-profit 501(c)(3) organization that has been providing support to victims of domestic violence and human trafficking throughout the Northeast.
Earlier this month, these two great teams partnered up yet again for a special event inside the Quest Diagnostics Training Center. The entire Giants organization helped pack up more than 1,000 bags of much needed donations. The team was split up by position group, with My Sister's Place volunteers and Giants' employees assigned to each station.
"This is near and dear to my heart," said cornerback William Gay, who helped organize the event. "My mom lost her life to domestic violence. My message was let's do this the together, the Giants way. To see the whole team and the whole organization, from the front office, everybody pitching in, it was fun. It's going to put smiles on kids' faces when they see the gifts that came from the Giants."
Working together in an assembly-line fashion, each position grouped had its job. The cornerbacks packed up the hygiene bags (toothpaste, shampoo, toothbrushes, etc.). The offensive line worked on baby bags (diapers, wipes). The wide receivers put the "summer fun" bags together (sunscreen, flip-flops and sunglasses). And so on and so forth. Everyone helped color pictures and chipped in when it was time to pack everything up and ship out.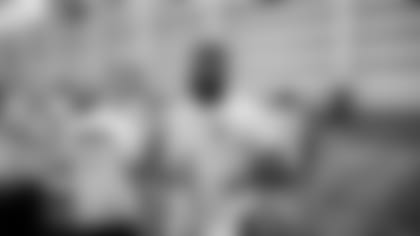 "People always ask what can I do to help the people who go to My Sister's Place, because people come to us and sometimes they come to us with nothing," said Kymberly McNair, coordinator for community education and engagement at My Sister's Place. "I don't think people realize that putting a tube of toothpaste and a toothbrush in a bag and coloring a little picture, I don't think they realize how much that means."
"Whatever you can do to serve people and serve the community is your purpose," added tight end Rhett Ellison. "A lot of people look up to the Giants. If we lead an example like this, then the sky is the limit for who's going to follow us."
Learn more about My Sister's Place by visiting their website here.