It's the middle of the fourth quarter in a tie game, fans are screaming, and you get the signal. It's go time.
Eli Manning isn't the only one faced with this type of pressure situation. Jason Emmel could be thrust into action on any given Sunday at MetLife Stadium.
While Manning's team is the New York Giants, Emmel's is the New Jersey Sports Exposition Authority (NJSEA) Emergency Medical Services. While Manning's signals come from coaches, Emmel's come from the Giants' medical staff. If Emmel sees the "all come" signal – a trainer miming turning a steering wheel – he races onto the field in his cart, setting off a rehearsed emergency action plan both seen and unseen to the public.
"There are 80,000 people in the stadium watching you and then another million at home watching you," said Emmel, EMS special ops supervisor. "But they're still a patient and you just go back and you do what you have to do and treat them the same way we would treat anyone. You just have to kind of remember that at the end of the day, it's still a patient. They're an NFL player, they are very popular throughout the world with people watching the NFL, but at the end of the day, they're still a patient and you just have to focus on that."
This is the most visible part of the job. Due to the physical nature of the game, every fan has seen a player carted off the field. What they don't see is the before and after.
Four field crew members – two on the home side, two on the visitors – get to the stadium at 9:30 a.m. for a 1 p.m. kickoff. Ronnie Barnes, senior vice president of medical services and head athletic trainer for the Giants, likes them to be there when the visiting team's buses arrive. First they put out their equipment on the field, including an oxygen supply for both benches. Then 60 minutes prior to kickoff, there is a full medical meeting with trainers, head team physicians from both teams, medical spotters, and referees. They get to know each other and discuss where everyone will be during the game.
And then no one wants to see the EMS team again. Unfortunately, that isn't always the case.
"The doctors rely on Jason's team because they know they know the players, and they're used to working on players," EMS director Fran Guthrie R.N. said. "The doctors are doctors, but that doesn't mean they work with big football players and their big, wide necks and different things. There are different things that go into intubation and just dealing with a player and their personality. These guys keep a level head while everybody else you can see their adrenaline pumping and they're on the hot seat, so to speak, when somebody goes down and whether they walk away or not initially. It's a pretty intense feeling."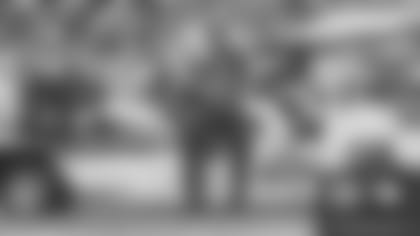 Guthrie directs a crew that includes EMS coordinator Antonio Vagueiro, EMS supervisor Anthony Tremarco, Emmel and the special operations team of Henry Ruiz, Joseph Dyl, Melanie Alberto and Brian Mende.
In the event of a severe injury, a chain reaction is set in motion to get the player to the hospital. There is an escort from the stadium to the Lincoln Tunnel, which is then picked up by Port Authority and taken through the tunnel, and then the NYPD takes over from there to get them to the hospital.
"We are extremely fortunate to have the very best stadium-based emergency services in the country," Barnes said. "We rely on the paramedic staff at MetLife Stadium for emergency coverage at our practices and games. They are highly trained and extremely experienced in sports trauma. Tony Vagueiro and Fran Guthrie demand excellence, and we benefit greatly from their leadership."
The same services are given to the away team, from taking X-rays to picking up medications to transporting trainers, players and family members to the hospital.
"The Giants are very good with the opposing teams' players," Vagueiro said. "They'll say, 'Listen, you have to pick up the trainer and player, think you can handle that? So we'll send a supervisor out to pick him up and wait for him and you have a plane on the tarmac. Now we have to make arrangements with Port Authority – 'We're coming in this gate, can you meet us, can you help us out, can you get us out to the [plane]?' So now we've got to be cleared, we get cleared, and it's the same thing if we have to take a player to New York. It's to the point where we're a well-oiled machine."
Each May, it gets a tune-up.
The EMS crew and the Giants' full medical staff get together for a day at the Quest Diagnostics Training Center. They go over every scenario and set up mock situations in the fieldhouse with mannequins and game-day equipment.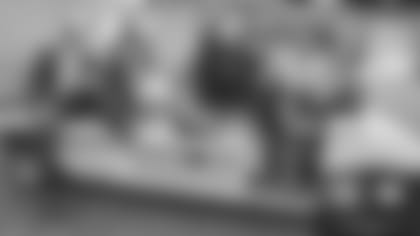 "That's the NFL trying to make everything uniform," Guthrie said. "So five years ago, people were doing things their own way. The Giants had a way. Somebody else had another way. So when something happens, they wanted everything to be uniform throughout the whole league, and the training came into play. They always got together and discussed everything, but now it's more formalized. The time to disagree is when you're practicing and not when you're in a real-life situation. So it does work out because they do argue back and forth to figure out which way is the best way."
After all, when someone is injured it is not just a matter of ripping off the shoulder pads or helmet. There is a whole process. Even so, getting a player's equipment off is one of the many unique variables of the job.
In the EMS toolkit are electric cordless drills for helmet screws and special sheers for shoulder pads. With the various kinds of facemasks and helmets, some are push pins while others are screws. And what happens if the screw is rusted or stripped? They leave no stone unturned in this practice session.
"There is really not any scenario that we haven't talked about and gone over," Emmel said. "The planning is really the key to having success if something happens."
And something will happen.
"The paramedics are a very important part of that training," Barnes said. "Our physicians, athletic trainers, paramedics and other essential medical professionals all train for serious trauma on the field and for catastrophic spine injuries. We have relied heavily on the team over the years. They have been instrumental in assisting our medical staff in providing immediate medical attention in emergency situations. Their advanced training in trauma, CPR, intubation, removing injured players from the field, and hospital transport has been invaluable to our players and medical staff. I have worked with Tony for 39 years and I cannot give him enough praise for his professional assistance. Their entire group of paramedics is dedicated to the care of our athletes. They are an integral part of our medical staff."
Barnes, Vagueiro and Guthrie go back to the early days of Giants Stadium. Before Barnes came along, the paramedics were local volunteers. He changed that with the NJSEA, a state agency with regulations, to ensure that everything was done properly and that ambulances handling the players were well-equipped.
"He was pleased with what we could offer, and we started working with him every football Sunday," Guthrie said. "And then our relationship just developed from there. What we needed was EMTs with paramedic background because they had to be able to assist the physicians and recognize a serious injury on the field."
Jobs like these are not for the faint of heart.
"You have to love it," said Guthrie, who started as a registered nurse in a New York City emergency room. "It gets in your blood."
Vagueiro, meanwhile, got into the field because of personal experience. He was in a serious car accident when he was 17, and the EMS on the scene was from Newark like he was, even though he was out of town at the time. That led him to University Hospital and eventually the NJSEA in 1978, the year after Guthrie took over. Vagueiro even designed the backboard that is still used today in stadiums across the country. The need arose in the aftermath of Jets defensive end Dennis Byrd's career-ending neck injury in 1992. The old boards simply were not big enough for a football player.
"I still have the receipt that we paid for the mold and everything," Vagueiro said. "Now it's mandated for every NFL and college football team. They tried about five different types of board, and the one they went with was the one I designed. It came from the need with Byrd. That's when I designed it. When Byrd got hurt with the Jets, I said, 'This is not going to work.' I think that was our first actually off-the field-removal, and that's when we designed the board.
"It seems like that everybody that came on the team or has been appointed by the team from Fran came from stress environments – streets of Newark, streets of New York. So there's not much you really can throw at them that's going to make them get jittery."
That's what makes them so valuable.
"The EMS crew are an important and integral part of our medical team," said Dr. Scott Rodeo, the Giants' head team physician and Sports Medicine Surgeon at Hospital for Special Surgery. "They have provided expert input that has aided the creation of our emergency action plan (EAP) for MetLife Stadium. I am always reassured when I see them on the sidelines, knowing that they bring tremendous expertise to our emergency medical response team."
But like a backup quarterback, no one wants to see them.
"Hopefully we're just there to watch a Giants win," Emmel said, "and not have to do anything."