EAST RUTHERFORD, NJ -The number weighs like an albatross on the shoulders of every Giants defender who played in the game: 247. That's how many yards the Carolina Panthers rushed for in a shocking 41-9 victory that ruined the Giants' final game in Giants Stadium last Dec. 27.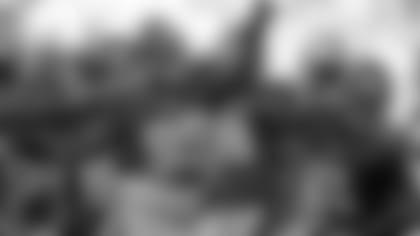 The Panthers played without their leading rusher, DeAngelo Williams, but still ran for the most yards on the ground the Giants ever allowed in Giants Stadium. Jonathan Stewart, who started for Williams, rushed for 206 yards on 28 carries, the third-highest individual total ever against the Giants.
The statistics were embarrassing to every member of the Giants' defense. But perhaps no one took them as personally as Barry Cofield and Chris Canty. As the starting defensive tackles, they are literally supposed to be the first line of defense against the opposition rushing attack. The memory of that game played 8½ months ago still burns in their psyche. But they pledge the performance and the results will be significantly better on Sunday, when the Giants and Panthers clash again, this time in the first regular season game ever played in the New Meadowlands Stadium.
"We've been studying the tape leading up to this game, and we watched the tape off and on throughout the entire offseason," Coflield said of the last Carolina encounter. "Every time we put it on and the scoreboard flashes and you see those scores, you think about the taste you had in your mouth walking off the field. It hurts. It's definitely a disgusting feeling, and I'm pretty sure we won't walk off the field feeling like that again."
What exactly did the Panthers do that enabled them to succeed so spectacularly? They averaged 5.4 yards on 46 rushing attempts and scored twice on the ground.
"They just executed," Cofield said. "They executed just like they did against a lot of teams down the stretch when they were playing really well, and we didn't. We didn't play well fundamentally, and I don't think we adjusted well to what they were doing during the game. I think it got worse as the game progressed instead of us making an adjustment and playing better. But I think we have a great plan this year. We're definitely acknowledging the fact that they're a great run team, and we're going to do our best to stop it."
Indeed, it is a different Giants defense that will attack the Panthers on Sunday. New coordinator Perry Fewell has installed new schemes, which the players believe will help eliminate the kind of outing they endured against Carolina. The players say their attitude has changed along with the defensive schemes.
"One of the things we went into this offseason talking about was stopping the run, and I think guys have taken a little bit more ownership of it." Canty said. "The style of defense we play around here and the emphasis on stopping the run, that's one of the things we want to do first and foremost. So I think just our attitude going into the situation, the approach that we're taking to it, the effort that we're putting in practice and in the film room and the weight room, hopefully that all adds up to success
"That was one of the things that we went into the offseason, we knew we had to get stronger. We knew we had to be more physical. We had kind of gotten away from that, and Coach (Tom) Coughlin emphasized that throughout the offseason and the preseason. So hopefully that carries over to the start of our regular season."
One of Coughlin's first comments at the conclusion of the 2009 season was to stress the importance of improving the run defense. That would be a key component in what he called "returning to Giants football." His players have taken that command to heart.
"We've preached it all year that we want to be physical, and we want to dominate the line of scrimmage and all those things," Cofield said. "This is perfect. You couldn't ask for a better test to see if that's really the case, if everything that we've preached and worked on this offseason is going to come to fruition."
"Perfect" might not be the first word Coughlin would use, because he sees the Carolina game as a stern test for his new defense.
"This is a team that has an outstanding run game, period," Coughlin said. "They have an outstanding scheme, outstanding blockers, outstanding runners, depth. Sure, it's a concern. The defense is challenged."
But the defenders insist they're up to it. They know exactly what they're in for, because they've watched the tape of the last game for months.
"It's worse every time you watch it," Cofield said. "It definitely doesn't get any better, but I'm excited about having another opportunity. After practice today, I feel like we've got a great plan, and guys have to just mentally dig in and pool our sense of pride and come together and decide there's no way we're going to let them run the ball down our throats like that again.
"This game is going to tell us a lot about our team. We're facing a team that makes a living running the ball. We've been preaching that all offseason that we wanted to be more physical and stop the run so this is the perfect team to prove it against. We have to get started well against these guys. They're a team that humiliated us last year so we've got every reason in the world to open up our new stadium and to be playing at a different level. So we'll see if that's the case."
The Giants were hardly the only team that struggled to slow down Carolina's rushing attack last year. They Panthers finished third in the NFL with an average of 156.1 yards on the ground per game. But the Giants' defense wasn't accustomed to giving up so many chunks of yards so often, and it was embarrassed it happened in a game of historic implications for the franchise.
"Absolutely, we're not happy about the outcome of last year's game, but that was last year," Canty said. "This is a new season. This is a new football team, and they have a new team as well. So we know that they have run it very well in the past, and we know that's going to be one of the challenges that we have to address. But we're looking forward to it. I'm sure that down there, they're saying the same thing. So it'll be a great test for us on Sunday.
"There's no doubt that we can stop those guys if we play our best. We've demonstrated in training camp and in preseason that we can stop the run. We can stop the run. Confidence comes from demonstrative performances, and so we've shown ourselves that we can do it. We're looking forward to the challenge of being able to do it on Sunday."
*Rookie linebacker Phillip Dillard (hamstring) and safety Michael Johnson (personal reasons) did not practice today. Center Shaun O'Hara (ankle/Achilles), cornerback Aaron Ross (foot) and linebacker Gerris Wilkinson (groin) were limited. Cornerback Corey Webster (groin), linebacker Chase Blackburn (knee) and defensive tackle Chris Canty (groin) practiced fully.
For Carolina, tackle Jeff Otah (knee) and running back Tyrell Sutton (shoulder) did not practice.
*The Giants are inviting all fans to celebrate the arrival of the inaugural season in their new home with a Kickoff Tailgate Party this Friday, Sept. 10 from 6-8 p.m. in the New Meadowlands Stadium.  Admission and parking to this pep rally event are free. The West Plaza entrance of the stadium will host appearances by Giants legends, youth football activities for kids, and music. In addition, fans can get their first look at the new team store, as well as The Giants Legacy Club presented by New York Presbyterian – the team's new Hall of Fame museum – with Giants artifacts that will walk fans through the team's history. The evening will include special guest appearances from your favorite Giants players.