INDIANAPOLIS – The road to the NFL Combine is never a straight one, and no two routes are ever the same.
More than 300 prospects are gathered again for the ultimate job interview, each bringing with him miles of physical and mental experiences that led to Indianapolis this week. This year's class alone has a player who lost the family farm and was forced to live in an RV; another who drove around the county in an electric car with his father in the hopes of finding a scholarship; and even the son of a boxing icon looking to make his own name. Here are their stories: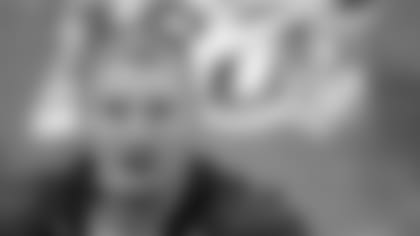 Kaleb McGary, OT, Washington
Hometown: Fife, Wash.
NFL.com "Top 50" Ranking: No. 39
Before responding to a question about his past during media day for the offensive linemen, McGary issued a warning: "It's basically a country song, so get ready." Fully comfortable in his own skin and willing to talk about it, he began:
"So we had a family farm in southern Washington, and in the 2008 and 2009 recession, we lost it. We just couldn't keep up with the payments anymore. The company kept trying to charge us more and more. We got to a point where we just couldn't afford to live there. So, sure enough, instead of working with us, they foreclosed on us. Couple weeks later, dad got involved in a work accident, was diagnosed with Multiple Sclerosis. My girlfriend broke up with me, my dog died, and then we had to move into an RV at my grandfather's front yard because we couldn't afford to rent an apartment. We couldn't afford to buy a house. We didn't have good enough credit to take out a loan, and the house my grandfather had was unlivable because him and my grandmother were hoarders during their lifetime. So, if you can imagine 60 years worth of hoarding, it was quite literally stuff from the ground to the ceiling.
"So for the last two years of high school, I lived in an RV with four other people. Eventually, they did get my grandfather's RV that he owned cleaned out on the side of the yard that my parents moved into. So my siblings were able to stay in the other RV and there was a little more space. Fast forward a few years, last January, my parents had just managed to clean out a room in the house that they could move into and out of the RV. A couple of weeks after that, in the end of January, the RV they were living in, a wire combusted and the RV actually burned to the ground and caught half the house on fire. And they woke up, the only thing that woke him up was the ammunition in the house and an RV going off, and that's the only reason they woke up for a fire. I got a phone call from my neighbor at 5 a.m. saying, 'Hey, you know your house is on fire?' (I said) 'No, no I did not. I do now, though. Thank you.' That was quite an interesting wake-up call on a Friday morning.
"So through an unreasonable amount of difficulty, we were able to clear a GoFundMe through the NCAA, and we got some money raised to help. The unfortunate thing, though, and I didn't realize is just how expensive home repairs are. Holy crap, you would not believe how fast $16,000 can just vanish. It did. And soon as the money ran out, labor dissipated, material, everything just grind to a halt, really. So we've been kind of stuck for a little while. Slowly but surely, now piece by piece, I believe they have now repaired a room in the upstairs and the half of the house that was not burned that they have moved back into now. So they are in a house, sort of. Half a house. Room of half a house again."
Furthermore, McGary dealt with health issues.
"So I had an arrhythmia," he said. "All that means is your heart beats kind of funny. Think of it like an electrical circuit and there's like a wire frayed, so the circuit kind of goes in an odd pattern. It's not nearly as exciting as it sounds, fortunately. I just had a couple of procedures my freshman and sophomore year of college, and all they did was they went into an artery with a wire and burned out the short-circuit and I've been problem-free ever since. Played all four years, even with it."
Nevertheless, McGary went on to become the winner of the 2018 Morris Trophy as the top offensive lineman (as voted by opposing team players) in the Pac-12. After redshirting as a true freshman in 2014, he started four years at right tackle, instilled with the work ethic from his past.
"It kind of lends to that perspective that I took away from all of this, shows me, wow, how easily I could not have any of this," McGary said. "Being technically homeless for two years will make you see things a little differently. It's given me a tremendous amount of appreciation and excitement, really. It's almost hard to believe that this is a dream I've had since the fourth grade. As my life has gone on, all I've gained is more motivation, more drive, more reasons to continue and push on. And now finally knocking on the door of that dream, it's kind of a weird feeling, but it's really cool."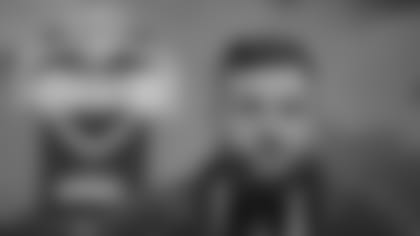 Dalton Risner, OT, Kansas State
Hometown: Wiggins, Colo.
NFL.com "Top 50" Ranking: No. 46
The 2018 first-team All-American and Big 12 Offensive Lineman of the Year is one of the most decorated players in Kansas State history. He is just one of five Wildcats ever to be a three-year team captain. Risner started 50 of 51 games over the past four seasons, including the final three at right tackle.
It would have never happened if he didn't have a defining conversation with his father in eighth grade. Growing up building fences on 120 acres of land with 50 head of cattle, Risner was getting "sick of stepping in poop" and cutting his hands on barbed wire. Football, he saw, was his gateway. But he had to get noticed first, which can be difficult coming from a small town.
"I started going to about 20 camps the summer of my eighth-grade year," Risner (pronounced RISE-ner) said. "My dad sat down with me. He's a very goal-oriented person. He said, 'Dalton, if you want to go play NFL or college football, we're going to have to do something different. If you just do what's asked of you, you're probably going to be staying in Wiggins after high school and farming and that's it. Which is no problem at all, but we've got to do something different.' I said, 'I want to do that, Dad.'
"So we started going to about 20 camps my eighth-grade year. Eighth-grade year was probably about 10 and then sophomore and junior year was probably 15, 20. But, started at Northern Colorado, CU-Boulder, Colorado State, Wyoming, New Mexico State, Iowa State, Kansas State, Missouri. We even rented an electric car one year to save money and we went on a Midwest tour with about 12 camps. Eighth-grade year, it wasn't to get an offer, it was to say, 'Hey Coach, my name is Dalton Risner.' That's all. I then started learning how to play Division I football. My freshman year, it was, 'Hey Coach, I'm Dalton Risner.' 'Oh hey, I kind of remember you.' I learned from them again. And then my sophomore year, 'Hey, Dalton Risner, Coach.' 'I remember you, Dalton. I'm gonna open your film.'
"Then they open my film and once you get – how it works in college, if you get one offer, everyone's waiting, it's a waiting game. These teams don't want to take a chance on this kid. 'It's Dalton Risner; does he really have talent?' But once I got an offer from Colorado State, I got an offer from Wyoming, offer from Kansas State, Missouri, all the other offers started coming in. It was an easy decision going with Kansas State."
Now he is the first person from his high school to play Division I football, the first to get an invite to the Senior Bowl, and the first to participate in the NFL Combine.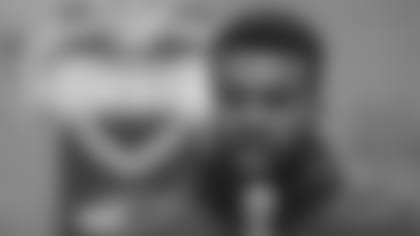 Elijah Holyfield, RB, Georgia
Hometown: College Park, Ga.
NFL.com "Top 50" Ranking: NR
Todd Gurley. Sony Michel. Nick Chubb. Those are the names Elijah Holyfield had to live up to in the Georgia running backs room.
"I've been living up to a legacy all my life," Holyfield said, "so it's nothing new for me."
That's because his father is Evander Holyfield, former heavyweight champion and one of the best boxers of all time. The younger Holyfield boxed from ages 8 to 14, but his passion for football became too strong. It led him to the Georgia football program, of which his dad was a fan. Naturally, not a day goes by he is not asked about Evander.
"I think it's just respect to my dad and how great he was," Holyfield said. "He's still being talked about every day. Every day somebody talks to me (about him). So it's just a respect to him and how good he was."
On the topic of comparisons, Holyfield said he is a blend of Michel, who just won the Super Bowl with the Patriots, and Chubb, who had over 1,000 yards from scrimmage and 10 touchdowns for the Browns. They were in his position a year ago, and Holyfield is looking to join them at the next level.
"Just going to a team, all the rounds and stuff don't really matter to me," Holyfield said. "As long as I go to a team, once I get on a team, I still have to go to work and earn my paycheck."