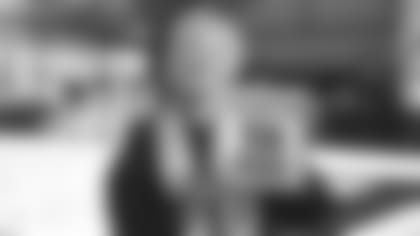 71-YEAR-OLD GIANTS FAN IS COLLEGE VALEDICTORIAN
BY MATT COHEN
More than 2,000 students gathered at MetLife Stadium this spring to celebrate their graduation from Bergen Community College. They were joined by friends, family and faculty, all of whom endured temperatures that soared well into the 90s that day.
The graduating class was led by their valedictorian, 71-year-old Marilyn Heiner, a Teaneck native who graduated with a 4.0 GPA and an associate of applied science degree in early childhood education.
Marilyn also goes by another name – Mrs. Superfan – which she earned more than four decades ago because of her and her late husband's devotion to the New York Giants. From 1972-1984, Marilyn and her husband Don attended every Giants game, both home and away. They became known as Mr. and Mrs. Superfan.
"Whenever the Giants were there, whatever weather was there, we were there," Marilyn said, who met her husband back 1972.
Marilyn's streak ended at 180 consecutive games when she gave birth to their daughter, Jennifer. Don's streak reached 305 consecutive games before it ended in 1995. Don passed away unexpectedly in 2010 at the age of 71.
One of the ways Marilyn channeled her grief was by pursuing a college degree. At the suggestion of a friend and co-worker, Marilyn signed up for a psychology class at BCC. After earning an 'A', Marilyn found the inspiration and determination to go all the way.
"It was just natural to me to continue to learn, because I feel you can learn every single day," Marilyn said. "Whether you have a degree or not, we are still learning."
Marilyn received the honor of delivering the commencement address.
"My husband and I used to travel with the Giants in the 70s and the 80s," Marilyn said during her commencement address. "Wherever the Giants were, you would find Don and Marilyn. I've been to six Super Bowls, but not with the Giants. I've never been to a playoff game with the Giants, but today, here at MetLife, I feel that I've scored the touchdown of my Super Bowl, and my husband has a sky view seat."
Touched by Marilyn's story, two Giants players were also on hand that day. Special teams captain Zak DeOssie and punter Brad Wing surprised Marilyn after the ceremony with a bouquet of flowers, a personalized Giants jersey, and plenty of hugs.
"I've been a Giants fan forever, and it's just an honor and a privilege to be here," Marilyn said. "The Giants will always be a part of my life, always."
71-year-old Marilyn Heiner is a lifelong Giants fan and was the valedictorian this spring at Bergen Community College