It's a mid-August morning at the Quest Diagnostics Training Facility, and the New York Giants are getting ready to hit the field for their second-to-last open practice of training camp.
Thousands of fans have gathered on this Sunday to watch Big Blue take the field and prepare for the upcoming season. Young and old, they've come from near and far. Some are coming for the first time, while others can't recall the last time they missed seeing a practice up close.
One of the first-timers present this day is Herb "Whitey" Eyth. He's not your typical newcomer. Eyth has been around the block, to say the least. In fact, it's a safe bet that Eyth is the oldest fan in attendance, seeing as how he's been alive longer than the Giants organization has been in existence. So, with four family members by his side, including two great-grandchildren, 97-year-old Whitey Eyth settles in to watch the first live practice of his life.
"It never really dawned on me to go to one," Eyth said matter-of-factly.
As the horn sounds signaling the start of practice, Eyth begins sharing his story. The youngest of three children who lived to be the oldest, Eyth was born and raised in Brooklyn. Both of Eyth's parents were born in the United States, and his father served in the Spanish-American War.
Eyth was just five years old when Tim Mara introduced the city of New York to pro football when he purchased the Giants for a reported $500 in 1925. Like every kid from Brooklyn back then, Eyth's first love was the Dodgers. He hadn't heard of Giants football until a classmate brought them up one day.
I was in grade school. At that time, Notre Dame with the Four Horsemen, and Knute Rockne was the team. We were talking football and this one kid says to me, 'Notre Dame is going to play the Giants in an exhibition game.' He says, 'I'll bet you a nickel.' He took the Giants, and I took Notre Dame. That was the first bet I ever made in my life and I lost. - Whitey Eyth
The game Eyth referred to is a famous one. The Giants beat Notre Dame, 22-0, in front of 55,000 fans at the Polo Grounds on December 14, 1930. It turned out to be the final game Rockne ever coached.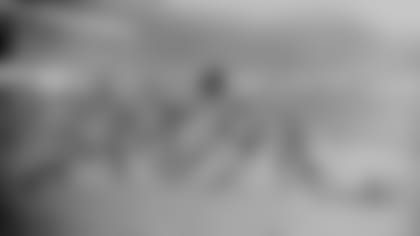 The Giants played Knute Rockne's Fighting Irish in front of 55,000 fans in 1930 at the Polo Grounds
In the 87 years since losing a nickel on the Fighting Irish, Eyth has seen his fair share of Giants football, from three NFL Championships (pre NFL-AFL merger) to "The Greatest Game Ever Played" in 1958 to four Super Bowl victories.
"I saw the Giants play Pittsburgh maybe right after the war," Eyth said. "That was actually the first time I went to a Giants game at the Polo Grounds. It was great. It was a different ball game then. There was very little passing. Everything was running. There were no wide receivers. There was a seven-man line and they had four men in the backfield: a quarterback, two halfbacks and a fullback."
Not only was the game different back then, so were the ways a fan could follow the sport. There was no social media, no sports talk radio and no 24/7 sports television programming. Eyth grew up as fan at a time when print dominated the media.
"Before television, all we had to look forward to was the newspaper and read articles about the game and this and that," Eyth said. "We really didn't see the players. In those days, they used to play two ways – offense and defense. I saw great players playing on television eventually, but I didn't see the great players back then because I never went to a ball game. We depended on the newspaper."
Like his father a half century earlier, Eyth wound up joining the military. Eyth had dropped out of high school to start work, but soon after signed up for the service. It was the first time the Brooklyn native had ever traveled so far away from home.
I went into the Army for four years. When I was taking basic training, the Japanese bombed Pearl Harbor. Then I went to the Pacific and I was there for a little over a year. I was a Sergeant and what they call a crew chief. I was in the Air Force as a mechanic. There was no Air Force back then, it was part of the Army. I had a few men working under me and we fixed airplanes. - Whitey Eyth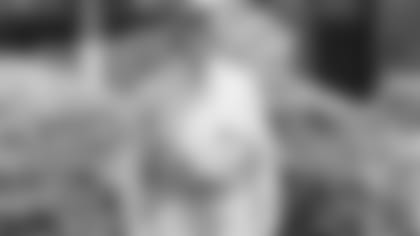 Eyth served in the Army for four years during World War II
After leaving the Army, Eyth returned home to Brooklyn, but to a family of his own. Eyth had met Rhoda when he was 14 and she was 13. The two lived around the corner from each other in Bensonhurst. They would eventually fall in love, and marry in June of 1942 in a small ceremony down in Sumter, South Carolina, where Eyth was stationed at the time. When Eyth shipped out to the South Pacific until the end of the war, Rhoda and their daughter, Joan, returned home to Brooklyn.
The couple was married 71 years until Rhoda passed away in 2013. Together, Whitey and Rhoda had two daughters, six grandchildren and 11 great-grandchildren. Two of those great-grandchildren, Ryan and Jeremy, are with Eyth at this Sunday morning practice.
"Thanks to him, four generations of Giants fans have come through our family, and no holiday, event or family milestone goes by without our favorite team being celebrated or debated (or, more often, both)," said Whitey's grandson-in-law Rob on behalf of the family. "The Giants have always been, first and foremost, about tradition. And seeing the 2017 team through the eyes of a fan who goes back to the 1920's was the living image of that tradition and its history."
Whitey Eyth (middle) along with four members of his family, including two great-grandchildren.
Long before Whitey had four generations to watch Giants football with, it was just him and Rhoda together in Bensonhurst with their two daughters. Right after the war ended and for the next 35 years, Eyth worked nights in Brooklyn for Public Baking on East Second Street in New York City. Before he had a truck to make his deliveries, Eyth had a much simpler means of transportation.
"I drove a horse and wagon," Eyth said. "In fact, later I was practically the only driver in the place that knew how to drive. After we finished our routes, I would take them out and teach them how to drive. Most of them were on horse and wagon."
Now retired 35 years, Eyth lives in Brick, New Jersey, which is close to family in Lakewood and Monroe Township. He also has family in Watchung and makes frequent trips to visit the rest of his family in Long Island. He's a bowler – and a good one. Eyth bowled a perfect game at age 85. You can call Ocean Lanes in Brick if you don't believe him - he still bowls there twice a week.
Like he has for nearly his entire life, Eyth is still watching the Giants. Odell Beckham Jr. is the latest entry in his long list of favorite players, which includes Kyle Rote, Rosie Grier, Sam Huff and Lawrence Taylor. He's quick to remind anyone who asks that he started rooting for the Giants before there even was a Super Bowl.
Although he no longer lives in his hometown of Brooklyn and no longer needs a horse and wagon to get from point A to point B, Herb "Whitey" Eyth still has his health, Giants football, and, above all else, a large and loving family with which to share 97 years of memories.
"It's great to have a big family," Eyth boasted. "I'm very happy. I'm tickled pink."