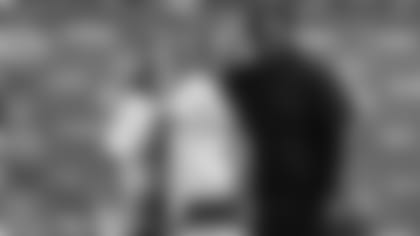 ADAM GETTIS VOLUNTEERS AT SPECIAL OLYMPICS SUMMER GAMES
BY MATT COHEN
Special Olympics New Jersey first caught Adam Gettis' attention two years ago when he volunteered at the New York Giants Snow Bowl event, a 6-on-6 flag football tournament held annually at MetLife Stadium. The Snow Bowl has raised more than $2.4 million for Special Olympics athletes.
"I saw how hard the athletes were working, and I was blown away by how serious they were about what they were doing," Gettis said. "I think a few of them could suit up for the Giants."
The six-year NFL veteran hasn't stopped helping out since. Gettis was at The College of New Jersey this past weekend to support athletes competing in the Special Olympics New Jersey 2017 Summer Games. Nearly 2,500 athletes from throughout the state participated in softball, bocce, gymnastics, tennis, powerlifting, aquatics and track & field. The event had more than 2,500 volunteers and 1,000 chaperons. Gettis was on hand all three days, from the opening ceremony on Friday to the last award presentation on Sunday.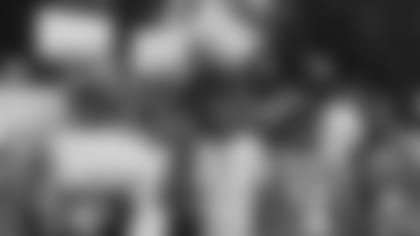 "I hung out and interacted with as many athletes as I could," Gettis said. "I enjoyed spending time with them just as much as they enjoyed spending time with me. I got to give out medals and awards. I think I took a picture with every athlete there. They were so excited to have a New York Giants player there."
The Giants offensive lineman says seeing how hard the athletes compete and how excited they get motivates him even more when he steps on the football field.
"I saw one kid look at the medal he earned and he cried," Gettis said. "To see how excited he was really touched my heart. They get to achieve their goals and they are overcoming disabilities. To see them being able to do this and what they are able to overcome is awesome."
Gettis doesn't just support Special Olympics off the field, but on it, too. During the NFL's inaugural "My Cause, My Cleats" campaign last season, Gettis wore custom cleats to support his adopted cause.
"That was awesome," Gettis recalled. "As soon as they told us about the cleats, I knew what cause I was going to represent. Afterwards I gave them to Jim [Bogota Police Captain James Sepp], who in turn donated them to the Special Olympics hall of fame building."