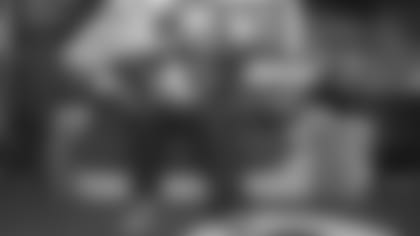 ONCE A GIANT, ALWAYS A GIANT
BY MATT COHEN
It's not just a fan cave. As Jack Barletta says, it's more of a museum.
The Connecticut native and lifelong Giants fan has been collecting Big Blue memorabilia for more than 40 years. He first started going to games when the team played in the Yale Bowl while Giants Stadium was under construction.
From the basement, to the kitchen and even in the bedroom, if there's an empty space, Giants swag is going in its place. These are Barletta's artifacts:
One of Barletta's earliest pieces of memorabilia isn't even in his home - it's on his car. His vanity license plate reads "GIANTS", and he's had it for more than four decades.
""I actually sent a picture of that in to Wellington Mara, and by my shock, I got a letter back from him, hand-written," Barletta said. "It started kind of a relationship over the years with Wellington Mara. I started to send him cards and letters all the time and every time I did, he wrote back by hand. Wonderful man."
Even though he's been a season ticket holder since the '70s, Barletta equally enjoys watching games at home and spending time with just his family. He feels that same bond with his favorite team.
"You always hear 'once a Giant, always a Giant,'" Barletta said. "There's just something special where you feel like you're really part of a family. I saw that how the actual family, the Mara's, treated me, someone who just wrote to them. The tradition, being at that stadium, you just love being a Giant and being a Giants fan."
Jack Barletta has been a Giants fan all his live, and he's spent more than 40 years collecting Big Blue memorabilia.