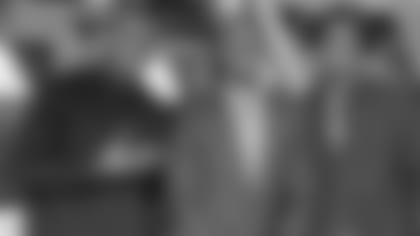 BRANDON MARSHALL BATTLES CAM NEWTON ON $100,000 PYRAMID
BY MATT COHEN
With more than 12,000 receiving yards and 82 touchdown catches in his career, Brandon Marshall knows a thing or two about delivering in the clutch.
On Sunday night, the Giants wide receiver faced a different kind of pressure, when he matched up against Panthers quarterback Cam Newton as a contestant on ABC's The $100,000 Pyramid.
Marshall had somewhat of a home-field advantage heading into the game – the show is hosted by Giants legend Michael Strahan, after all.
"You created the blueprint for me," Marshall said to Strahan to kick off the episode. "So what I want to do is win the Super Bowl, and then I want to walk off the field on to my own show, Live with Kelly and Brandon."
"It's going to be tough," Newton replied with a smile. "You're in the NFC."
Marshall teamed up with Serena, a contestant from Seattle, in Round 1 of the main game, while Newton was paired with Joe from Chicago. Each team went back and forth, choosing one of the six categories on the pyramid game board. Marshall and Serena started off strong, but after three rounds, Cam and Joe edged out a victory, 18-17. Joe would eventually win $7,500 in the Winners' Circle bonus round. In Round 2, the teams were flipped, meaning Marshall was teamed with Joe, while Newton and Serena partnered up. It was another close round, with Newton and Serena winning 16-15. Marshall and Joe did score a perfect 7-for-7 in the "Carb Your Enthusiasm" category (types of food), which earned Joe a vacation to Hawaii. Serena went on to win $11,500 in the Winner's Circle.
In the second half of the show, Titans wide receiver Eric Decker, a former teammate of Marshall's on the Jets, competed against U.S. Olympian Apolo Ohno.
Season 2 of The $100,000 Pyramid hosted by Michael Strahan airs Sunday nights at 9 p.m. ET on ABC. Click here to watch the full episode between Marshall and Newton.
Want more Giants LifeStyle? Click here