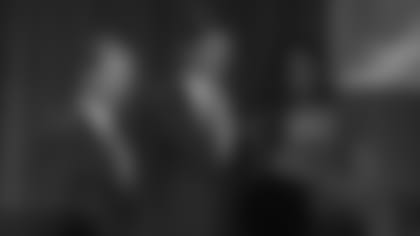 ELI MANNING RECEIVES ANN AND WELLINGTON MARA AWARD
BY DAN SALOMONE
Eli Manning is a two-time Super Bowl MVP, but the Giants quarterback would be the first to say that his accomplishments off the field are more important than the ones on it.
On Thursday night, team president John Mara presented Manning with the Ann and Wellington Mara Award at the Vision of Hope awards dinner to benefit Boys Hope Girls Hope of New York.
"Eli Manning epitomizes in so many ways what we all want our athletes to be like and especially what we want in a Giants player," Mara said. "You all know about his accomplishments on the field, but it's his work off the field and the way he conducts himself that we most admire and respect. ... When you're fortunate enough to be in this business, you hope and pray that your players, particularly your stars, the guys who become face of your franchise, are people you're proud to have represent you. It doesn't always work out that way. I've been very fortunate, very blessed to have been around this team my entire life. I have been around a lot of great players, a lot of great people, and it's been a blessing for me. But I will tell you this: I have never been more proud of anyone who has ever worn the New York Giants uniform than I am of No. 10, Eli Manning."
"I'm just thrilled and honored to be mentioned in the same breath as Ann and Wellington Mara, that's an honor in itself, Manning said. "They're two people I had the great fortune to know a little bit and to be around and to know what they meant to the community, to New York, and what they've done. I think I would not be recognized for my charity work if it weren't for the Mara family, for the Giants organization, for promoting us, for encouraging us to go out and be a part of your community."
Each year in May, Boys Hope Girls Hope of New York holds its Vision of Hope awards dinner, which draws nearly 1,000 guests and supporters. Held at Cipriani Wall Street, the gala is the organization's main source of funding, often raising 65 percent of its annual operating budget. The special night celebrates the organization and its scholars' accomplishments while honoring a member of the New York Giants.
Founded in 1979, Boys Hope Girls Hope of New York is a charitable organization operating a college preparatory boarding program in Brooklyn. BHGHNY's mission is to help academically capable and motivated children from at-risk situations meet their full potential and become men and women for others by providing them with the safe and stable living environment, academic support, and guidance they need to finish high school, graduate from college, and become responsible and productive citizens. Today, the organization has operations in 15 U.S. cities and three countries in Latin America.
"Each year I have the privilege at this dinner to present the Ann and Wellington Mara Award to an individual who's really distinguished himself with what he or she has done in the community," Mara said. "My father was one of the founders of this organization, was one of the first board members, and this organization was so very meaningful to both my parents, as it is to me."
Causes like this also have drawn Manning, who has been championing the youth throughout his 14 NFL seasons. That has only intensified since becoming the father of three young daughters.
Manning has served as the Chair of the New York March for Babies for the past eight years, joining thousands of New Yorkers in the walk in support of March of Dimes. Providing additional access for top sponsors, engaging donors and raising awareness of the organization's platform, Manning's efforts with March for Babies helped raise more than $25 million over the past seven years.
That is just one of Manning's many good works, and he was honored this past January as the co-winner of the Walter Payton NFL Man of the Year. Manning became the first Giants player to receive the award in its 47-year history. He was also named the Giants' Man of the Year in 2007, 2008, 2011, 2012, 2014 and  2015.
He supports the Make A Wish Foundation and has granted wishes on a yearly basis, hosting wish kids and their families at practices and games. Manning has been a leader in supporting the National Football League and American Heart Association's campaign, PLAY60, a national youth movement and awareness initiative designed to promote physical fitness and healthy living to an increasingly inactive generation of children
His most significant new endeavor is spearheading "Tackle Kids' Cancer," an initiative with Hackensack University Medical Center. Prior to kicking off an extensive media campaign to raise awareness of this cause, Manning spent time with patients and doctors at the hospital's pediatric cancer center, learning more about the greatest needs in cancer research.
Want more Giants LifeStyle? Click here