When "Super Bowl Fishing" first came over the radio waves off the coast of Pensacola, it had the people of the close-knit Florida community talking. A few years and a couple hundred hooks later, they know who's aboard that boat: Domenik Hixon.
Actually, that's Captain Hixon to you.
These days, the two-time Super Bowl champion spends most of his time on the water as the owner of a deep-sea fishing charter business in the Red Snapper Capital of the World.
 "To me, naming the boat is one of the most fun parts," Hixon said. "So just thinking about it from a business aspect, what could a conversation starter be? Super Bowl Fishing. I had it on my first boat, and I remember being out there, you get calls over the radio and they're like, 'What's that about?' You tell them you won a couple Super Bowls. They're like, 'With who?' The New York Giants."
The natives of the westernmost city in the Florida Panhandle may not have recognized him right away, but to Giants fans, he needs no introduction.
Originally a fourth-round draft pick by the Broncos in 2006, Hixon found his way to Big Blue the year after that. And what a year it became.
He emerged as a force on special teams, culminating in a 74-yard kickoff return touchdown in the 2007 regular-season finale against the Patriots, who were looking to finish off the perfect season.   
"David Tyree, before he broke the huddle, said, 'Why don't we take it to the house,'" Hixon recalled. "Everyone was fired up that we were going to get good field position (Patriots wide receiver Randy Moss received an unsportsmanlike conduct penalty on the touchdown before the kickoff). We did more than that. It's kind of every returner's dream: a short field, lower kick, holes wide open, going to make it happen."
"It's you against him -- who's going to give up?"
The touchdown gave the Giants a 14-10 lead early in the second quarter as Hixon went on to rack up 221 return yards (Hixon holds two of the franchise's top four single-game return yardage totals). The Patriots eventually won the game to seal their undefeated regular season, but that's when both sides realized the Giants were a force to be reckoned with, setting the stage for the rematch in Super Bowl XLII. And again in Super Bowl XLVI.
Hixon's days of catching footballs may be over now, but every once in a while there is a big enough haul on the boat that gets his competitive juices flowing again.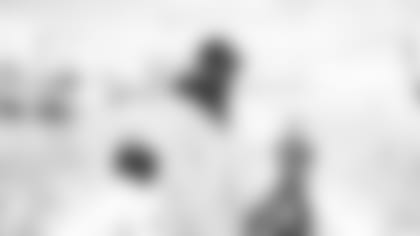 "You're one-on-one with this 400 or 500-pound fish, and so it's you and then you're working with the team that's on the boat and you're reeling it in," Hixon said. "That's where the competitiveness kind of fits in. It's you against him -- who's going to give up? I've seen people tire out on fish and lose fish.
"The most exciting thing for me about charter fishing is putting people on fish and seeing the excitement that they have when they catch their first big red snapper or amberjack or tuna, just the excitement and how in awe they are of how big these fish can get. You get out of it what you put into it. If you want to be a seasoned fisherman and you want to be great at it, you've got to spend that time and you've got to have a great crew, too. I'm fortunate I do."
In 2007, that's exactly what the Giants did. They pulled the biggest fish out of the sea.