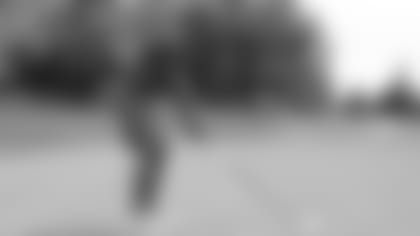 FORE! GIANTS TEE OFF AT ANNUAL GOLF OUTING
BY MATT COHEN
Whether on the football field or on the golf course, wherever pro athletes are involved, competition isn't far behind.
At the annual New York Giants Invitational Golf Classic, presented by Toyota, it was the offense versus defense looking to reign supreme after 18 holes. Held at Westchester Country Club on a picture-perfect day, more than two dozen players teed off with coaches, staff, and alumni, with close to 50 groups of sponsors and guests.
The 26th annual outing benefitted the Giants Foundation, which formed in 1992 to support nonprofit organizations in the Tri-State area. The foundation has helped assist many local educational, civic and health related groups over the past two-plus decades.
"It's a great day obviously," said Eli Manning, a regular at the event. "You see a lot of fans and sponsors and players. It's all going towards a great cause and all the charities the Giants Foundation works with. The last five years it's either been 98 degrees or raining, so we got a nice 70 degree day and we're having fun."
Manning and his group of Toyota guys held their own on the Par-71 West Course, but the offense could've used a mulligan or two for Justin Pugh, who had his shares of ups and downs during the round.
"He's supposed to be our ace player on the offensive line, but that's alright," Manning joked. "He's here to block people and keep me upright, so if he's not working on his golf game too much I'm not going to complain."
In the end, it was the likes of Mark Herzlich, Jonathan Casillas, Andrew Adams and Zak DeOssie who carried the day for defense.
After the round, the Giants held a live auction to benefit the Giants Foundation. Auction items included a round of golf with Eli Manning, a travel package to Big Blue's Week 1 matchup against the Cowboys and U2 concert tickets at MetLife Stadium for this June.
The New York Giants held their annual golf outing at Westchester Country Club!