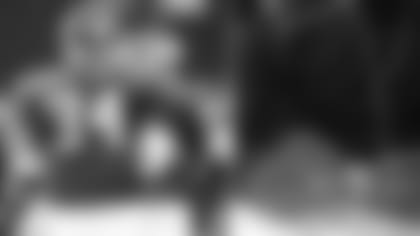 FORMER GIANT LEWIS TILLMAN RECOVERS MISSING SUPER BOWL RING
BY MATT COHEN
Lewis Tillman doesn't like to wear his Super Bowl ring too often. The former Giants running back (1989-1993) saves it for special occasions, like trips to New York or speaking engagements.
Tillman earned his ring in one of the most memorable Super Bowls of all-time, Super Bowl XXV, a 20-19 Giants win over the Buffalo Bills in Tampa Stadium on January 27, 1991.
Twenty-six years later, Tillman nearly lost the ring that means so much to him.
Tillman, 51 and now a Madison, Mississippi resident, was in MetLife Stadium two weeks ago to watch his former club take on the Dallas Cowboys. Heading back to Dallas after the game with his wife Kathy (the Tillman's have family in Dallas), the couple had a layover in Minnesota. As Tillman boarded his plane and put his bags in the overhead, he sat down and looked at his hands. His Super Bowl XXV ring was missing.
"I remember seeing the ring on my finger in the Minnesota airport because I bought something from a store, and a young lady made a comment to me if she could look at it," Tillman recalled. "That's the last time I remembered seeing my ring."
Once he noticed his ring was missing, Tillman's heart sunk, and he panicked trying to locate it, both on the plane and then off it.
"I went up to the front of the plane, and told the stewardess I had to get off," Tillman said. "I knew I wouldn't be able to get back on, but I wasn't calm. I had to go find my ring. So I got off the plane, and my wife went on to Dallas without me. When I got back in the airport, I couldn't find it. I looked in the bathroom, garbage cans, but it just didn't show up. I went to lost and found, and eventually filed a police report to see if there was any video evidence. I went back to my hotel and flew down to Dallas that next morning."
Tillman isn't quite sure what happened. He remembers struggling with his bags as he boarded the plane, trying not to hit any other passengers as he walked down the aisle. He believes the cold Minnesota weather might've made his fingers smaller and ultimately loosened the ring.
Five or six days went by. Tillman still didn't have his ring, and wasn't sure what to do. He even thought about asking the Giants how to go about getting a replacement.
"He would look at his finger all the time," said Kathy. "I think the ring gives him confidence, because he speaks to kids a lot, and they'll listen to what he says more because they see he has a championship ring. He was worried about how to speak to them without it. He was so adamant about getting it back, and really thought about having another one made."
Fortunately for Tillman, that wouldn't be necessary.
After another several days, Tillman, who admits he isn't the most social media savvy person, received a private message on Twitter. It was from a Cincinnati/Northern Kentucky International Airport (CVG) policeman named Mike Taylor. The message was to let Tillman know that someone had turned in his missing ring.
"On the Super Bowl ring, it has the year, my name, my number and the score of the game," Tillman said. "So I think that's what gave him the information he needed to find me and reach out."
The CVG police got the report that Tillman had filed in Minnesota, which had a picture of the ring that Tillman had provided. That's how they were able to eventually verify the rightful owner.
So how on earth did Tillman's ring, which started in New York following the Giants-Cowboys game and then traveled to Minnesota for a connecting flight, end up all the way in Cincinnati of all places?
"I don't have a clue how it ended up in Cincinnati," Tillman admitted. "Nobody understands how it got there. The only thing I can think of is that I lost it on the plane. The plane went to Dallas, and when they cleaned it, still nobody found it. Then the plane went to Cincinnati next, and someone found it there."
On Tuesday, December 19, 26 years, 10 months and 23 days after Tillman and the Giants raised the Lombardi Trophy in Tampa Stadium, Tillman's ring arrived in the mail and took its rightful place on the ring finger of his right hand.
"I'm just so happy that the person who found it actually turned it in," said Tillman, who retired from coaching in 2014 after 18 years on the sidelines. "It was a woman named Joy McDavid. I really appreciate what she did. Words can't even express the way I feel."
"It really means a lot to him," Kathy added. "That lady, Joy McDavid, she does not understand what joy she really brought back to him by returning that ring."
"I got my Christmas gift early," Tillman said. "I'm so fortunate to get my ring back and to know there are some good people out there that do stuff like that. They could've easily taken that ring and sold it. There's still hope out there."
Want more Giants LifeStyle? Click here