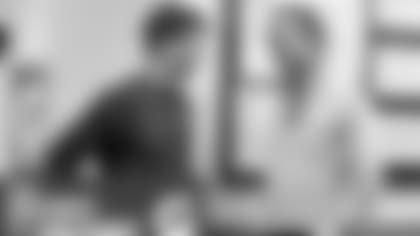 GATORADE PODCAST CHRONICLES ELI AND PEYTON'S EARLY DAYS
BY MATT COHEN
Before they won Super Bowls, before they made Pro Bowls, before the Manning name was synonymous with victory, both Eli and Peyton had to learn what it meant to lose -- and lose big.
That's the subject of "The Secret to Victory: Peyton & Eli Manning", the first episode in a new podcast series from Gatorade out this week. Hosted by former NFL cornerback Domonique Foxworth, each episode of "The Secret to Victory" spotlights how the world's most competitive athletes can use defeat to help fuel future success. Gatorade hopes to inspire all athletes to use defeat as motivation. Athletes appearing in upcoming episodes include Karl-Anthony Towns, Serena Williams, J.J. Watt, Kyle Schwarber, and Matt Ryan.
The 20-minute podcast explores the careers of Eli and Peyton, spanning their rookie seasons to current endeavors.  Manning patriarch Archie, and Eli's former two-time Super Bowl champion head coach, Tom Coughlin, add insights and anecdotes.  Both Manning brothers tell what it was like to struggle as rookies, only to find success later on.
"I had a zero quarterback rating, which is tough to do," Eli joked with Peyton, referring to a game against Baltimore his rookie season. "It's hard to do. You have to try. You have to really work at it. I didn't have three interceptions, but I didn't have many completions. I only threw two interceptions, but I think I was like 4-for-19."
From there, Eli went on to become a two-time Super Bowl MVP and is the Giants all-time winningest quarterback.
To hear or download the full episode featuring Eli and Peyton, CLICK HERE
Want more Giants LifeStyle? Click here