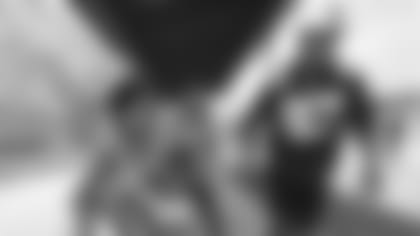 GIANTS ADOPT LOCAL MIDDLE SCHOOL FOR NFL PLAY 60 CHALLENGE
BY MATT COHEN
Whether it's running through the tunnel at MetLife Stadium in front of 80,000 fans or a series of double doors to the gym at Thomas Jefferson Middle School, the Giants sure know how to make an entrance.
The latter was the case this spring, when twelve Giants players arrived at the Teaneck school to the delight of 150 screaming sixth graders. Play 60 ambassadors Brad Wing, Tavarres King and Paul Perkins were making their fourth and final visit to the school after the Giants and the American Heart Association adopted Thomas Jefferson Middle School as part of their 2017 PLAY 60 Challenge. The month-long celebration of physical fitness culminated in a school-wide Field Day event, which brought out a number of additional teammates, including Sterling Shepard, Devon Kennard, and Eli Apple.
"We're here to teach kids how important it is to exercise," Wing said. "It's good for us to be around them and their energy is really high. I think it's just a good opportunity to use our platform to really implement something important to their lives."
The events over the four weeks were wide-ranging. Indoor activities included jump rope, tag, basketball and even dance-offs. During the outdoor field day, each team wore different colored tie-dye shirts. Field day events ranged from running the bases to tug-of-war to, of course, football.
"I think it was really good to have players from the Giants come in and participate in the activities with the kids," physical education teacher Danielle Lawlor said. "It gave [the kids] a chance to see the players off the field and they got to see that being active for 60 minutes a day isn't that difficult. It can be fun and easy, they just need to find the right activities for them and the right people to do them with."
The NFL and the American Heart Association teamed up to create the NFL PLAY 60 Challenge in 2006. The challenge is a four-week program designed to inspire kids to get the recommended 60 minutes of physical activity a day in school and at home.
Thomas Jefferson Middle School was chosen in 2017 in part because of the students' and teachers' annual support of the American Heart Association. To help the kids keep up with their 60 minutes of daily activity, teachers gave each student a game planner, a type of journal that they could fill out every day to track their progress and learn more about physical education.
"PLAY 60 is huge because it's an opportunity for kids to get out and just be active," King said. "That's what this whole deal is about. PLAY 60 is great because it implements us along with the kids to get together. It was awesome."
Learn more about NFL PLAY 60 here.
The Giants adopted Thomas Jefferson Middle School for their 2017 Play 60 challenge!