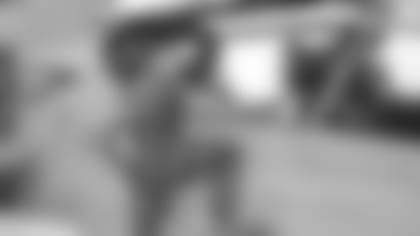 GIANTS CELEBRATE NFL DRAFT AT JOINT BASE McGUIRE-DIX-LAKEHURST
BY MATT COHEN
Every year, the NFL Draft is a big celebration. For the 2017 version, four members of Big Blue - Landon Collins, Eli Apple, Justin Pugh and Devon Kennard -- visited Joint Base McGuire-Dix-Lakehurst to celebrate the draft with members of the armed forces and their families.
"Getting the opportunity to get to come to the base and be around people who have served our country is truly an honor for me," said Kennard, who helped announce the Giants' fourth-round pick. "Announcing the pick was a lot of fun, and I'm excited to have my new teammate come in. Hanging out with these kids has been a blast as well."
"Coming to the base is awesome," Collins said. "I've never seen a base this big with so many airplanes, pilots and jets. Getting to see all this stuff and how they work with it all is almost too much for me."
Collins and Kennard helped announced the fourth-round pick of Wayne Gallman. Pugh was joined by members of the military, including his brother, Staff Sergeant Michael Gavaghan, to announce the fifth-round pick of Avery Moss. Lastly, Apple was joined by the McGuire Base flag football team and the National Military Youth of the Year, Arianna Skinner, to announce the sixth round selection of Adam Bisnowaty.
"This is what it's all about," Pugh added. "It's awesome. These kids are the ones who will be taking our spot in a few years so it's great just coming here and hanging out."
All four members of Big Blue had an opportunity to tour the base, climb in helicopters, planes and tanks. In addition to meeting many members of the military and their families, the Giants held a Play 60 event over the weekend for dozens of kids in attendance.
Eli Apple, Justin Pugh, Devon Kennard and Landon Collins visit Joint Base McGuire-Dix-Lakehurst for the 2017 NFL Draft!