It's a cold, dreary, late-March morning at Brooklyn's Sid Luckman Field, and one by one, members of the NYPD Finest football team arrive for their Thursday morning practice.
Some are coming straight from their midnight shift. Others go on duty right after practice. All mean business.
This practice has a little more buzz than usual. Three members of the New York Giants – Davis Webb, Dalvin Tomlinson and Avery Moss – are on hand to watch the Finest hit the field and donate new XTECH X2 shoulder pads for the team's upcoming season (the Giants donation enabled the team to purchase the pads at 50 percent off).
"Everyone in the world knows the NYPD and they're very well respected," Webb said. "They do a great job for the New York community. We're just excited to be out here in Brooklyn to give them these XTECH pads. The Giants did a great job donating so they could have them and they could continue their winning ways around here."
Winning ways is an understatement. The NYPD Finest is one of 22 teams that play in the National Public Safety Football League (NPSFL), a union of public safety agency football teams located throughout the country. Since the league's first season in 1997, the Finest has won a league-record nine championships, the most recent coming in 2014. The Finest will play a five-game season in 2018, which kicks off April 7th against the Charlotte Cobras and wraps up June 2nd against its biggest rival, the NYFD Bravest at Coney Island's MCU Park.
"We love them out in the streets, but we hate them on the field," said Mike Sena, a 26-year NYPD veteran and team general manager. "That's our main game. On the field, they don't like us, we don't like them. Blood will be drawn, but at the end of the game we do get together and have an after-party where we sit down and we have drinks and all have a good time. But on the field, there's no quarter."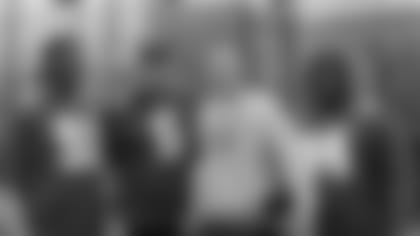 The Finest is made up of approximately 75 players, many of whom played in high school and college. They range from patrol cops to detectives to supervisors and come from all over the city, including areas of Long Island and even upstate New York. They're here for one reason – to win.
"What the guys like is they all played in college, they become cops and they find out that we have a team, and it's a very serious team," Senna explained. "This isn't a team with a bunch of middle-aged men playing football. These are all guys in their 20s and 30s. It's a very competitive league. We do have tryouts and we do cut people. It's a very serious team."
"It's humbling.," Moss said. "To have the NYPD out here and they protect and serve us and work long shifts and they're still dedicating their time to play the game they love. It's amazing to see and it's fun to be out here with them."
Despite the NPSFL being a spring league, Finest players train year-round, holding practices in the fall and working out together in the gym. It's that type of dedication that has made the Finest the league's most successful club.
"This team is probably the best thing I've ever done on this job," said NYPD detective Louis Basabe, a middle linebacker entering his 11th season. "I'm glad I came out to do it. It's a charity organization and we play to support other groups like Wounded Warrior Project, NYCPBA Widows & Children Fund, basically anything that we can get our hands into to give back to the community. The guys are a great group of guys and it's a brotherhood more than anything."
"It's a family here," added NYPD officer Randy Vasquez. "Everyone is very close with each other. This is a great team to be a part of, and I'm glad I tried out three years ago."
Having Tomlinson show up to practice was a big deal for Vasquez, a die-hard University of Alabama Football fan. Want proof? Just check out his right calf – you can't miss his tattoo honoring the Crimson Tide.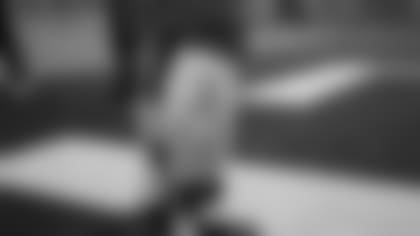 "When I started watching college football – I was raised a football fan and had no choice – one of the first games I watched once I got into it was Alabama versus Akron, I think, and I just watched them destroy them," Vasquez explained. "I loved watching the defense play, like when Landon Collins was there. I've been diehard ever since. I road-tripped down there one year just to go to the homecoming game. One time I was just like I might as well get them tattooed on my leg, so I did."
"He showed it to me," Tomlinson said. "That was pretty cool. It shows that Alabama goes pretty far in the U.S. right now."
The best deserve the best, which is why Tomlinson, Webb and Moss were excited about handing out the XTECH X2 shoulder pads. The XTECH patented design features military-grade XRD foam tailored for repeated impact and shock absorption. The 3-Point Swivel system provides unparalleled range of motion. The pads are used by 29 NFL teams and by more than 90 percent of the current Giants roster. NYPD officers know good equipment when they see it.
"It's a big morale boost to the players," Senna said. "They love it. We're very excited to have this equipment available to us. It means a lot to the players, and they really enjoy interacting with the Giants players."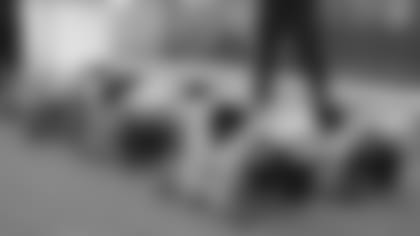 As the F train zooms by overhead and a light rain turns into a steady downpour, the sound of shoulder pads crunching and coaches screaming intensifies as practice ramps up. Just nine days out from their season opener, the NYPD Finest are not messing around.
"They're all amazing guys," Moss said. "Everyone has their own story. The dedication for them to have a 4-12 shift and then still make time to come out here and practice and play in this league shows what the NYPD is all about. It's great to see that kind of dedication."
"They say no one wants to play them because they're so good, and I believe it," Webb added. "That's the NYPD toughness and it's who they are."
Want to catch the NYPD Finest in action this season? Check out their schedule here and get to a game!
You can learn more about the NPSFL at their website here.
You can also learn more about the technology behind the XTECH X2 shoulder pads by visiting their website.
Davis Webb, Avery Moss and Dalvin Tomlinson donate XTECH shoulder pads to the NYPD football team at Erasmus Field in Brooklyn.