Lorenzo Carter grew up a Patriots fan, Landon Collins grew up idolizing Sean Taylor and Eli Manning wants kids to eat their veggies.
Those were just some of the many highlights at Tuesday night's Giants Town Hall, presented by NewYork-Presbyterian. Over 1,200 season-ticket holders gathered at the historic Beacon Theatre on the Upper West Side for an exclusive opportunity to hear from and interact with their favorite Giants. For a fourth straight year, the hosting duties belonged to Bob Papa, the voice of the Giants, and former offensive lineman David Diehl, a two-time Super Bowl champion.
Team president John Mara kicked off the festivities by tackling a wide range of topics, including his outlook on the upcoming season and his thoughts on Eli Manning and the selection of Saquon Barkley. 
"I feel really good about the people that we have in place," Mara said. "With Dave Gettleman, with Pat Shurmur and his staff, I think we had a really good draft. I'm excited about this season, I really am. I still haven't quite gotten the taste of last season out of my mouth. So I can't wait for that first game against Jacksonville. I think we're going to have a team on the field that you can all be very proud of."
Mara was followed by new head coach Pat Shurmur. Offensive coordinator Mike Shula and defensive coordinator James Bettcher were next in the batting order. The 2018 draft class then took the stage, followed by a group of veterans – Manning and Collins and Giants' newcomers Alec Ogletree and Nate Solder.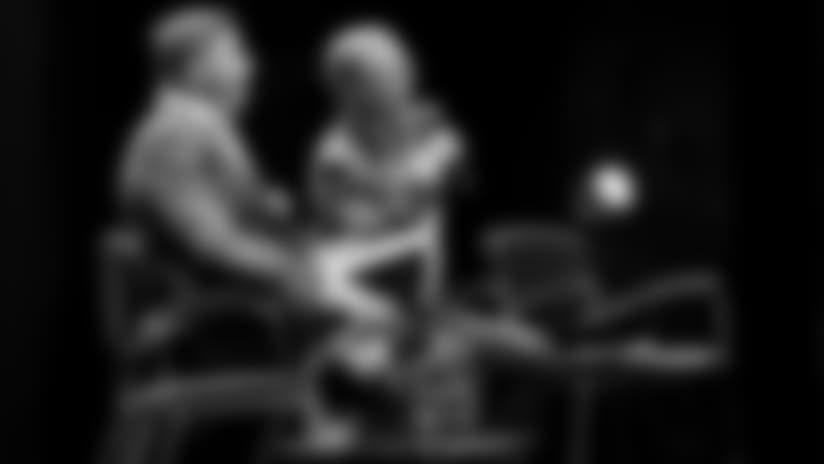 Here are a few of the highlights from the Q&A session with fans:
On his first-ever Giants' experience, Pat Shurmur said:
"I told a funny story one time about how I was walking around Giants Stadium before one of the games and I ducked into a room. I was sitting on a couch next to this older gentleman before the game. We were watching the game, one of the one o'clock games. So we were watching the game for a while and then I got up to leave and he patted me on the knee. He said, "Good luck today, but not too much." It was Wellington Mara. That was my first Giants' experience and I think back to that a lot."
On what it's been like being a New York Giant, Saquon Barkley said:
"It's been amazing. It's everything you dream of. You work so hard since you were a little kid. I'm pretty sure we all started playing football around the age of eight or nine. You're finally here and you put in so much work through the recruiting process and the draft and the combine. To actually get in the locker room and to be a New York Giant. The New York Giants are the best franchise in the NFL."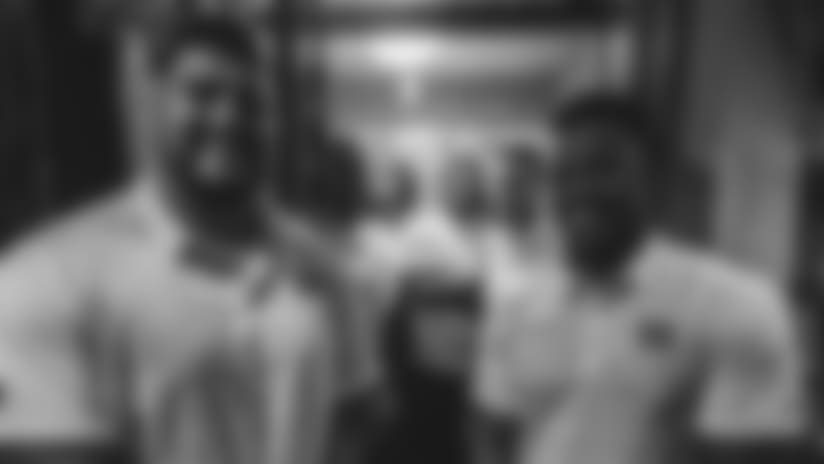 On recalling his first visit with the Giants, Will Hernandez said:
"When I first came on my visit, they took me into the cafeteria. Of course they took me to the cafeteria right away. I saw Eli Manning in there. He was eating. I was just like, 'Wow, that's Eli Manning.' Then I thought to myself, 'Whoa, you might be blocking for him shortly.' That was the biggest eye opener for me."
On what teams the rookie class grew up rooting for, they admitted (reluctantly):
RB Saquon Barkley – New York Jets
G Will Hernandez – Pittsburgh Steelers
LB Lorenzo Carter – New England Patriots
DT B.J. Hill – New York Giants (facetiously)
QB Kyle Lauletta – Philadelphia Eagles
DL RJ McIntosh – Dallas Cowboys
On the hungry mentality he's seen from the team during OTAs, Mike Shula said:
"There's a great look in these guys' eyes. I think there's a business-like look. I think there's a look of having to feel like they've got something to prove. For the guys that are new here, and I think I can speak for Bettcher, when we first got in, we noticed it right away. They want to move forward and that's what we're all about."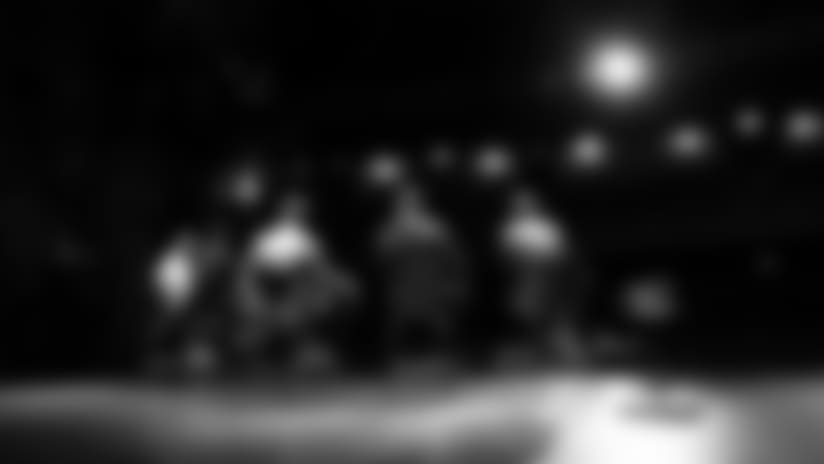 On turning the page and looking ahead to this season, Eli Manning said:
"Coach Shurmur said it best when he said I have the best body of any 37-year-old he's ever seen. You play long enough, you're going to have good seasons and bad seasons. It definitely motivates you to come back and prove the doubters and get back on the right page. The good thing about the NFL and football is you can go from really good to really bad and really bad to really good very quickly."
A young fan named Matthew asked what he likes to eat before a game; Manning said:
"In the morning I like to get my eggs and get my oatmeal and my fruits and eat healthy. If it's a little later, get some grilled chicken and some veggies. So eat your vegetables, Matthew."

On the decision to draft Barkley, Mara said:
"The consensus that really everybody in our room had was that he was the best player in the draft. My experience over the years is that if you take the highest-graded player on your board, you're usually going to make a good pick and you're not going to make a mistake. When you make mistakes is when you try to reach down a little bit too much because you need a certain position. We felt like he was the best player in the draft and it ended up not being that difficult a decision."
On who inspired him to stick with football instead of any other sport, Collins said:
"My ultimate favorite player, he passed away, was Sean Taylor. Why he inspired me and why I play the game so hard and with so much passion is because of him. He played with passion, he played like it could be his last down. Every time he stepped on the field, people feared him. People made it known where he was at out on the field and he wanted to be one of the best players ever on the field, and that's what I want to be."
On his early impressions of the Giants and the legacy of Giants' linebackers, Ogletree said:
"I'm thrilled to be here. I've been in the league for a little while, so I've seen the Giants from afar and I've always had a lot of respect for the organization. The tradition of linebacker here is top notch and the best throughout the league. For me to get an opportunity to come be a part of this, I'm definitely looking forward to the opportunity."
On how he approaches being a leader, Solder said:
You have to work at it. I don't look for opportunities to be a leader. I just look for opportunities to help improve the team and whatever I can do and whatever facet that is. If it's staying after for five more minutes and go through a couple bag drills, whatever it is, I'm really here to serve the guys and help whoever I can."