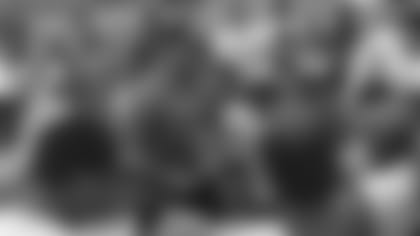 GIANT GIVE BACK BY HOSTING YOUTH FOOTBALL CAMPS
BY MATT COHEN
Long before they suited up in front of 80,000 fans at MetLife Stadium, Giants' players were just kids, learning the game they love and having fun. Every offseason, these same players give back by hosting youth football camps. Many return to their roots and host camps in their hometowns. Below, check out four camps from this offseason, run by Justin Pugh, Brandon Marshall, Jonathan Casillas and Jay Bromley.
Giants' offensive lineman Justin Pugh hosted the third annual Pugh Crew at Council Rock North High School in his hometown of Newtown, Pennsylvania. It's a fundamentals camp where kids 8-14 run through basic drills, learn about nutrition and the importance of goal-setting on and off the football field. Rookie Adam Bisnowaty was there to help out.
BRANDON MARSHALL RECEIVER CAMP
Giants' wide receiver Brandon Marshall and FitSpeed conducted a receiver factory sports camp for boys and girls, ages 7-18 at the Capelli Sport Center in Carlstadt, New Jersey. Rookie tight end Evan Engram and wide receiver Sterling Shepard spent the day helping out.
JONATHAN CASILLAS FORWARD PROGRESS AND LIFE SKILLS CAMP
Giants' linebacker Jonathan Casillas returned to his alma mater, New Brunswick Middle School, for his fourth 2017 Forward progress Football and Life Skills camp. Casillas runs the camp in partnership with the New Brunswick Board of Education. More than 200 kids ages 6-12th grade participate in the day-long event, which teaches life skills as well as football.
JAY BROMLEY FOOTBALL CAMP
Queens native Jay Bromley returned to his alma mater, Flushing High School, for his second annual youth football camp. Over 200 local kids attended the day-long camp, which was not short on volunteers. Some of Bromley's former high school coaches helped out, as well as current Giants Damon Harrison, Robert Thomas, Orleans Darkwa, Romeo Okwara, Kerry Wynn and Josh Johnson.
Here's a list of the other Giants' players who held football camps over the summer:
Saturday June 10th - Dwayne Harris in Greenville, NC
Saturday June 17th - Odell Beckham Jr. in Union, NJ
Saturday June 17th - Orleans Darkwa in Nashville, TN
Saturday June 17th - J.T. Thomas in Ft. Lauderdale, FL
Saturday June 17th - Duke Ihenacho in Gardena, CA
Saturday June 24th - Bobby Hart in Lauderhill, FL
Saturday June 24th - Will Tye in Middletown, CT
Saturday June 24th - Jon Halapio in St. Petersburg, FL
Sunday June 25th - Shane Vereen in Valencia, CA
Thursday June 29th - Eli Apple in Voorhees, NJ
Saturday July 8th - Josh Johnson in Oakland, CA
Saturday July 8th - Ereck Flowers in Miami, FL
June 22 in New Iberia, LA and July 16-19 in Madison, NJ - Damon Harrison
Friday July 14th - Nat Berhe in Colton, CA
Friday July 21 - Landon Collins in Wayne, NJ
Want more Giants LifeStyle? Click here