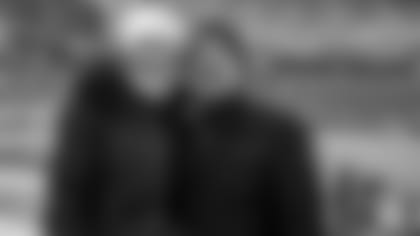 GIANTS HONOR FAN WHO LAUNCHED CHAIN OF KIDNEY DONATIONS
BY MATT COHEN
Margaret Preto-Rodas wanted to do something special this year to celebrate her 50th birthday.
So Margaret reached out online to Ned Brooks, the Founder of Donor to Donor, a program devoted to helping patients in need of a kidney transplant, to find a suitable donor. Ned then set her up with a transplant coordinator at Weill Cornell Medicine.
That's because for her 50th birthday, Margaret decided she was going to donate one of her kidneys. But it wasn't going to be for a family member, a close friend or even a coworker; Margaret was going to donate to a complete stranger.
"I don't think it matters if you know them or not," Margaret said. "If you have the ability to save someone's life, it's a miraculous thing to do and it's amazing. I just can't understand not wanting to do it. For anyone that says, 'why?', I would say, 'why not?'"
Margaret's decision to donate a kidney not only saved one life, but two. The first person Margaret saved was Jonathan, a Massachusetts native who became the recipient of her kidney. They both underwent successful surgery in August. Jonathan is doing just fine now; Margaret received a thank you card from him recently.
The second life Margaret saved belongs to Richard, who had been on peritoneal dialysis for four years and hemodialysis for five years. In early November, Richard finally received the kidney transplant he so desperately needed.
So how are Margaret and Richard connected?
It's all part of Donor to Donor's voucher program. When Margaret and Ned first started discussing the donor process, Ned asked Margaret if she would be willing to donate her kidney in Richard's name (Margaret and Richard were not a match). By doing so, Margaret took out a 'voucher' for Richard, which in effect moved Richard up the transplant list and creates a future kidney chain. That means, when a match became available, Richard got his kidney. The chain continues from there, resulting in multiple transplants.
For her courage and willingness to help a pair of complete strangers, Margaret was recognized on the video boards at MetLife Stadium during the first half of the Giants home game against the Dallas Cowboys.
"After I was on the screen yesterday, so many people sought me out to thank me and just tell me what a wonderful thing it was," Margaret said. "The Giants did a huge thing on Sunday and I hope it touched someone and they'll get the urge to want to donate as well."
The donations are certainly needed. According to the Donor to Donor website, about 130,000 registered patients are waiting for a kidney. Some of those patients never receive one. In 2014, there were a total of 17,105 kidney transplants (11,570 from deceased donors and 5,535 from living donors).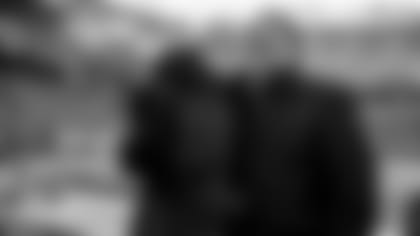 Since the surgery, Margaret's life is pretty much back to normal. She still lives in Stratford, Connecticut with her husband Rob. Together, they have two children, Jonathon (25) and Meghan (22). Margaret has completely recovered from her surgery, and is back working out five days a week and spending time taking care of her father.
She's also telling her story. Margaret is active on the Donor to Donor website and through social media. She spends time answering questions to prospective donors about the program and how the voucher process works.
"It's awesome the Giants are willing to do this and get the word out," Margaret said. "As brief as it was on the screen, it impacted people and I just think it's awesome. I hope that's something the Giants continue to do because they can have a strong voice in making living donations more popular and saving more lives."
For more information on the Donor to Donor program, visit their website here.
You can also visit the National Kidney Registry to learn more about national transplant statistics and why programs like Donor to Donor are so vital.
Want more Giants LifeStyle? Click here