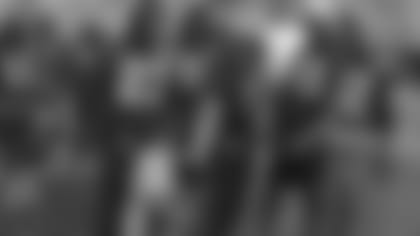 GIANTS HOST FAMILY OF FALLEN MILITARY HERO
BY DAN SALOMONE
The New York Giants had a special family visit them on Friday – Superman's.
Ryan and Christine Lemm, the son and wife of fallen NYPD Detective and Air National Guardsman Joseph Lemm, spent the day with the team at the Quest Diagnostics Training Center. There, they hung out with players, coaches, and other members of the organization.
Joseph Lemm, known as "Superman" because of his heroic build, was serving his third tour of duty in Afghanistan as a technical sergeant when a suicide bomber on a motorcycle killed him and five other American service members on Dec. 21, 2015.
Lemm, a 15-year veteran of the NYPD, was honored by thousands of uniformed police and U.S. military service officers when he was laid to rest. During the procession, 4-year-old Ryan, sitting on the shoulders of a NYPD officer while wearing his hat, saluted his father's casket, an image that went viral.
Lemm was the honoree of the 2017 DEA Maltz Challenge, hosted by the Giants this past March at the team facility. The DEA Maltz Challenge is an athletic event designed to honor those members of the armed services who have been killed in the line of duty.
Ryan and Christine will be back with the team when the Giants pay tribute to those who protect and serve us during their Week 11 game against the Chiefs at MetLife Stadium.
Want more Giants LifeStyle? Click here