There's a lot more that goes into becoming a professional football player than simply being an elite-level athlete. It takes good coaching, an understanding of sports nutrition and knowing how to prevent and recover from injuries.​
At the USA Football Sports Performance and Training Seminar presented by Hospital for Special Surgery and the New York Giants, Tri-State area athletes and coaches learned just that from a field of top medical professionals in sports nutrition, sports performance, training and football education.
"We're just practicing heads up football with a lot of events going on for the kids," said third-year offensive lineman Bobby Hart. "They have a lot of questions and they definitely value our opinion being in the NFL. We're trying to help them and give them as much insight as we can."
The one-day seminar was held at the Quest Diagnostics Training Center. In addition to lectures, panel discussions and fitness demonstrations, all athletes and coaches in attendance were able to take a tour of the facility and pose for photos with the Giants Lombardi trophies.
"If I can come out here and help them and come out and help the kids of the future, it's a great thing," Hart said. "I remember being young and seeing NFL players. It didn't matter which player it was, it was just always good. These kids were definitely appreciative."
Included in the lineup of top medical professionals were Clinical Nutritionist Dana Pitman, Performance Coordinator Jamie Osmak and USA Football Heads Up Football Master Trainers. Also included were New York Giants team physicians, Dr. James Kinderknecht, Primary Care Sports Medicine and Dr. Samuel Taylor, Sports Medicine Surgeon at Hospital for Special Surgery. A four-year player at Harvard University, Dr. Taylor provided a deeper understanding of the link between football and medicine.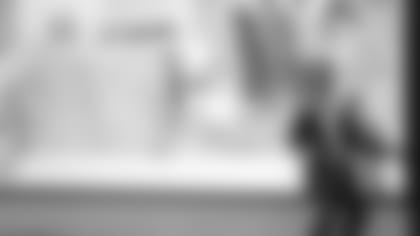 "As an orthopedic surgeon, what I chose to focus on talking about was what football meant to me growing up," Dr. Taylor said. "The values that it imparted on me in high school and college continues to affect, shape and change the way that I do my job as a physician."
The high school athletes and coaches were all encouraged to integrate what they learned at the event into their team and personal training regimens going forward.
You can learn more about how Hospital for Special Surgery supports the New York Giants by visiting their website here.