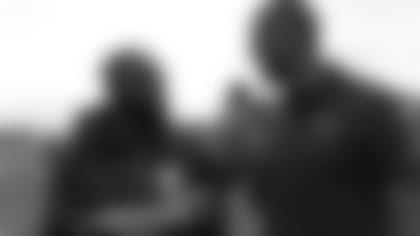 GIANTS REACT TO THEIR MADDEN NFL 18 RATINGS
BY MATT COHEN
Few things signify the start of another NFL season like the release of Madden.
On Friday August 25th, EA Sports will deliver Madden NFL 18 to the masses, bringing smiles to millions of football fans (and gamers) across the country ready to purchase the iconic game. The latest entry into the flagship series features Patriots quarterback Tom Brady on the cover. New England tight end Rob Gronkowski had the title of cover athlete last year, while Giants' wide receiver Odell Beckham Jr. appeared on the front of Madden NFL 16.
Football fans aren't the only consumers of the game – NFL athletes are too. Naturally, players have strong feelings one way or the other about what their ratings are in the game (shockingly, they want them higher).
So what do the Giants think about some of their player ratings? This is definitely worth watching:
Now to some of the rankings themselves. Beckham is the 4th rated wide receiver in the game, with a 93 Overall rating, 94 Speed rating and 99 Spectacular Catch rating. Damon "Snacks" Harrison is the 5th rated defensive tackle, with an 89 OVR, 93 Strength and 94 Tackle. Safety Landon Collins is tied as the 6th highest rated safety, with a 92 OVR, 88 Speed and 90 acceleration.
The Giants are the only team besides the Broncos with two top ten cornerbacks – both Dominique Rodgers-Cromartie and Janoris Jenkins score an 89 OVR. The same goes for defensive end. The Seahawks are the only other team besides Big Blue's Jason Pierre-Paul (88 OVR) and Olivier Vernon (88 OVR) with two top-ten defensive ends.
Keep in mind that a player's rating is based on close to 50 different category combinations.
Here are the top ten rated Giants' players in Madden NFL 18:
WR Odell Beckham Jr. – 93 Overall, 94 Speed, 94 Acceleration, 99 Spectacular Catch
S Landon Collins – 92 Overall, 88 Speed, 90 Acceleration
DT Damon Harrison – 89 Overall, 93 Strength, 94 Tackle
CB Janoris Jenkins – 89 Overall, 91 Speed, 93 Acceleration
CB Dominique Rodgers-Cromartie – 89 Overall, 93 Speed, 91 Acceleration
DE Jason Pierre-Paul – 88 Overall, 85 Strength, 92 Tackle
DE Olivier Vernon – 88 Overall, 83 Strength, 84 Tackle
OL Justin Pugh – 86 Overall, 88 Strength, 87 Impact Blocking
C Weston Richburg – 86 Overall, 89 Strength, 89 Impact Blocking
WR Brandon Marshall – 85 Overall, 86 Speed, 85 Acceleration, 92 Spectacular Catch
Giants.com looks back at the cover athletes since 2000.