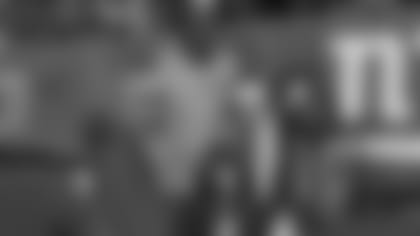 GIANTS SURPRISE DESERVING FANS WITH SUPER BOWL TICKETS
BY MATT COHEN
This season, the NFL launched the Super Bowl Ticket Giveaway, a new league-wide initiative aimed at surprising fans across the country with an invitation to attend Super Bowl LII in Minnesota. A total of 500 free tickets were distributed under the program as a way to give back to dedicated NFL fans, and provide them with a once-in-a-lifetime experience.
It would be difficult to find more deserving recipients then those the Giants surprised this season.
First up is Christine, Brooke and Ryan Lemm, the family of fallen NYPD Detective and Air National Guardsman Joseph Lemm. Known as "Superman", Joseph was serving his third tour of duty in Afghanistan as a technical sergeant when a suicide bomber on motorcycle killed him and five other Americans in December of 2015.
After hosting the Lemm family for a special visit in November, the Giants invited them back for the team's Week 11 matchup against the Kansas City Chiefs. As part of the NFL's Salute To Service month, the Lemm family rang the Giants Pride bell right before kickoff, along with former running back Brandon Jacobs. After the bell, Jacobs surprised Christine and her two children with four tickets, round-trip airfare and hotel accomodations for Super Bowl LII.
Just two weeks ago, the Giants surprised the next recipient of this year's Super Bowl Ticket Giveaway.
Olivier Vernon and Jonathan Casillas attended the Weequahic Indians High School football banquet. The two Giants' defenders were there to congratulate the team on their 9-3 season, but really to surprise the team's head coach, Brian Logan. A head coach in Newark for 20 yaers, Logan led the Indians to a state title in 2016, and notched his 100th career victory last season.
Incredibly, Logan has done all this while also serving as a full-time member and detective for the Newark Police Department the past 26 years. Logan just recently retired from the force.
Vernon and Casillas surprised Logan with a pair of tickets to Super Bowl LII as an acknowledgement of his contributions to the game, the community of Newark, and for the many efforts he has made to care for his students beyond the football field.