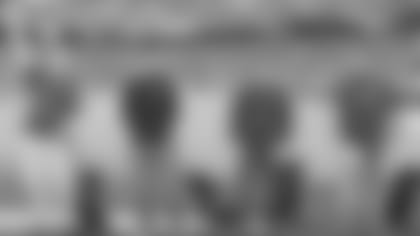 GIANTS TEAM WITH PUPPIES BEHIND BARS TO SUPPORT VETS
BY MATT COHEN
Dogs are man's best friend for a reason, and one special organization is using puppies to transform wounded military veterans and prisoners.
Puppies Behind Bars (PBB) trains prison inmates to raise service dogs for wounded war veterans and train explosive detection canines for law enforcement. Formed in 1997 by Gloria Gilbert Stoga, the program is run in six Tri-State area prisons (four men's, two women's). Each puppy-raiser is carefully selected by the staff of the individual correctional facility. Labrador and Golden Retrievers are raised from the time they are eight weeks old until they are ready to be placed with a veteran. Over the past 20 years, PBB has raised close to 800 working dogs.
During the Giants Week 7 matchup against the Seattle Seahawks, fans met four more of these dogs, along with their new best friends and new forever homes.
US Army Sergeant Kevin Brackney – two tours in Iraq
USMC Sergeant Mario Cabrera – two tours in Afghanistan
USMC Corporal Krag Lambert – one tour Afghanistan
Army National Guard Sergeant First Class Peter Varrica – one tour in Iraq
With their families watching nearby, these four wounded veterans each came out for a special on-field presentation. They were joined by four black labrador puppies, courtesy of Puppies Behind Bars. In a moment none will soon forget, the MetLife Stadium crowd roared in approval to salute these veterans (and their new four-legged friends).
Kathleen Mara, wife of Giants Senior Vice President of Player Personnel Chris Mara, serves on the PBB Board of Directors.
Want more Giants LifeStyle? Click here