Monday marked the 16th anniversary of the September 11 terrorist attacks, and all these years later, the brave men and women of the FDNY appreciate the fact that their fellow citizens "Never Forget".
"It's great to see people interested after everything that's happened and how long it's been that we haven't forgotten the people that served," said Engine 22 Captain James Graney. "That's a big thing and the motto of our fire department is never forget, and obviously the New York Giants are reaching out because they remember."
Six Giants – Weston Richburg, John Jerry, Brett Jones, Adam Gettis, Adam Bisnowaty and Jon Halapio – paid a visit to Captain Graney and the firefighters at Engine 22 Ladder 13 Battalion 10 to honor the nine brave heroes of that firehouse who lost their lives on 9/11 (four from Engine 22 and five from Ladder 13). In the years since, they've become known as the "Yorkville 9", referring to the firehouse's location in Yorkville at 159 East 85th Street.
To be here with guys that knew people there who were here when it happened gives you kind of get a better perspective – a different perspective of what they experienced. You kind of learn about the sacrifices they made and learn to appreciate it at a higher level. - Weston Richburg
The Giants spent the evening touring the firehouse and breaking bread over an All-American meal of brisket, chicken wings, cornbread, mac and cheese, and collard greens. The players learned the story of each fallen firefighter through the memorials, plaques and photos on display all over the firehouse.
Big Blue even tried its hand at firefighting – sort of. Bisnowaty and Jones had a race to see who could put on a full uniform the fastest. Richburg mustered up the courage to go down the fire poll, an annual rite of passage for one lucky Giant at the firehouse visit.
"It was kind of scary," Richburg said. "It was higher than I thought it was going to be. Once you grab hold of it and just go, it's kind of fun."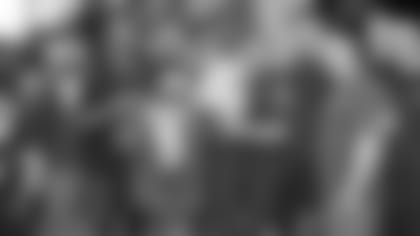 Members of the Giants present a Yorkville 9 jersey to FDNY Engine 22 Ladder 13.
"Usually we have kindergarten classes and first grade classes and we dress up the school teachers," added Graney. "To dress up the football players, we had to find the biggest guys in the firehouse and it still didn't fit."
Graney, a firefighter for 34 years, has been the Engine 22 captain for 15 years. At the time of the 9/11 attacks, he was working at FDNY Engine 266 in Rockaway Beach. The 61-year-old father of six still remembers seeing the towers on fire from the Tappan Zee Bridge.
"For me, this visit means a lot," Graney said. "There's a lot of people that work here on 85th Street and for them, the people that work here, it's wonderful."
Engine 22 is an original company, dating back to 1865, when the FDNY was formed. Ladder 13 will mark 150 years of service next January.
"We take pride in coming and doing these kinds of things and spending time with these guys because they do a lot and put their lives on the line for us," Richburg said. "Anytime we can come and spend time with guys like this is something we want to do."
Members of the Giants offensive line visit an FDNY firehouse on the 16th anniversary of 9/11.