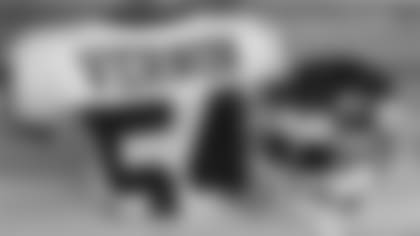 For every road game this season, Giants.com will catch up with a member of the team for a travel Q&A. This week, get to know veteran defensive back Leon Hall.
Q: What are the must-haves in your carry-on bag when you're traveling?
LH: I don't have a lot. I just need my toiletries, my headphones, my iPod because I don't have music on my phone, and my chargers. Simple, man. Simple.
Q: How do you pass the time on the trip?
LH: I can't really sleep, so I usually stay up. I'll watch a movie or a few of the shows I like to watch, so I'll probably do that on the bus. I don't have any movies lined up, but I'm still catching up on "The Blacklist" – so I'll probably catch a few episodes on the way down.
Q: What's the longest road trip you've ever been on?
LH: I once drove with my mom and my sister from San Diego to Atlanta when I was a kid, like 10. I barely remember it, but I think it took like four days. Way too long.
Q: Who's your favorite teammate to sit next to?
LH: Myself. I always say that because I usually just like to watch a movie or a show, put my headphones on and kind of just zone out for a little bit. I see these guys enough as it is – I'm just joking.
LH: I don't mind sitting next to anybody. We all get along pretty well. So there's really no problem, unless you stink. That's a little problem.
Q: What's your routine when you get to the team hotel?
LH: Depending on when we get there, I'll change clothes out of my suit and then I'll kick up my feet. If I have time, I'll take a nap. Usually during the work week you're backed up on sleep, so I'll take a nap and then go to meetings. And every night before the game – it's been 10 years now – I'll order room service, a bacon cheeseburger with Swiss cheese, well done, with french fries, extra ketchup. And then I'll go to sleep.
Want more Giants LifeStyle? Click here