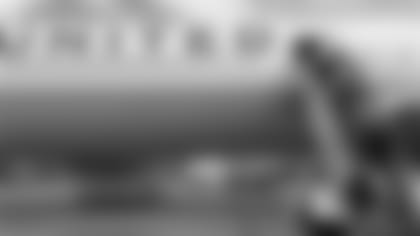 *For every road game this season, Giants.com catches up with a member of the team for a travel Q&A. This week, get to know linebacker Mark Herzlich. *
Q: What are the must-haves in your carry-on bag when you're flying?
MH: I need my iPad for movies, charger, cards -- we play some card games – and I wear a sleeping mask and earplugs to sleep. So I need to make sure I have those. If not, I have to run to the CVS.
Q: How do you pass the time on the plane?
MH: I don't sleep on planes. I usually watch movies. I look at film sometimes, if it's a longer flight. But usually I watch movies.
Q: What's the longest flight you've ever been on?
MH: To Honolulu direct from Newark with my wife. That was 11 hours.
Q: Who's your favorite teammate to sit next to?
MH: I like sitting by myself, but like on the train last week [to Washington, D.C.], I sat next to Robbie (Gould). We played cards and stuff with Brad Wing. Usually, I have an open seat next to me.
MH: I would say either anyone who smacks their food really loud when they eat or someone who snores.
Q: What's your routine when you get to the team hotel?
MH: Usually I'll get to the hotel and immediately order room service and find a movie or a TV show. I usually get like a margherita pizza and whatever is their soup of the day if it's like a water-based soup, like chicken noodle. And then sometimes I'll get a burger.
Want more Giants LifeStyle? Click here