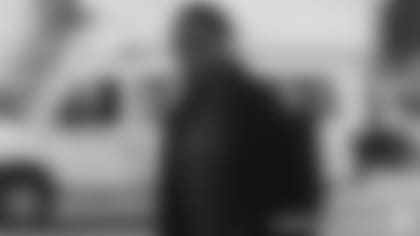 For every road game this season, Giants.com catches up with a member of the team for a travel Q&A. This week, get to know running back Rashad Jennings.
Q: What are the must-haves in your carry-on bag when you're traveling?
RJ: Other than my playbook and all that stuff, I've got to have a toothbrush, got to have toothpaste, got to have deodorant, got to have my toiletries. I'm a clean guy, so face wash, brush, all that stuff. And then I've got to have food, my phone charger, I have to have some type of book, pencil and pen. Otherwise, I can't go.
Q: How do you pass the time on the trip?
RJ: I'm a reader. I'll usually read something, but on this one, we're going to be playing spades.
Q: What's the longest trip you've ever been on?
RJ: The game in London. I had never been out of the country before, so that was super cool. Definitely the longest trip.
Q: Who's your favorite teammate to sit next to?
RJ: It's definitely a fun team to be on. Not every team I've ever been you could say that you just genuinely like everybody, but here, it's like that. It really is like that. But the guys I have sat beside, it's been DRC [Dominique Rodgers-Cromartie], [Leon] Hall and Eli [Manning]. Eli is chill. He's going to put on a movie, or he's going to fall asleep. That's what he's going to do every time – movie or sleep.
Q: What's your routine when you get to the team hotel?
RJ: I get in, and I go to sleep. That's what I do, take a nap.
Want more Giants LifeStyle? Click here