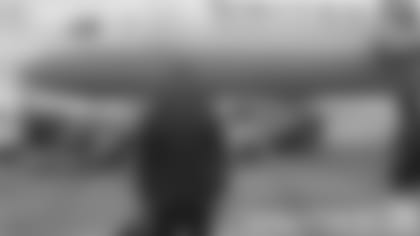 For every road game this season, Giants.com will catch up with a member of the team for a travel Q&A. This week, get to know rookie safety Andrew Adams.
Q: What are the must-haves in your carry-on bag when you're flying?
AA: Headphones, charger, iPhone charger, toothbrush, toothpaste, lotion. What else is a must? I'll say my iPad.
Q: What do you like to do on the plane?
AA: Sleep. No movies. Straight sleep, from start to finish. I'm definitely a good flyer.
Q: Who's your favorite teammate to sit next to on the plane?
AA: I've sat next to Darian [Thompson]; he's pretty chill. I've sat next to Eli [Apple]. I've sat next to B.J. Goodson. So, honestly, it doesn't really matter because I'm asleep the whole way.
AA: Least favorite would probably be Eli [Apple] because he just talks the whole time. And I'm trying to go to sleep.
Q: What's the longest flight you've ever been on?
AA: Probably the London trip. Coming back, I think, was longer than going on the way out. That was a long flight. I couldn't even sleep the whole way.
Q: What's your routine when you get to the team hotel?
AA: We'll get there and I'll probably take a nap. Then we all go out to dinner as DBs. Hopefully my card doesn't get picked so I have to pay this time. When we come back, you probably have about 45 minutes to just relax in the hotel and then we have meetings. After meetings, I'll watch film on my own and go to sleep.
Want more Giants LifeStyle? Click here