I AM GIANT: VICTOR CRUZ
BY MATT COHEN
Players fall. Champions rise.
That's the tagline for I Am Giant: Victor Cruz, a feature-length film chronicling the New York Giants wide receiver's rise to football stardom, 2014 knee injury and year-long attempt at a comeback. The film, directed by Gotham Cophra (Kobe Bryant's Muse), debuts on Friday, Oct. 30th at 9 p.m. ET/PT on Showtime.
"We had a premiere for it a couple days ago and people were crying in the audience," said Cruz. "It's amazing and to have your life depicted up until this point in a film is extremely humbling."
The film begins nine months after Cruz tore the patellar tendon in his right knee last October in Philadelphia. The former Super Bowl Champion visits with renowned orthopedic surgeon Dr. James Andrews, who led Cruz's rehab following the surgery.
I Am Giant was shot over the spring and summer, and does more than just chronicle the daily rehab grind of the 28-year-old Super Bowl champion. The doc digs deep into Cruz's upbringing, from growing up in a rough Paterson neighborhood, to his academic struggles at the University of Massachusetts, to breaking through with the Giants after signing as an undrafted free agent.
"It really brought me back to when I was younger and I was fighting to get to this point," said Cruz. "I remember fighting to get to the point where I would reach my dreams and accomplish my goals. It was nostalgic for me."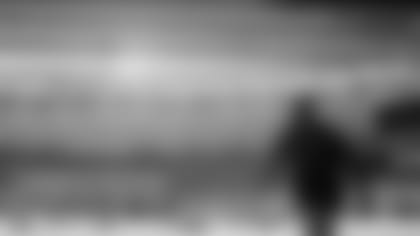 The six-year vet also wants fans to see what Victor Cruz is like away from the game.
"A lot of people think that we're these superhuman figures and we play a sport and they think we don't know about trials and tribulations," said Cruz. "But I'm a real person, with real problems and real issues that are depicted in this film."
I Am Giant: Victor Cruz debuts Friday night at 9 p.m. ET/PT on Showtime, with the first of several encore presentations airing Saturday morning at 9:30 a.m.
Want more Giants LifeStyle? Click here