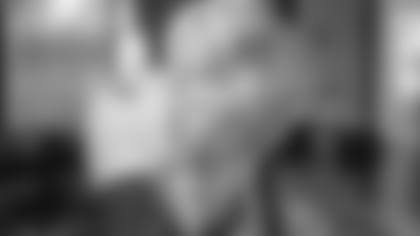 THE RABBIT'S FOOT
BY MATT COHEN
Long before Janoris Jenkins was shutting down opposing NFL wide receivers, he was way ahead of the competition - in the sneaker game that is.
The New York Giants cornerback, who likes to go by "Jackrabbit", has been collecting sneakers since he was 15-years-old, and estimates that he has accumulated more than 500 pairs over the years.
"Since I'm in the capital of New York, fashion is big here," said Jenkins, who grew up in Pahokee, Florida. "It's way easier to get all kinds of sneakers. Anything that you want is here in New York."
The 28-year-old is coming off a successful first season in the Big Apple. The five-year veteran earned his first Pro Bowl nod, and was an AP All-Pro second team selection. Jenkins' 18 passes defended was a career high, and he helped lead a Giants secondary that was amongst the best in the NFL.
"When I'm picking stuff out and shopping for myself I always try and match my kicks," Jenkins said. "I usually go shirts first. When I start off with the shirt I can usually decide if I have the color sneakers of the shirt and I know that automatically because I keep an eye on my sneakers."
Check out Jackrabbit's entire sneaker collection, and watch as he reveals his all-time favorite pair!