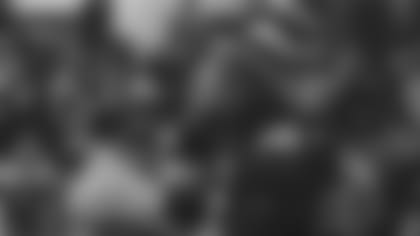 JONATHAN CASILLAS VISITS SCHOOL ON READ ACROSS AMERICA DAY
BY MATT COHEN
Every year on March 2, children from all over the country come together to honor the birthday of Theodor Geisel, more commonly known by his pen name, Dr. Seuss.
This year, Giants linebacker Jonathan Casillas swapped his helmet for a "Cat in the Hat" hat to share in Read Across America Day at Golden Door Charter School. It's a nationwide reading celebration that brings together thousands of schools, libraries, community centers and kids.
"I'm here reading to the kids and talking to them a little bit about life, perseverance and trying hard," Casillas said. "This is kind of a repeat thing I do for the holiday, for Read Across America Day and Dr. Seuss's birthday."
It was a bit of a homecoming for the two-time Super Bowl champion. Golden Door Charter School is located in Jersey City, where Casillas was born and raised. He attended New Brunswick High School before going on to star for the University of Wisconsin.
"It's always good to come back to where you're from," Casillas said. "I was born in Jersey City, I went to public school here and I was once sitting where these kids were. It's good to show these kids a symbol from their neighborhood that has had some success."
"Whenever we can have anyone as a role model come in and speak to our students, it's a blessing," added Fanny Lopez, Golden Door Charter School Assistant Director. "Our kids are amazing and the more people we have come in here and speak to the kids about where they came from, especially coming from Jersey City, is amazing. We're all Giants fans, so having him come in was an absolute blessing."
Sitting at the head of a crowded gymnasium in front of dozens of students, Casillas read aloud one of Seuss's most famous works, "Oh the Places You'll Go!" He delivered each line with the confidence of someone who's done it before, in part because, he has. When Casillas isn't punishing opposing quarterbacks, he's dad to his 5-year-old daughter, Jade.
"I have a 5-year-old who I read to all the time," Casillas said. "I come here and I read one of the most difficult books you can read, which is any Dr. Seuss book. I think I got through it ok."
Want more Giants LifeStyle? Click here