Seventeen-year-old Sabastian Quinn has been through more adversity than most people must endure in a lifetime.
A junior at Mendham High School, Quinn has twice battled ALCL non-Hodgkin's lymphoma. The first diagnosis came back in 2014 when Quinn was in the 8th grade. After six months of treatment and chemotherapy, Quinn was cleared, until two months went by and the cancer returned. Quinn received a bone-marrow transplant and underwent two stem cell transplants. He's been cancer free now for two years.
That Quinn is alive to tell his story is nothing short of a miracle. He's one of only five young people on the East Coast to relapse from ALCL non-Hodgkin's lymphoma and then undergo a successful bone marrow transplant.
Quinn credits the unwavering support and love of his parents, Eric and Jessica, his seven siblings (he's the third oldest), his friends and classmates, and the Mendham community as keys to his perseverance.
But there's one crucial ingredient Quinn can't leave out – football.
Quinn has always had an appetite for being out on the field, fighting in the trenches with his teammates. Just this past season, he worked his way up from reserve to starter on the Minutemen offensive line. Throughout his battle with cancer, Quinn never lost his love for the game, or his desire to suit up and return to the field.
"Football, as a whole, made me realize how short life is in total and how much you have to take advantage and how hard you have to actually work," Quinn said. "It also shows how hard you have to work as a team, not just yourself."
For demonstrating an unparalleled work ethic and passion for the game, Quinn was named this year's winner of the USA Football Heart of a Giant Award, presented annually by Hospital for Special Surgery and the New York Giants. Now in its fourth year, the program recognizes and rewards Tri-State area high school football players who possess commitment, teamwork, will, character and dedication.
At a special ceremony inside the Mendham High School auditorium, Quinn was introduced by Dr. Samuel Taylor, Associate Team Physician and Sports Medicine Surgeon at Hospital for Special Surgery. After the initial shock of realizing that he'd won, Quinn received a much bigger surprise – Giants two-time Pro Bowler Jason Pierre-Paul emerged from behind the curtain to present him with the actual award.
JPP is very inspiring, so just to see him come out here is amazing. To see someone who's gone through all that adversity himself and thinks that I deserve this award is truly remarkable. - Sabastian Quinn
"For the entire time, it wasn't even a matter of fighting, or what treatment is next, it was let's just go with it and keep going," said Jessica, Sabastian's mom. "All he cared about was playing football and wrestling and being with his friends. It was so important to him; that was his main objective for the entire time."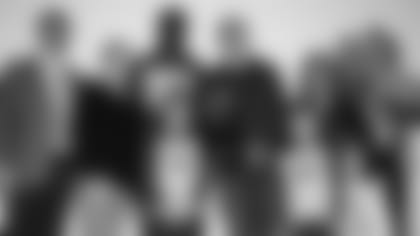 Sabastian Quinn with his family, Dr. Samuel Taylor and Jason Pierre-Paul after winning the Heart of a Giant Award.
"He just wanted to get back out there," added Eric, Sabastian's dad. "He wanted to contribute. He didn't want to be just someone that came to the games and sat on the sideline. He would study his playbook even when he wasn't feeling well."
Nominations for the Heart of a Giant award began back in September. Every week for the first six weeks of the Giants' regular season, USA Football selected 10 deserving nominees. From there, the field of 60 was winnowed down to six finalists. All six athletes were required to submit an original video, showcasing why they have the Heart of a Giant. Voting was open to teammates, classmates, family and friends.
Quinn was nominated by the head football coach at Mendham High School, Brett Ressler.
"He has such a great competitive mindset," Ressler said. "What he's gone through these last couple years is something that stands out amongst all the athletes I've coached these last few, and even the ones I've been teammates with in college and in high school. He never quits. Even when his back is up against the wall, he finds that silver lining and just perseveres through anything that's thrown at him."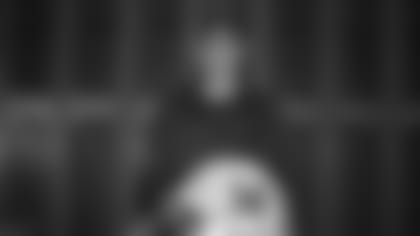 Sabastian poses for a photo with a Minutemen football helmet in front of his locker.
In addition to the award, Quinn received a $5,000 equipment grant from USA Football and Hospital for Special Surgery for his school. The other five finalists received $1,500.
"You name it, and Sabastian never wavered," said Dan Gant, manager of sponsorship for USA Football. "He went through his treatments and handled everything tremendously well. Then he went back to school to live his life as a normal, everyday high school student."
"He's a fighter," added Dr. Taylor. "In talking with his mom beforehand, she said, 'he's a kid who hates the spotlight on himself.' So he's a humble, hardworking kid who's been faced with adversity and fought every step of the way. He really does embody what we're looking for in Heart of a Giant."
That humble attitude seems to run in the Quinn family. When Sabastian relapsed before his freshman year and it was determined he would need a bone marrow transplant, members of the Quinn family were tested. The only match was Sabastian's older brother, Zachary. Without hesitation, Zachary stepped up to the plate.
"Very lucky," Eric said. "It all kind of came together with his brother being the match for the bone marrow transplant. He was willing to do it. He gave up his senior year of wrestling because he was recovering from it. He just didn't blink."
"Neither of them did for a minute," added Jessica. "Zachary didn't blink for one second. He literally gave up his wrestling season and said 'whatever I have to do.'"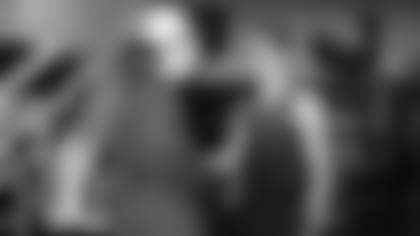 Sabastian says hi to a teammate in the Mendham High School weight room.
Now that he's been cancer free for two years, Quinn is back to living a normal, everyday life as a high school junior. With football in the rearview mirror, Quinn is in the gym and on the mat as he prepares for the upcoming wrestling season. He just turned 17-years-old and is going to get his license on January 22nd (not that he's counting the days). He plays guitar and piano, and like most teenagers, enjoys hanging out with his teammates, family and friends.
As for what's next, Quinn is still a junior, but he's certainly begun to think about college. His favorite classes are math, physics and history, and he's interested in pursuing a career in mechanical engineering. His dream school is the Massachusetts Institute of Technology (MIT).
"My grades are alright," laughs Quinn.
Always humble, never satisfied, no quit. That's the Heart of a Giant.
JPP surprises Sabastian Quinn, the 2017 recipient of the Heart of a Giant Award presented by USA Football and Hospital for Special Surgery